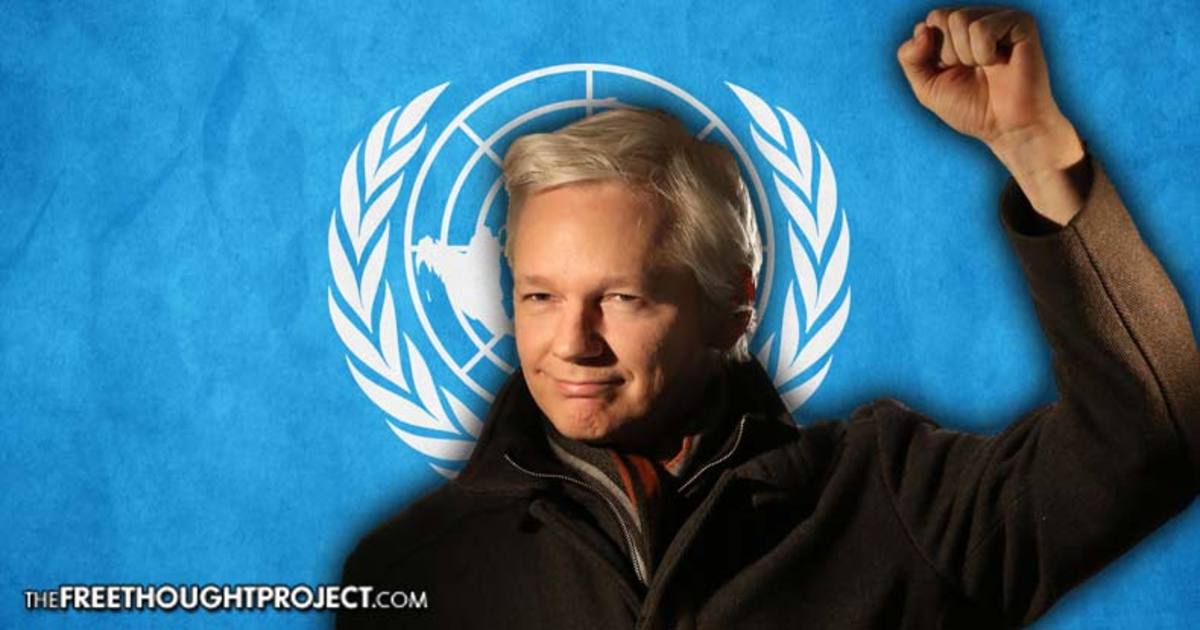 In a stunning win for Wikileaks, London and Stockholm must end the 'arbitrary detention' of the organization's founder Julian Assange after the United Nations rejected an appeal by the U.K. of a previous ruling as "not admissible."
"Now that all appeals are exhausted I expect that the UK and Sweden will comply with their international obligations and set me free," Assange said in a statement following the ruling. "It is an obvious and grotesque injustice to detain someone for six years who hasn't even been charged with an offence."
In February, the U.N.'s Working Group on Arbitrary Detention found Assange to be arbitrarily detained in the Ecuadorian Embassy in London due to actions of both Britain and Sweden, and each government should ensure the Wikileaks founder's human rights. Today, the U.N. wrote in a statement:
"The UN expert group also considered four requests for review of previous opinions, submitted by the Arab Republic of Egypt, the State of Kuwait and the United Kingdom of Great Britain and Northern Ireland. The Working Group concluded that the requests did not meet the threshold of a review as enshrined in paragraph 21 of its methods of work, and that they were thus not admissible."
A press release from Justice for Assange on the ruling states:
"Earlier this year the United Nations concluded the 16 month long case to which the UK was a party. The UK lost, appealed, and today – lost again. The UN instructed the UK and Sweden to take immediate steps to ensure Mr. Assange's liberty, protection, and enjoyment of fundamental human rights. No steps have been taken, jeopardising Mr. Assange's life, health and physical integrity, and undermining the UN system of human rights protection.
"Now, the United Nations has found that the United Kingdom's request for review of this decision (filed on March 24) was inadmissible; the United Kingdom has now reached the end of the road in its attempt to overturn the ruling. As a member of the Security Council and the United Nations Human Rights Council, the United Kingdom must respect its commitment to the United Nations, and release Mr. Assange immediately. Now, more than ever, moral leadership is required; maintaining Mr. Assange's effective detention (which stands at six years as of 7 December, 2016) will only serve to green light future abuses against defenders of free speech and human rights."
BREAKING: UN rejects UK appeal on #Assange https://t.co/31TThJ8DGk #svpol #auspol #ozpol pic.twitter.com/vI5MCKOsC7

— WikiLeaks (@wikileaks) November 30, 2016
While the ruling would theoretically grant Assange the freedom to leave the Ecuadorian Embassy for the first time in years, the push to have him extradited to the United States leaves him in a precarious position.
In fact, rumors have swirled about Assange from the time the Government of Ecuador terminated his Internet connection after U.S. pressure implied Wikileaks' publishing of a massive cache of emails relating to Hillary Clinton were interfering the presidential election. There were immediate concerns for Assange's safety and fears he could have been surreptitiously taken into custody — but a brief appearance in the Embassy window alleviated that concern.
More recently, anomalous tweets from Wikileaks' official Twitter account sparked another public investigation into whether the publishing organization had been compromised. Assange only recently gave an audio interview, again quelling an increasingly worried public.
Assange still faces potential charges of rape in Sweden — but no complaint has yet been filed. Most notably, he faces extradition to the United States — where it is widely believed he would be charged with espionage.
Now, Julian Assange has the unimpeded right to walk away from the Ecuadorian Embassy that has graciously provided asylum to the arbitrarily detained Wikileaks founder without fear of being arrested and taken into custody — at least theoretically.
Without grounds for further appeal, the British and Swedish governments are left without tangible justification for continuing to tacitly force Assange to remain secreted inside his haven in London.
But it remains to be seen what, precisely, will happen next.
Sponsored Content:
Or, if you would like to help us by subscribing to our sponsor, Legalshield — and have an attorney in your pocket 24 hours a day for just $24.99 a month — you
can click here for details.
🔥 Fuel Our Work:
https://bit.ly/TFTPSub
👕 TFTP T-Shirts:
https://bit.ly/TFTPStore
🎙 TFTP Podcast:
https://bit.ly/TFTPPodcast
📥 TFTP Newsletter:
https://bit.ly/TFTPNews
🌎 TFTP on MeWe:
https://bit.ly/TFTPMewe
🧠 TFTP on Minds:
https://bit.ly/TFTPMinds
🐦 TFTP on Twitter:
https://bit.ly/TFTPTwitter
⚡️ TFTP on Telegram:
https://t.me/TFTPofficial
📲 Need A Lawyer?:
https://bit.ly/TFTPLegalShield