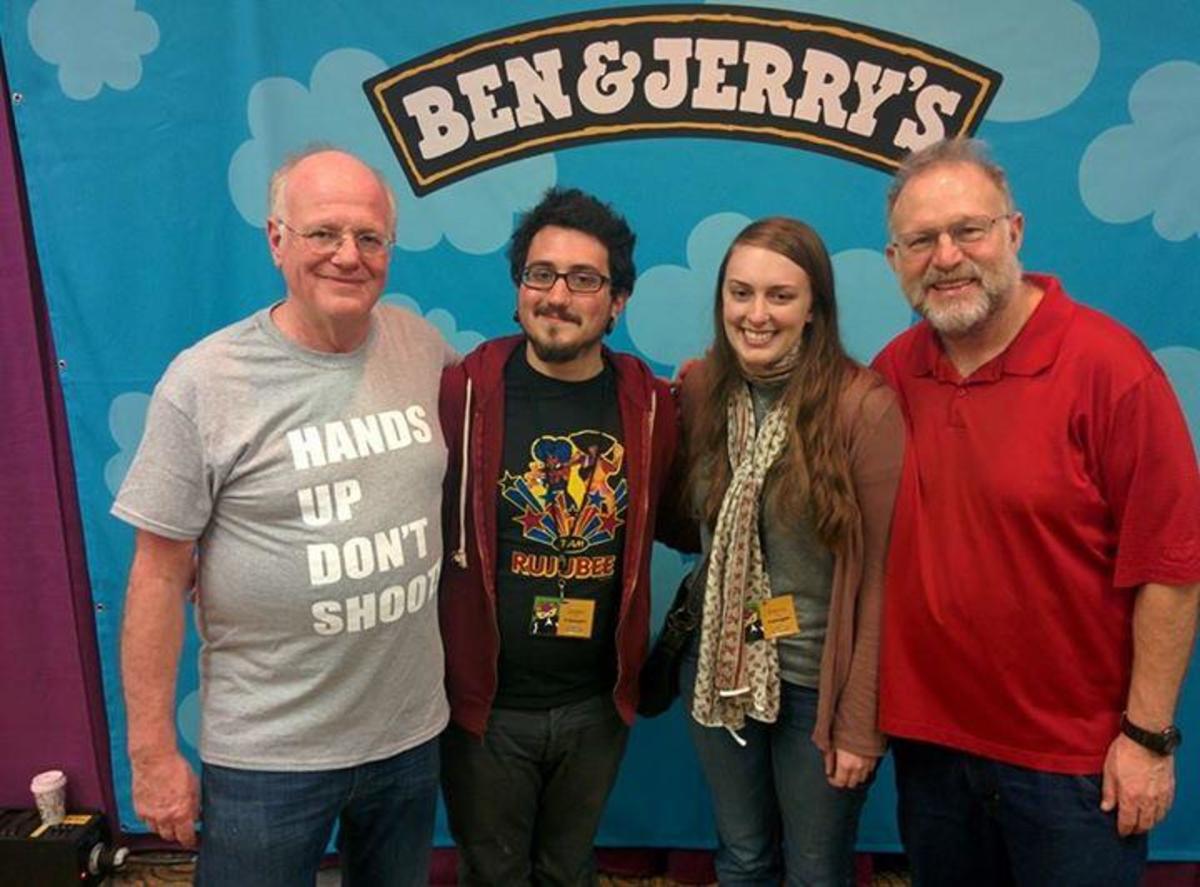 The Ben and Jerry's ice cream company recently took a bold stand against police brutality, with the announcement that they will be selling "hands up, don't shoot" t-shirts to support victims of police murder. The founders of Ben and Jerry's posted a picture to their Facebook page this week where one of the co-founders of the company can be seen wearing one of the t-shirts.
There was a message featured below the picture which read:
Our scoop shop managers got to meet THE Ben and Jerry at the annual franchisee/manager retreat! Stay tune to see how our shop will implement Ben's take on "hands up don't shoot" campaign to address police brutality and empower children of color.
The post was instantly met with both support and criticism, and co-founder Ben Cohen made the following unapologetic response:
Ben & Jerry's deeply respects and appreciates all those who protect and serve our communities. We do not subscribe to the narrative that we have to choose between black lives and blue lives. All lives matter. There is injustice rooted in race in our society. This is an important issue and is deserving of efforts from all including businesses, organizations and individuals to further peace and understanding in our communities. Dr. Martin Luther King Jr. said it best: "Injustice anywhere is a threat to justice everywhere. While the Hands Up Don't Shoot campaign is not being conducted by Ben & Jerry's business, we support our co-founders as individuals and our independent franchisees to express their values and be activists in their community."
Ben and Jerry's is well known for speaking out on fairly uncontroversial issues like environmental protection and equal rights for varying cultures, races, genders, and sexual orientations. However, the fight against police brutality is territory that few businesses are brave enough to engage in, and it is truly impressive to see a company as large as Ben and Jerry's taking such a firm stance on the issue, even under pressure.
It is unsure exactly how else Ben and Jerry's will be supporting efforts against police brutality, but it will be interesting to see how far they are willing to go.
Ben Cohen did speak about his support for police accountability efforts at Ben & Jerry's recent Franchisee Meeting, calling attention to John Crawford, Tamir Rice, Eric Garner and others. See his speech in the video below:
---
John Vibes is an author, researcher and investigative journalist who takes a special interest in the counter culture and the drug war. In addition to his writing and activist work he is also the owner of a successful music promotion company. In 2013, he became one of the organizers of the Free Your Mind Conference, which features top caliber speakers and whistle-blowers from all over the world. You can contact him and stay connected to his work at his Facebook page. You can find his 65 chapter Book entitled "Alchemy of the Timeless Renaissance" at bookpatch.com.
Sponsored Content:
Or, if you would like to help us by subscribing to our sponsor, Legalshield — and have an attorney in your pocket 24 hours a day for just $24.99 a month — you
can click here for details.