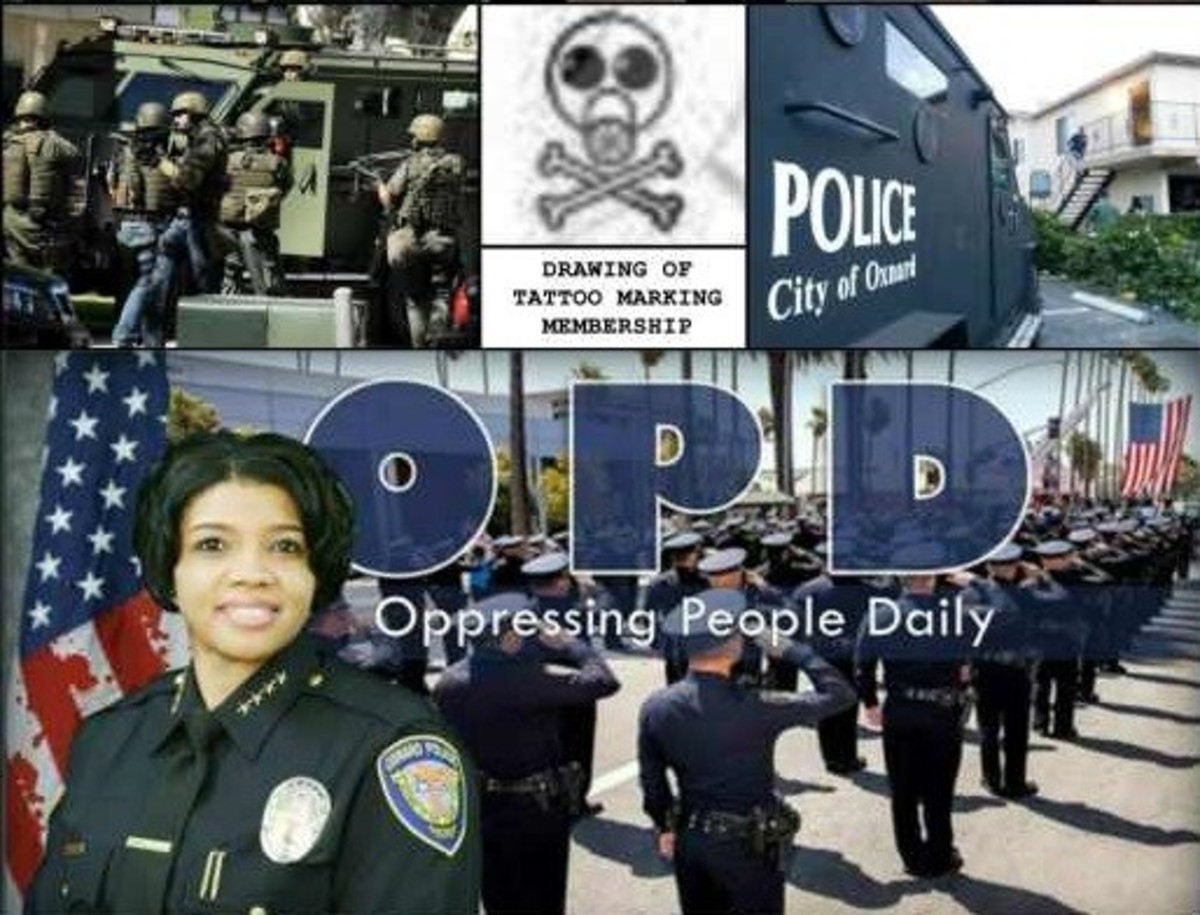 A former officer with the Oxnard Police Department in California is blowing the whistle on a disturbing activity that many other cops at the department are taking part in.
The anonymous whistleblower is in talks with private investigators about how some officers with the department in Oxnard were getting tattoos on their left shoulders as "notches" to signify their shooting victims.
This is much the same way that gang members get tattoos of different styles to signify their victims.
Initially the former officer brought these details to independent media organization "American Justice Notebook", who then passed the information along to private investigators and the police chief.  The former officer wished to keep his identity private, as a confidential informant, because he fears retaliation from the other officers.
The former Oxnard police officer told American Justice Notebook that officers who have been involved in shootings, regardless of circumstances, will many times get a tattoo of a gun on their left shoulder.  With each victim that the officer kills, a puff of gun smoke would allegedly be added to the tattoo.  The gun smoke in the tattoos are reportedly shaped like a skull and cross bones.
"I can tell you that we are reviewing the matter. I will not comment on any specific allegations or any specific questions that you have posed. Also, I cannot give you a timetable as to how long our review will take," Thom Mrozek, a spokesman for the Justice Department told reporters by email on last Tuesday.
However, it does seem odd that an investigation into this matter would take a long time, considering that a quick look at the left shoulder of each officer on the force would solve the mystery in just a few minutes.
Additionally, the whistleblower also provided the names of seven Oxnard officers and two retired officers who allegedly had the tattoos, making the investigation even easier.  Some of the names mentioned in the report are commanding officers at the department.
The Oxnard Police Department is also currently dealing with a wrongful death controversy, where four officers shot an innocent bystander 16 to 21 times and saw no consequences.
A group of activists is planning a demonstration for Sunday at 5pm, at the Del Sol Park in Oxnard, California to protest the death, and the overall lack of accountability within the police department.
---
John Vibes is an author, researcher and investigative journalist who takes a special interest in the counter culture and the drug war. In addition to his writing and activist work he is also the owner of a successful music promotion company. In 2013, he became one of the organizers of the Free Your Mind Conference, which features top caliber speakers and whistle-blowers from all over the world. You can contact him and stay connected to his work at his Facebook page. You can find his 65 chapter Book entitled "Alchemy of the Timeless Renaissance" at bookpatch.com.