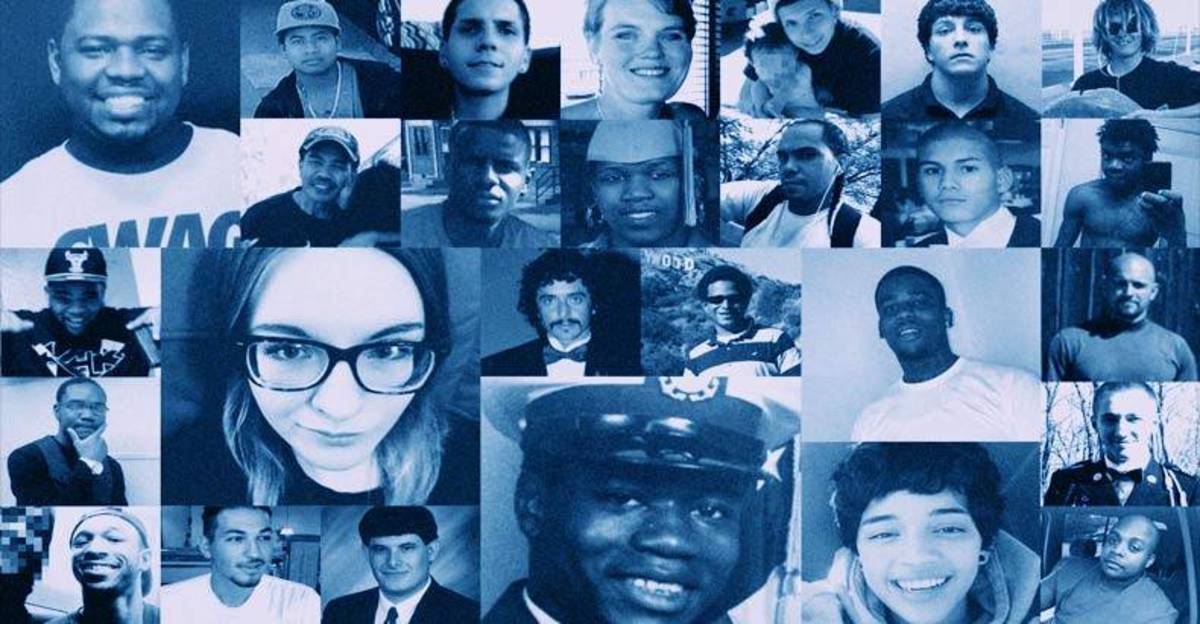 The Washington Post reported on October 21 that 789 people were shot dead by cops so far this year, with 71 being killed in the past 30 days. This is continuing a steady escalation in the war on citizens being carried out by U.S. police. Contrast this to the steady decline in felonious killings of police officers over the past 3 decades, and the false "war on cops" being portrayed by police apologists.
Even FBI Director James Comey lamented, "It is unacceptable that The Washington Post and the Guardian newspaper from the U.K. are becoming the lead source of information about violent encounters between police and civilians. That is not good for anybody."
He is referring to the fact that there is no real system in place to count the number of people killed by police, beyond the good work of independent media and advocacy groups. The FBI relies on a voluntary system where local police departments report data on deadly use of force, if they so choose.
Other than the Post and the Guardian, there is the original site for counting police shootings – KillByPolice.net whose count is far higher than both of its counterparts.
Naturally, most departments refuse to submit data. Only 224 of 18,000 U.S law enforcement agencies reported a fatal shooting by their officers last year.
The other large media organization keeping a tally of those killed by U.S. police is British-based The Guardian. On October 15th, they reported that some of the most high-profile victims of deadly brutality carried out by U.S. police are missing from the official record of homicides by officers.
The deaths of Eric Garner, 12-year-old Tamir Rice, and John Crawford were not even worth reporting in the opinion of the departments where the murderous police are employed.
Garner was not in the federal record because the New York Police Department has not submitted data since 2006. The Cleveland and Beavercreek departments in Ohio, where Rice and Crawford were shot, did not file reports to the FBI.
"A review of data collected over the years by the FBI showed that high-profile homicides in which officers were found to be at fault were not recorded or were logged inconsistently. Problems stem from the fact that only one of the FBI's 32 classifications for all homicides – which are precise enough to include 'child killed by babysitter' and homicides linked to gambling – makes reference to the person who carried out the homicide being a police officer. This classification, 'felon killed by police,' is automatically counted as a justifiable homicide.

Apparently because the FBI offers no category for recording killings by law enforcement officers of people who were not felons, some departments have filed unjustified homicides by their officers among the general stack of murders, manslaughters and other killings between civilians."
The Guardian article goes on to describe several cases of cops, on-duty and off, murdering people only to have their deaths misrepresented by the departments.
In 2014, the FBI documented 444 "justifiable homicides." In an indication of the worsening situation for citizens, The Guardian count reached that number before the halfway point of 2015.
The true number of people killed by police officers may turn out to beat our wildest expectations if it is ever discovered. The more departments that decide to report, the more homicides we see.
"The FBI data showed that while the number of departments reporting killings by their officers rose 14% from 196 per year in 2009 to 224 last year, the number of homicides increased by 12% from 392 to 439 per year in the same period."
Use of the term "justifiable homicide" by police departments is a gray area, to say the least. This classification makes it easy for authorities to justify those killings which amount to murder, or otherwise shrug off the remorse that would be felt by normal people.
Virginia represents one of the worst states in the U.S. when it comes to counting or reporting police killings. Fairfax County does not even provide data to the state of Virginia.
"Fairfax County police, has unilaterally stopped providing the data, saying they are not legally required to do so.

The agency said such homicides are not considered to be an 'actual offense' and therefore are not required to be included in an agency's crime-reporting numbers."
This complete disregard for the importance of human life is helping to drive the rise in police brutality we have witnessed over the past few years. However, alternative media and social networking are proving to be a powerful antidote to this malady of state-sanctioned violence and secrecy.
Sponsored Content:
Or, if you would like to help us by subscribing to our sponsor, Legalshield — and have an attorney in your pocket 24 hours a day for just $24.99 a month — you
can click here for details.
🔥 Fuel Our Work:
https://bit.ly/TFTPSub
👕 TFTP T-Shirts:
https://bit.ly/TFTPStore
🎙 TFTP Podcast:
https://bit.ly/TFTPPodcast
📥 TFTP Newsletter:
https://bit.ly/TFTPNews
🌎 TFTP on MeWe:
https://bit.ly/TFTPMewe
🧠 TFTP on Minds:
https://bit.ly/TFTPMinds
🐦 TFTP on Twitter:
https://bit.ly/TFTPTwitter
⚡️ TFTP on Telegram:
https://t.me/TFTPofficial
📲 Need A Lawyer?:
https://bit.ly/TFTPLegalShield