Protesters are continuing to fight the Police State after the murder of seventeen year old Mike Brown in Ferguson, Missouri.
Will be updating continuously as important info comes in…
10:11am-
Officer Darren Wilson Identified as Shooter in Ferguson Teen Killing
Page from police report pic.twitter.com/xcz6nUKqY2

— Ryan J. Reilly (@ryanjreilly) August 15, 2014
8:17pm-
Thousands of protesters shut down times square in solidarity with #Ferguson.
Hands up don't shoot.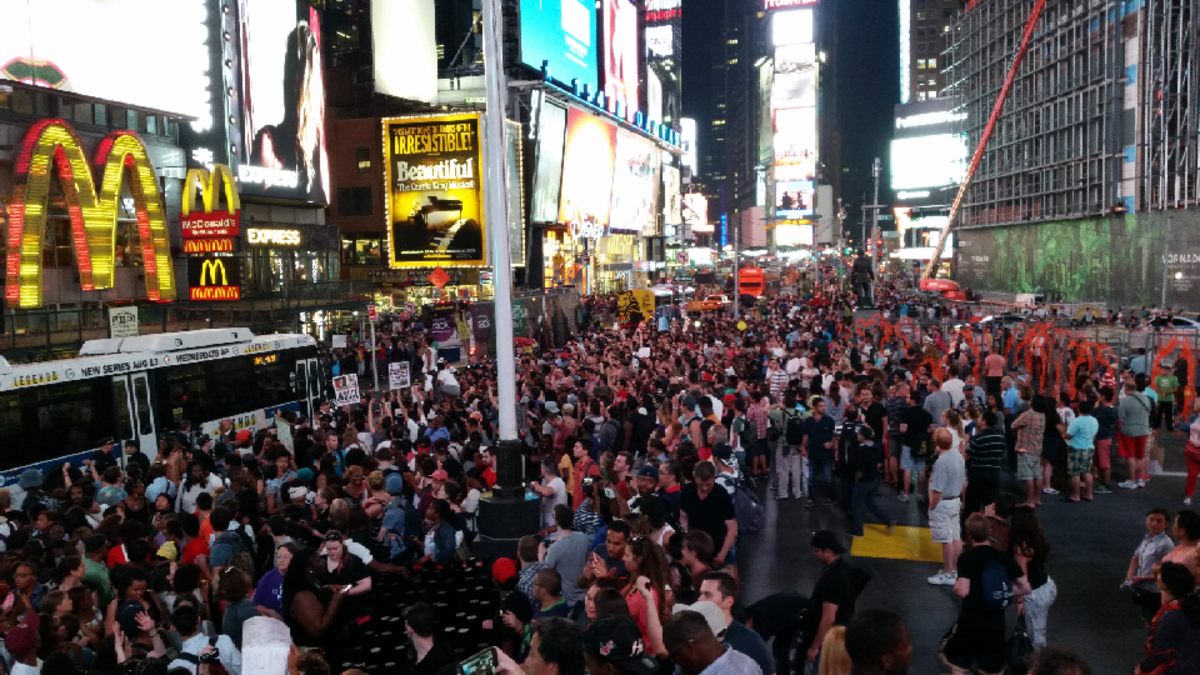 5:08pm- 
Marine Decries Military Police in Ferguson
4:05pm-
New officer in charge of Ferguson investigation, Captain Ron Johnson, marching lead with protestors down the street.
Highway patrol captain Ron Johnson is leading protesters on a march through Ferguson. A corner turned? pic.twitter.com/ewytjhz2uP

— Jon Swaine (@jonswaine) August 14, 2014
MO Highway Patrol captain Ron Johnson leading protesters through streets of Ferguson. Live: http://t.co/kNA5yQ5sz9 pic.twitter.com/m5uQkSs6mS

— Jon Passantino (@passantino) August 14, 2014
3:51pm-
Protesters in Solidarity with #Ferguson in Harlem #USA

They pledge to shut down 125th street#NYC pic.twitter.com/BcaYyl8ua8

— El Barrio Tours (@Elbarriotours) August 14, 2014
3:35pm-
Several thousand marching peacefully right now – reports saying largest crowd yet!

#Ferguson right now. Police chopper overhead pic.twitter.com/q0SD9glQh5

— Ryan Schuessler (@RyanSchuessler1) August 14, 2014
Ferguson right now pic.twitter.com/NZn9NBFoAg

— Wesley Lowery (@WesleyLowery) August 14, 2014
My last Vine last night. I was arrested before I could post. #ferguson https://t.co/hq5GCROPRc

— Antonio French (@AntonioFrench) August 14, 2014
3:15pm-
Ready to march for peace, love, & change #Ferguson pic.twitter.com/HgUBzCcBf4

— Tyson Manker (@tysonmanker) August 14, 2014
Group of police cars about 5 of them w/lights & sirens on headed north on W Florissant, protesters went that way 5 min earlier #Ferguson

— David Carson (@PDPJ) August 14, 2014
2:59pm-
Protestors about to march down Florissant
STL Police gathering near Soldiers Memorial ahead of march and vigil under the Arch tonight for #MikeBrown pic.twitter.com/WiQ7zudcAe

— Allison Blood (@AllisonBlood) August 14, 2014
Police Chief Sam Dotson says no SWAT gear, no military equipment tonight. pic.twitter.com/6HenbnkfSZ

— Allison Blood (@AllisonBlood) August 14, 2014
2:40pm-
CAUGHT ON FILM: Watch MSM Journalists get arrested by SWAT yesterday in McDonalds
https://twitter.com/lincolnjoaoluiz/status/500032418724990976
2:24pm-
Missouri State Sen. @MariaChappelleN tweets "F-ck you" to @GovJayNixon for his response to the situation in Ferguson: http://t.co/9nwYvynkoT

— Antonio French (@AntonioFrench) August 14, 2014
. @MariaChappelleN, who represents #Ferguson in the Missouri Senate, has been a constant figure on the ground: pic.twitter.com/5SjXE62wZN

— Jason Rosenbaum (@jrosenbaum) August 14, 2014
2:15pm-
Media says protestors provoked the police to fire upon them. This video proves otherwise.
The 11 dumbest things people actually said about Ferguson: http://www.dailydot.com/opinion/11-worst-dumbest-responses-ferguson-michael-brown-shooting/
2:01pm-
Press conference not being received well.
Nixon bumbling, incoherent, pointless in his belated press conference. #Ferguson

— Gregg Keller (@RGreggKeller) August 14, 2014
In this press conference, commander refers to state troopers in #Ferguson as "boots on the ground." #MikeBrown

— T.J. Holmes (@tjholmes) August 14, 2014
https://twitter.com/blameoliver/status/500024853546938370
1:47pm-
Johnson guarantees rights of press will be preserved after Governor's press conference.
State senator confronts Ferguson police chief at press conference: "Will I get tear-gassed again?" http://huff.to/1AgHN2h
https://twitter.com/tysonmanker/status/500019353866489856
1:37pm-
Yasmine Hafiz interviews pastor who was shot with a rubber bullet while praying and mediating at a Ferguson protest http://huff.to/1Ahv1kg 
1:33pm-
Missouri governor Jay Nixon failing to show any compassion or talk about accountability
Watch LIVE NOW- http://live.reuters.com/Event/US_Live_Blog/124074658
1:27pm –
Via @timcast- Press conference about to start in St. Louis #ferguson
http://instagram.com/p/rsQc4ZL5mh/
1:11pm –
14-year-old hacker has #Ferguson police officers' social security numbers, names, addresses http://www.washingtonpost.com/news/the-intersect/wp/2014/08/14/hackers-have-the-names-and-social-security-numbers-of-ferguson-police-but-should-they-share-them/
Jacob Crawford from We Cop Watch just flew into Ferguson and said he will keep us updated with whats going on on the ground
1:04pm –
https://twitter.com/moody/status/499995100936552448/
The ACLU has filed a second lawsuit to protect those filming the police in Ferguson
https://twitter.com/aclu_mo/status/499991167052677122/