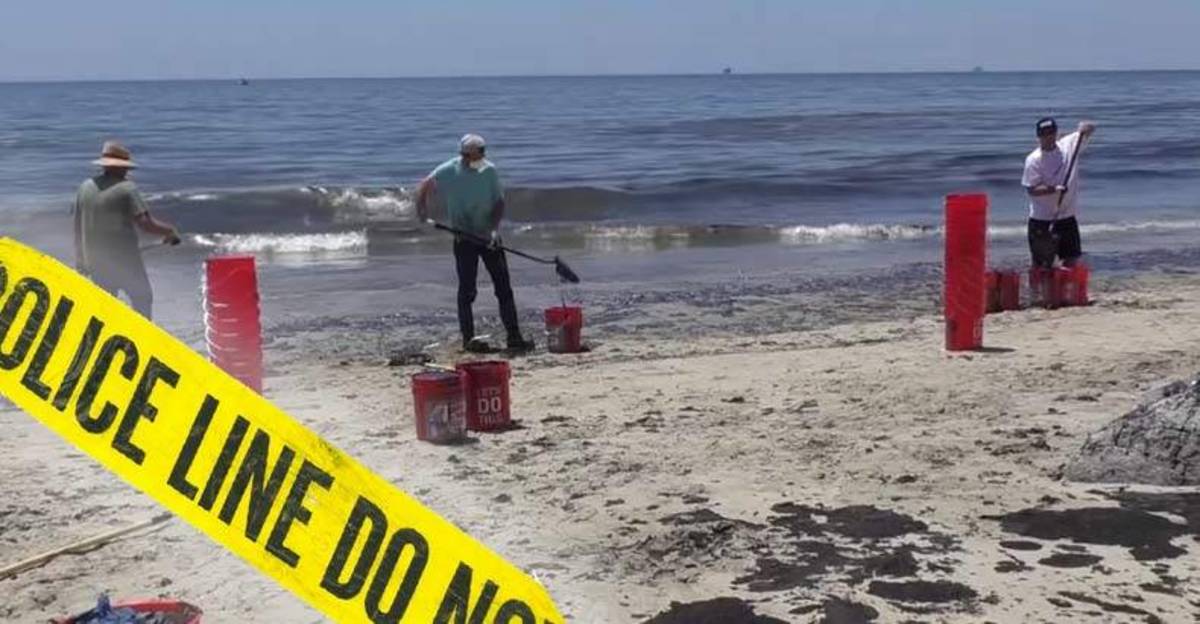 Goleta, California – For the past several weeks, the Gaviota Coast in California has seen its delicate ecosystem destroyed by an oil spill that poured roughly 100,000 gallons of oil into the ocean. To make matters worse, the volunteers who spontaneously appeared to help clean up the oil, were threatened with arrest by police for tampering with the scene and apparently putting themselves in danger.
The volunteers were the first people on the scene to help, long before the government agents who were hired arrived.
"I was there for about an hour, and we filled 50 five-gallon buckets. Sadly, I must say, there is no way we removed one percent of that spill," volunteer Ethan Turpin told the Independent.
According to witnesses, the officers had complained that the volunteers did not have safety equipment that was up to code, and they were not cleaning up the spill according to government guidelines. All the while, government or corporate clean-up crews had still not shown up.
"Of course we didn't have proper gear, but no one else was cleaning," local Tamlorn Chase said.
Documentary filmmaker and community activist, Osiris Castañeda, joined the group to help clean up the mess.
"There was a spirit of feeling like you were doing something that mattered, and doing it with people you had never met," Castañeda said.
"There's a system here that's broken just like that pipeline is broken," he added.
Castañeda and other activists who arrived to help were astonished by how there was no official response to the spill, and no official clean up crews.
"Of course there's going to be operational lag time, but I couldn't believe how slow they were. Every shovel of oil is one that won't get on a bird. This damn scoop of oil isn't going to be out there anymore." Deane Plaister, a member of the Surfrider Foundation's executive committee said.
The multiple threats of arrests and tickets from CHP officers were completely ignored. The vigilant volunteers continued cleaning up the mess.
---
John Vibes is an author, researcher and investigative journalist who takes a special interest in the counter culture and the drug war. In addition to his writing and activist work he organizes a number of large events including the Free Your Mind Conference, which features top caliber speakers and whistle-blowers from all over the world. You can contact him and stay connected to his work at his Facebook page. You can find his 65 chapter Book entitled "Alchemy of the Timeless Renaissance" at bookpatch.com.