April 1, 2014
According to the NY State Department of Health TWO out of 20 people infected during a measles outbreak were children whose parents had opted not to vaccinate. This, of course,  means that 18 of the people infected WERE vaccinated.
The mainstream media still somehow blames the outbreak on a decline in vaccinations.
Below are some of these doublespeaking news outlets blaming a lack of vaccination on the measles outbreak, while simultaneously citing the NY State Department of Health Statistics which illustrates the 90% of those infected with measles have been vaccinated.
It is every individual's right to make their own informed decisions on what they put in their bodies. However the way these stories are written, it would lead you to believe that you will either get measles simply for not being vaccinated, or that the unvaccinated are responsible for spreading measles; neither of these claims are founded.
The first false claims are made by CSN Philly: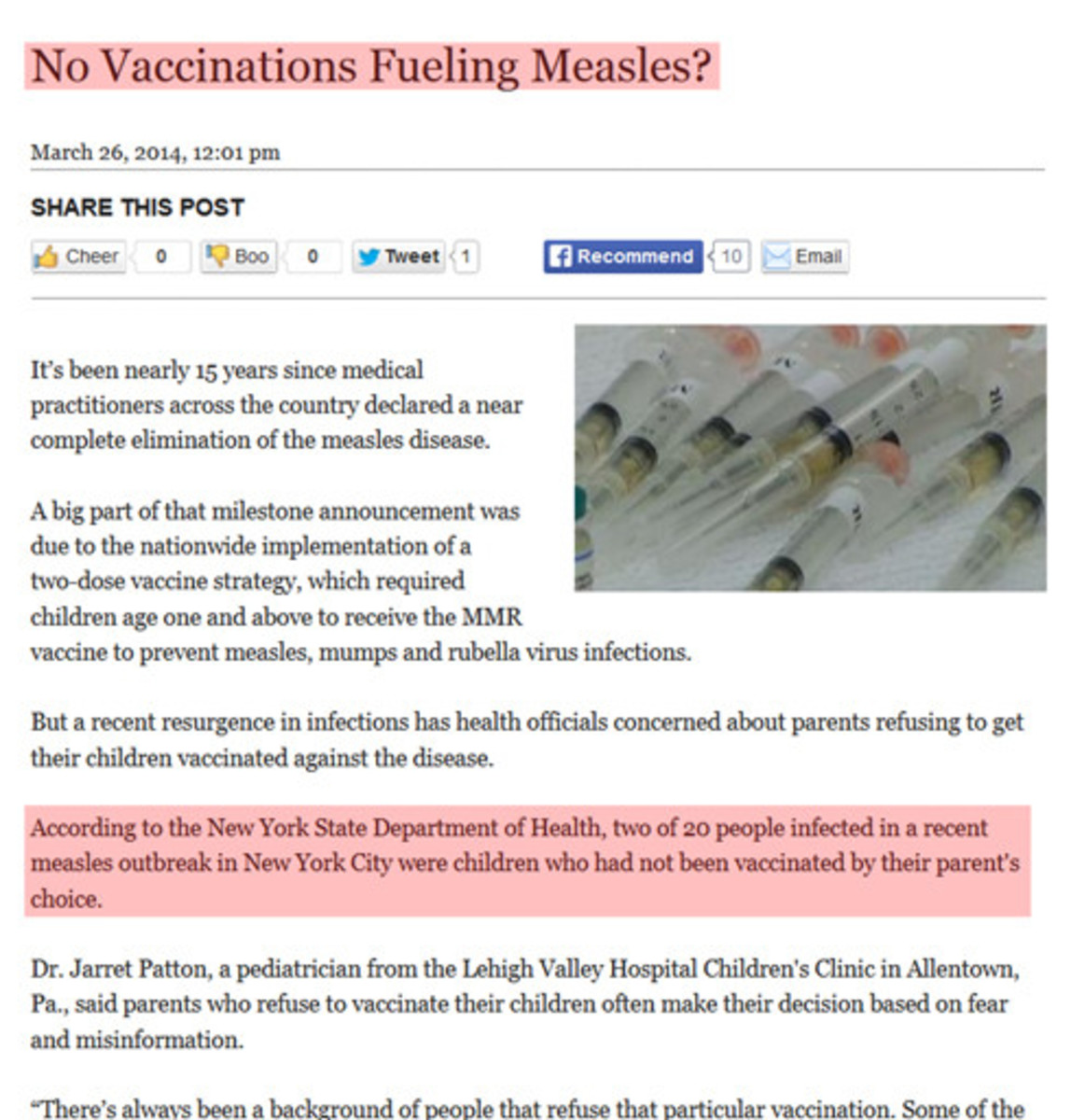 Here is another article from The Florida Independent citing the statistics that 90% of the sick person's close contacts will also become infected.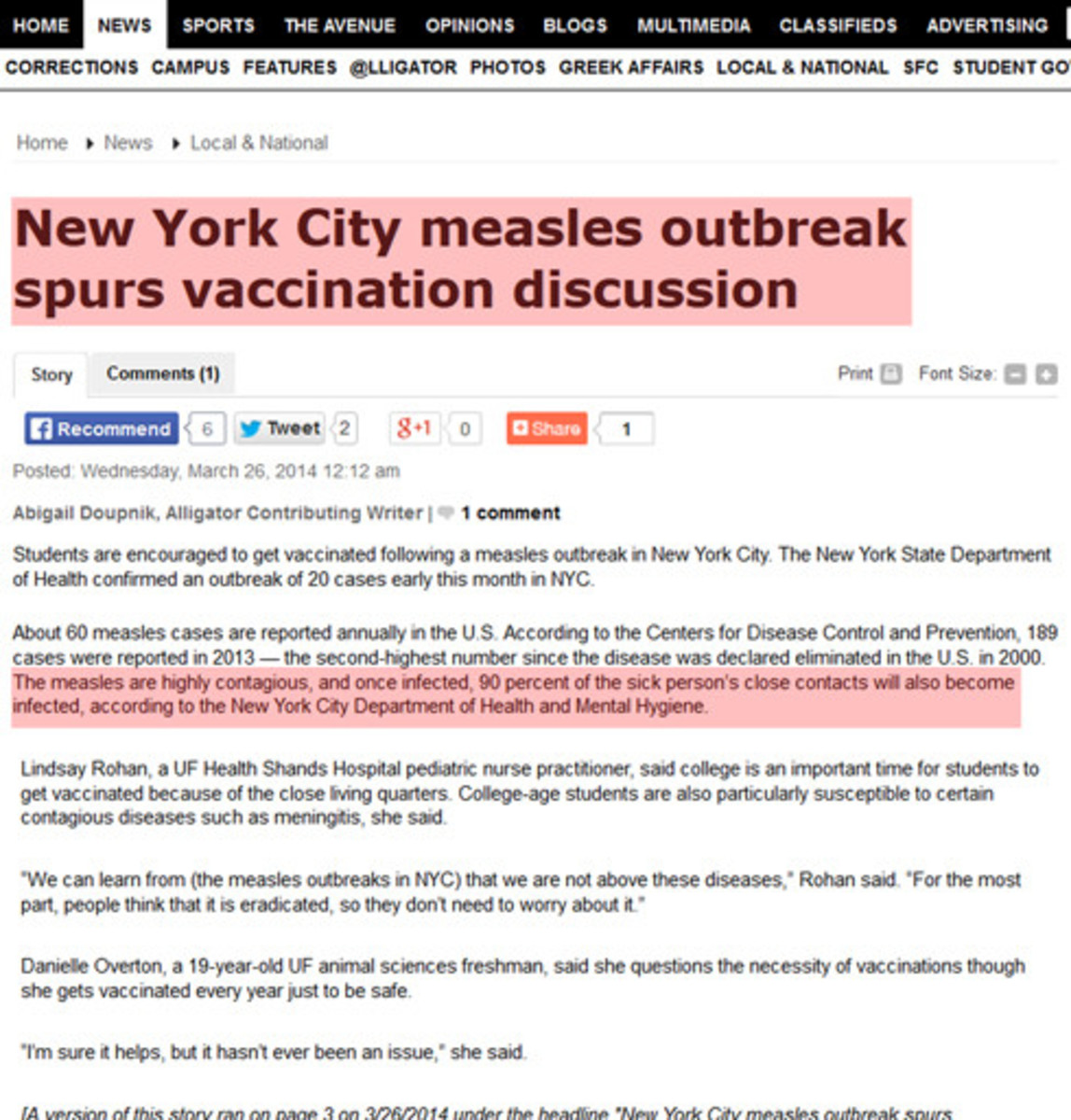 And another from NBC 10 Philly.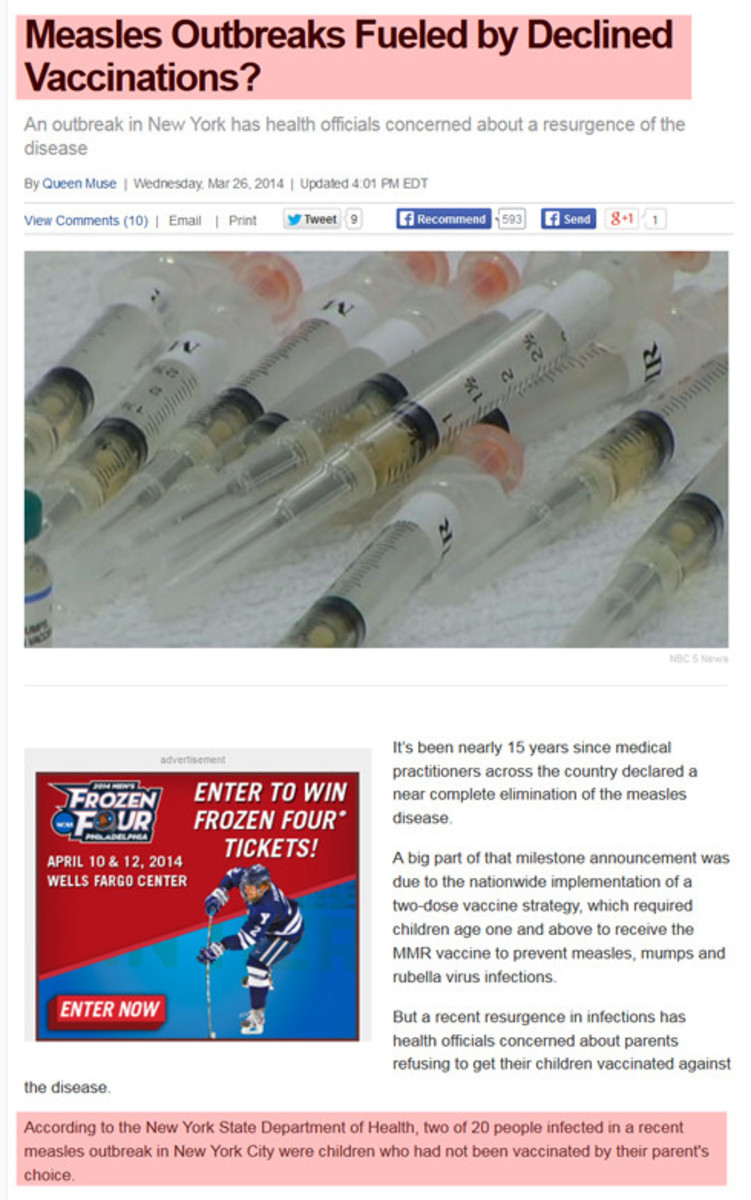 The article then goes on the completely rebut their false claim in the title, "It has not been confirmed whether the increase in measles cases is directly linked to an increase in parents refusing to vaccinate their children, but Pennsylvania Department of Health spokesman Aimee Tysarczyk emphasized the importance of parents setting their fears aside and making sure their children receive the vaccine."
In other words, "we just lied to you in the title and our asses are covered because we used a question mark."

Despite all these "news outlets" citing a statistic that completely negates the claims they make in their titles, most people will read the title only and assume that measles outbreaks are due solely to unvaccinated children.
They will then go on to support legislation which mandates vaccinations and unethically violates an individual's right to informed consent. Thus lining the pockets of the vaccine industry even further by making it illegal for you not to be a customer.
And that is your daily lesson in propaganda.
DASH cryptocurrency and The Free Thought Project have formed a partnership that will continue to spread the ideas of peace and freedom while simultaneously teaching people how to operate outside of the establishment systems of control like using cryptocurrency instead of dollars. Winning this battle is as simple as choosing to abstain from the violent corrupt old system and participating in the new and peaceful system that hands the power back to the people. DASH is this system.
DASH digital cash takes the control the banking elite has over money and gives it back to the people. It is the ultimate weapon in the battle against the money changers and information controllers.
If you'd like to start your own DASH wallet and be a part of this change and battle for peace and freedom, you can start right here. DASH is already accepted by vendors all across the world so you can begin using it immediately.