On this, the 19th anniversary of one of the most tragic days in recent American history, U.S. citizens will be bombarded with patriotic imagery, messages, and the oft-repeated 9/11 slogan of "Never Forget."
Over the course of the day, mainstream media and the like will show the horrific images of planes crashing into towers and the disturbing scene of ground zero in the aftermath.
In the midst of all the grieving, the flag waving, and the speeches from opportunistic politicians, there will be an uncomfortable moment of silence. This silence, however, will not be in remembrance of the victims that day, but rather the complete lack of coverage given to the unanswered questions and suspicious facts surrounding that fateful morning.
While there is undoubtedly a slew of unprovable conspiracy theories is associated with the events leading up to and occurring on Tuesday, September 11, 2001, the Free Thought Project does not delve into such speculation. We only deal in facts.
The list below contains five hard-hitting facts that the mainstream media and the political powers have relentlessly attempted to keep hidden from the public.
FACT 1: FBI Agents Tasked with investigating Osama Bin Laden prior to 9/11 say the CIA withheld Intel from their headquarters that allowed 9/11 to happen
The FBI agents who were tasked with investigating Osama bin Laden prior to 9/11 have come forward with damning accusations noting that the CIA deliberately blocked them from informing their headquarters about future Al-Qaeda plotters present in the United States in 2000 and again in the summer of 2001.
"I am sad and depressed about it," said Mark Rossini, one of the FBI agents assigned to the task force. "It is patently evident the [9/11] attacks did not need to happen and there has been no justice."
"It's horrible. We still don't know what happened," said Ali Soufan, another lead FBI agent assigned to a counterterrorism unit who was also kept in the dark about the movement of the future 9/11 hijackers.
The CIA stands accused of working with Saudi Arabia to actively cover up the intelligence which could've stopped the attacks from taking place that fateful day and no one has faced so much as a slap on the wrist.
"Saudi intelligence has admitted that they knew who these two guys were," Andrew Maloney, an attorney for families, told Newsweek last week. "They knew they were Al-Qaeda the day they arrived in Los Angeles. So any notion from the Saudi government saying, 'Oh, we just help out all Saudis here' is false. They knew. And the CIA knew," as reported by Newsweek.
FACT 2: After Canada stood up to them earlier this year, Saudi Arabia made an ominous threat on social media, alluding to another 9/11 in Canada.
When Canada refused to back down from their calls for the Saudi Arabian government to release the women's rights activists the country is currently keeping in cages, the state sponsored group, Infographic-KSA (Kingdom of Saudi Arabia) tweeted a disgusting threat.
The threat consisted of a digitally altered image that depicted a plane flying toward Toronto's CN Tower—in an obvious reference to 9/11. 
The image was tweeted with the following caption, "sticking one's nose where it doesn't belong!" With another saying below, "He who interferes with what doesn't concern him finds what doesn't please him."
For the hundreds of families currently suing the Saudi Arabian government for their role in 9/11 this tweet serves as even more evidence of their complicity.
FACT 3: Earlier this year, US District Court ruled there is enough evidence against Saudi Arabia of their role in 9/11 that the victims could sue
After evidence was revealed during a lawsuit last year showing the Saudi Arabian embassy in Washington may have funded a "dry run" for the hijackings carried out by two Saudi employees, Saudi Arabia went into panic mode. In response, Saudi Arabia quickly attempted to use their pull inside the United States to have the lawsuit thrown out. However, earlier this year, their attempt failed.
According to Reuters, "U.S. District Judge George Daniels in Manhattan said the plaintiffs' allegations "narrowly articulate a reasonable basis" for him to assert jurisdiction over Saudi Arabia under the Justice Against Sponsors of Terrorism Act (JASTA), a 2016 federal law."
Despite Barack Obama's attempt to deny recourse to the victims of 9/11 by vetoing JASTA, the Senate quickly answered back with a near-unanimous override, thus making it law. The landmark decision by the Senate became the first and only override of the Obama presidency.
According to Reuters, "Daniels said the plaintiffs could try to prove that Saudi Arabia was liable for the alleged activities of Fahad al Thumairy, an imam at the King Fahad Mosque in Culver City, California, and Omar al Bayoumi, said to be an intelligence officer. They were accused of helping two hijackers acclimate themselves to the United States, and begin preparing for the attacks."
Fact 4: The 9/11 commission admitted it was railroaded in their investigation.
Not only were the commissioners given extremely limited funds to conduct their investigation, but they were also met with dead ends in almost every direction.
For starters, only $15 million was given to investigate 9/11. Compare that to the over $60 million that was spent investigating Clinton's affairs with Monica and the travesty becomes greater. This was the largest act of murder in recent US history, and more money was spent investigating a philandering president!
Also, Senator Max Cleland, who resigned from the 9/11 Commission after calling it a "national scandal," stated in a 2003 PBS interview,
"I'm saying that's deliberate. I am saying that the delay in relating this information to the American public out of a hearing… series of hearings, that several members of Congress knew eight or ten months ago, including Bob Graham and others, that was deliberately slow walked… the 9/11 Commission was deliberately slow walked, because the Administration's policy was, and its priority was, we're gonna take Saddam Hussein out."
In 2006, the Washington Post reported that several members of the 9/11 Commission suspected deception on part of the Pentagon. As reported,
"Some staff members and commissioners of the Sept. 11 panel concluded that the Pentagon's initial story of how it reacted to the 2001 terrorist attacks may have been part of a deliberate effort to mislead the commission and the public rather than a reflection of the fog of events on that day, according to sources involved in the debate."
FACT 5: The US government admitted to covering up the alleged role of the Saudi Arabian government on 9/11
"I had to stop every couple pages and…try to rearrange my understanding of history. It challenges you to rethink everything." – Congressman Thomas Massie describing his experience reading the 28 pages in March 2014.
"The 28 Pages" – part of an 838-page Joint Inquiry into Intelligence Community Activities Before and After the Terrorist Attacks of September 11, 2001 – have been kept almost entirely classified since 2002.
Former Sen. Bob Graham, a co-chairman of the investigation committee and strong advocate of declassifying the information, said, "The 28 pages primarily relate to who financed 9/11 and they point a very strong finger at Saudi Arabia as being the principal financier."
In July of 2016, the 28 pages were finally released, although many parts are still redacted. They show that Graham was right—several figures in the Saudi Arabian government provided assistance to the 9-11 hijackers from within the U.S.
"There is information, primarily from FBI sources, that at least two of those individuals were alleged by some to be Saudi intelligence officers," reads the first of 28 pages. "The Joint Inquiry's review confirmed that the Intelligence Community also has information, much of which has yet to be independently verified, indicating that individuals associated with the Saudi Government in the United States may have other ties to al-Qa'ida and other terrorist groups."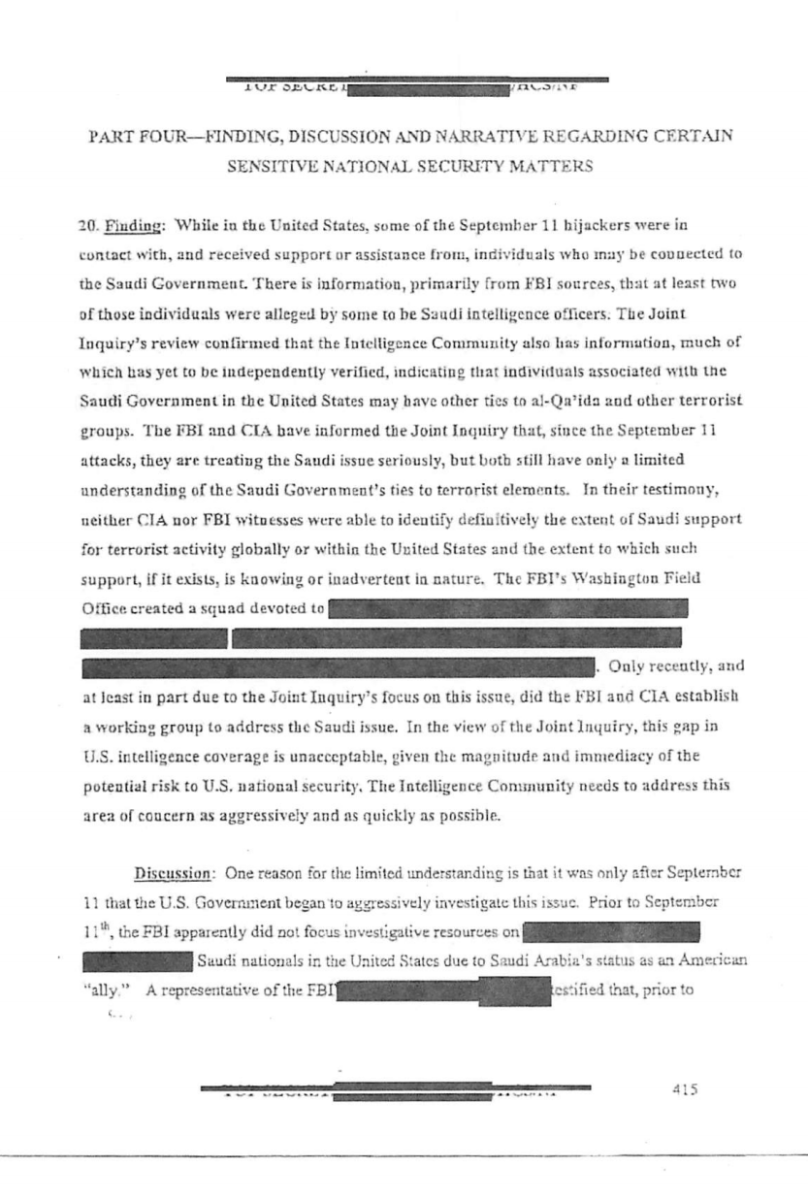 As your social media news feeds begin filling up with patriotic memes reminding you to pledge your unwavering support for the warfare state, share this article to show what it means to be a real "patriot" — a person who's not scared to stand up for the truth, even when the truth is unpopular.
Sponsored Content:
Or, if you would like to help us by subscribing to our sponsor, Legalshield — and have an attorney in your pocket 24 hours a day for just $24.99 a month — you
can click here for details.
🔥 Fuel Our Work:
https://bit.ly/TFTPSub
👕 TFTP T-Shirts:
https://bit.ly/TFTPStore
🎙 TFTP Podcast:
https://bit.ly/TFTPPodcast
📥 TFTP Newsletter:
https://bit.ly/TFTPNews
🌎 TFTP on MeWe:
https://bit.ly/TFTPMewe
🧠 TFTP on Minds:
https://bit.ly/TFTPMinds
🐦 TFTP on Twitter:
https://bit.ly/TFTPTwitter
⚡️ TFTP on Telegram:
https://t.me/TFTPofficial
📲 Need A Lawyer?:
https://bit.ly/TFTPLegalShield