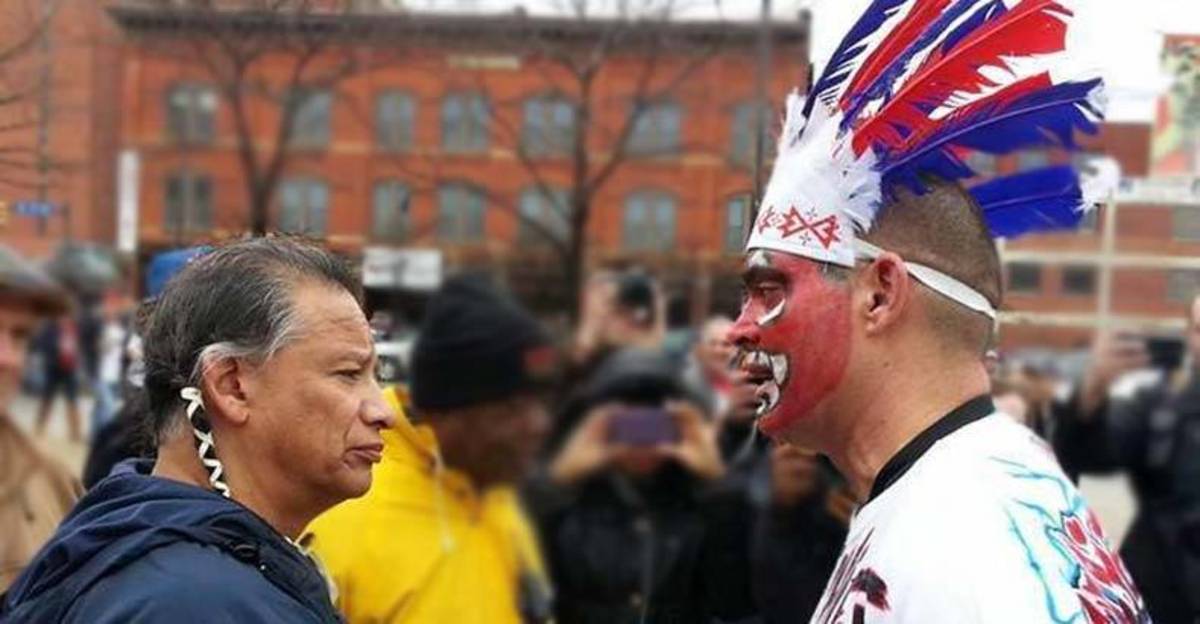 Portland, OR – On Thursday, Adidas North America announced that it will financially compensate U.S. high schools that are willing to eliminate their use of Native American names and mascots.
The German sportswear giant says the initiative is aimed at eliminating racial overtones and stereotypes in American sports.
"Sports have the power to change lives. Sports give young people limitless potential. Young athletes have hope, they have desire and they have a will to win. Importantly, sports must be inclusive," Adidas official Eric Liedtke said at the White House Thursday. "Today we are harnessing the influence of sports in our culture to lead change for our communities. Adidas is proud to provide a pathway for high schools and communities who want to create new identities."
The announcement by Adidas was made at the 7th annual White House Tribal Nations Conference – an Obama administration initiative that focuses on issues affecting tribal communities.
During the conference, President Obama took a jab at the much maligned Washington Redskins.
"I don't know if Adidas made the same offer to a certain NFL team, here in Washington," Obama said. "But they might want to think about that as well."
The quip by Obama drew a quick retort from the Redskins organization, which took aim at the Adidas initiative – accusing the company of hypocrisy due to it's ongoing relationship with a number of college and profession teams that use racialized Native American symbolism.
"The hypocrisy of changing names at the high school level of play and continuing to profit off of professional like-named teams is absurd," Redskins spokesman Maury Lane said in a prepared statement. "Adidas makes hundreds of millions of dollars selling uniforms to teams like the Chicago Blackhawks and the Golden State Warriors, while profiting off sales of fan apparel for the Cleveland Indians, Florida State Seminoles, Atlanta Braves and many other like-named teams."
The accusations by the Redskins ring hollow, as college and professional teams currently outfitted by Adidas that use offensive Native American symbolism, have a vested financial interest in refusing to change their name. Adidas is using its financial resources to lure a wide swath of teams to change their racialized names, logos, and mascots.
Adidas' program applies to all U.S. high schools, and is strictly voluntary, according to the company.
"Of the more than 27,000 high schools across the United States, approximately 2,000 of them use names that cause concern for many tribal communities," Adidas said in a news release. "The new program will be voluntary for high schools interested in changing their identities."

"High school social identities are central to the lives of young athletes, so it's important to create a climate that feels open to everyone who wants to compete," Adidas Group North America President Mark King said.
While this program is a positive development, mascots and team names are of the lowest priority to many impoverished tribes across the U.S. that lack basic necessities such as electricity and running water.
A child born today on Pine Ridge Indian Reservation in South Dakota has a life expectancy of 48-years-old, the second-lowest life expectancy in the entire Western hemisphere, behind only Haiti.
---
Jay Syrmopoulos is an investigative journalist, free thinker, researcher, and ardent opponent of authoritarianism. He is currently a graduate student at University of Denver pursuing a masters in Global Affairs. Jay's work has been published on Ben Swann's Truth in Media, Truth-Out, AlterNet, InfoWars, MintPressNews and many other sites. You can follow him on Twitter @sirmetropolis, on Facebook at Sir Metropolis and now on tsu.
Sponsored Content:
Or, if you would like to help us by subscribing to our sponsor, Legalshield — and have an attorney in your pocket 24 hours a day for just $24.99 a month — you
can click here for details.