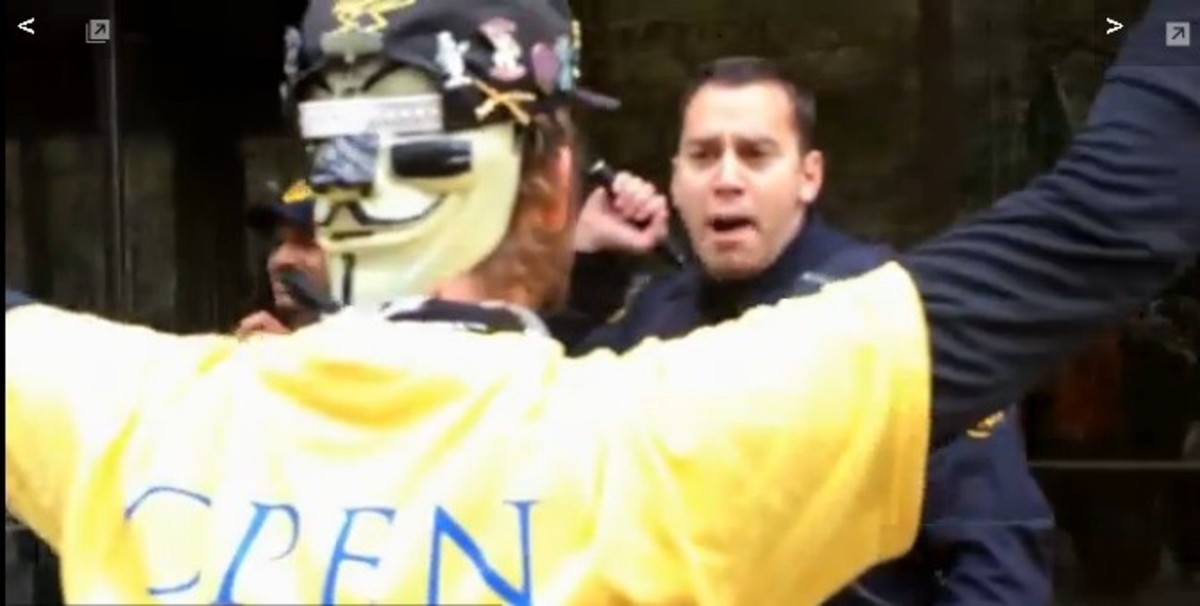 Washington D.C. — This Tuesday, protesters assembled at various sites across the world for a demonstration called "The Million Mask March." The protests were not centered on one specific issue or event, but served as an outlet for people to voice their frustrations with the different institutions that control their lives.
Protests hit major cities worldwide, with some of the largest in London and Washington DC. During the protests in Washington DC, a group of masked Anonymous protesters stormed the FBI headquarters to face a group of terrified police officers.
At first, the police patrolling the building were caught off guard, and one or two officers came face to face with legions of angry protesters. One officer in the video is seen shaking in fear as he threatens the protesters with violence and arrest.
Eventually, the lone officers were joined by an army of cops who made a human wall to stop the protesters from entering the building. At one point, the protesters can be heard chanting "Hands Up, Don't Shoot!" a remembrance to the case of Michael Brown, the unarmed teenager recently shot by police in Ferguson, Missouri.
After several minutes of shouting back and forth, the protesters dispersed and continued their march.
It was reported that marches shut down streets in many major cities, including London and Los Angeles.
---
John Vibes is an author, researcher and investigative journalist who takes a special interest in the counter culture and the drug war. In addition to his writing and activist work he is also the owner of a successful music promotion company. In 2013, he became one of the organizers of the Free Your Mind Conference, which features top caliber speakers and whistle-blowers from all over the world. You can contact him and stay connected to his work at his Facebook page. You can find his 65 chapter Book entitled "Alchemy of the Timeless Renaissance" at bookpatch.com.
DASH cryptocurrency and The Free Thought Project have formed a partnership that will continue to spread the ideas of peace and freedom while simultaneously teaching people how to operate outside of the establishment systems of control like using cryptocurrency instead of dollars. Winning this battle is as simple as choosing to abstain from the violent corrupt old system and participating in the new and peaceful system that hands the power back to the people. DASH is this system.
DASH digital cash takes the control the banking elite has over money and gives it back to the people. It is the ultimate weapon in the battle against the money changers and information controllers.
If you'd like to start your own DASH wallet and be a part of this change and battle for peace and freedom, you can start right here. DASH is already accepted by vendors all across the world so you can begin using it immediately.