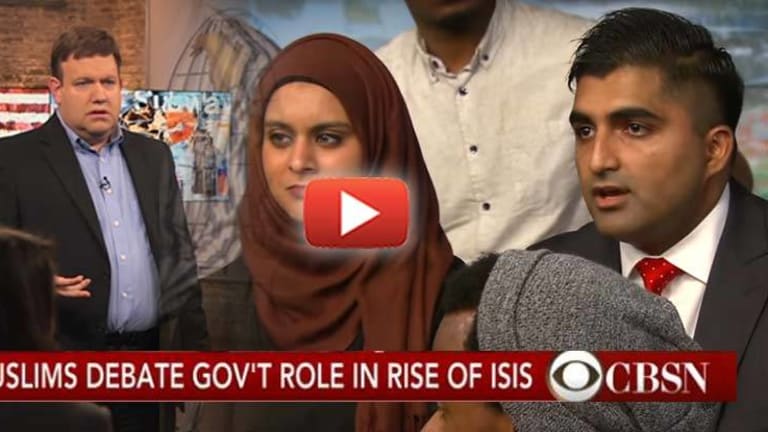 CBS Attempts to Censor Muslim Panel Who Exposes How Govt "Designs" & "Funds" Terrorism
As CBS News attempted to drive a discussion into a Muslim versus the world conversation, well-informed panel members dropped bombshells.
Red-blooded 'Muricans continue to whip themselves into a frenzy against all those who call themselves Muslim, basing their irrational fear and anger on a giant fallacy of composition. They're egged on by bombastic politicians such as Donald Trump and mainstream media talking heads that profit from division and hatred.
CBS News recently put on the appearance of caring about what the Muslim-American community thinks of the vitriol being directed against them. The original segment contained much about how Muslims feel about this misdirected anger, but left out a host of highly informed perspectives brought by the panel members.
Even though Frank Luntz tried his best to inject loaded, dumbed-down questions into the conversation, the Muslim-Americans were having none of it.
New York City journalist Sarah Harvard, who was member of the panel, also pointed out how, "They (CBS) put hijab-wearing Muslim women front & centered. All the Arab/Desi ones in front & center. All "ambiguously Muslim" off camera focus."
Luntz asked the group, "Are you Muslim first or American first?"
One woman replied, "I am an American-Muslim. I can be both at the same time. I don't choose one over the other."
Another member of the panel countered that question with his own question, "Are you Christian first or American first?"
Luntz asked in another segment: "I want a show of hands. How many of you actually have a problem with this administration bombing ISIS?"
The crowd began responding all at once to this simplistic question until one person was able to say:
"The fact that our solution to every problem is to bomb it away is absurd. Creating a cycle of violence where you're responding to violence with violence is bad. It's been happening for decades and we're living with the repercussions of that."
Another panel member said, "There's a boogeyman syndrome that's being exploited here by top politicians like Donald Trump. There are people that are afraid because of these incidents, and there are politicians that will prey on this. Yes, we'll keep you safe. We'll bomb them, we'll bomb them."
These answers begin to reveal a startling truth that many Americans would refuse to admit—many Muslims appear to be more informed and better reasoned than those who occupy the media airwaves and talk about issues around the barbecue pit.
Another panelist said, "When it comes to politics, there always has to be a bad guy. When it was the Cold War it was the Russians. Now we've graduated to the Muslims. That's how you get votes, is fear-mongering."
They also demonstrated the ability to think about the root causes of terrorism, and how government actions contribute to radicalization overseas.
"As an American-Muslim, I really want to ask my government how they created the conditions that allowed for these extremist groups to come about," one panelist said. "I question the militarism of our country. I question the invasion of other countries from our country. And as an American I feel like that's my responsibility."
Another part of the discussion highlighted the vast difference in the ignorant narrative of partisans like Frank Luntz and the sound reasoning of informed citizens.
A panelist began talking about how the FBI preys on vulnerable Muslims to concoct terrorism plots and then arrest them, in what's known as entrapment.
"If we want to talk about terrorism today, look at FBI sting operations where FBI is actually scouting mentally ill Muslim-Americans who are poor, who have a history of drug abuse, to create a terrorist plot. FBI gives the money, weapons and supplies, then says "Look we caught these terrorism suspects." I want Muslims to speak up on this issue."
Another man picked up on this, saying, "FBI entrapment – this is not a subject that the public is aware of. So many of these quote-unquote plots that are uncovered are are actually designed by the FBI, funded by the fBI, and then they take great credit in front of the cameras."
Luntz replied, "So you think the FBI is making this stuff up?"
Flabbergasted, the man replied, "Frank, this is public information. This is not a conspiracy theory. And this is very well known, but again, it doesn't fit the narrative. Americans don't want to know this."
Luntz, channeling all the ignorance of a Fox Newsaholic, said, "Because I don't think the public is going to believe that. Most people think that the FBI is the only thing that's keeping them safe."
And that is how the narrative continues in America. Ignore facts, ignore reason, parrot clichés and appeal to base emotion. Which, as it happens, is the same strategy employed by ISIS.
Said another Muslim-American panelist: "The Islamophobic comments that occur after a terrorist attack are exactly what ISIS wants because it feeds into their narrative that there is a war between Islam and the West because that's how they gain more recruits."
View More: Live News|More News Videos
Below is the original segment that aired, conveniently leaving out all the hard-hitting answers by the panel members.