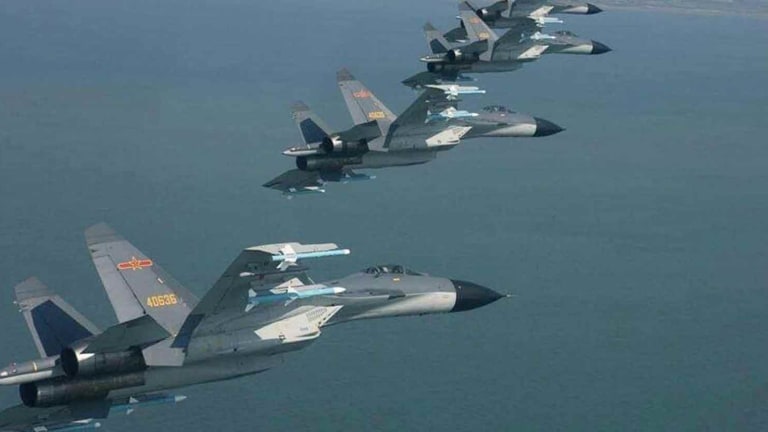 Chinese Jets Approach Taiwan As Beijing Blasts US For "Fueling Fires" In Lead-Up To Ukraine Invasion
Taiwan scrambles jets to warn off nine PLA fighters as China refuses to condemn Russia...
(ZH) — Taiwan was quick to issue official statement vehemently condemning Russia's early morning launch of war on Ukraine. Foreign ministry spokeswoman Joanne Ou denounced the attack on Ukraine's sovereignty, at a tense moment that Beijing continues to eye Taiwan as its own territory.
"Ukrainian cities like Kyiv has been attacked by gunfire, leading to fears of a full-scale war between Russia and Ukraine," she said. "We call on all sides to respect Ukraine's sovereignty and territorial integrity, and oppose the use of violence or coercion to change the status quo."
At the same time China's initial reaction noticeably failed to condemn the invasion, with the Chinese foreign ministry calling for all sides to "exercise restraint" - while ultimately castigating the United States for "fueling fire" in the build-up of tensions.
According to a review of a lengthy press briefing in Beijing, the ministry spokesperson refused over and over again to acknowledge an "invasion" of a sovereign country by Russia:
In a Ministry of Foreign Affairs briefing that went on for more than 90 minutes, spokesperson and Assistant Minister of Foreign Affairs Hua Chunying dodged more than 11 questions regarding Russia's actions in Ukraine. They included repeated inquiries on whether Beijing would consider Russia's acts an invasion and whether they violated Ukraine's territorial integrity. 

Hua added that China would begin importing Russian wheat, a move that could ease the impact of Western sanctions on Russia. 
She called the conflict "very complicated" while urging that the legitimate "security concerns of all parties" must be addressed - which is a clear acknowledgement that China takes of utmost seriousness Moscow's rejection of NATO expansion.
According to the exchange with reporters:
After questions from multiple media on whether China considered Russia's moves an invasion, Hua asked reporters, "Why are you obsessed with this question?"

"You can ask the US side. They keep fueling fires... You can ask them if they have any plans to put out the fire."
Meanwhile on Thursday as the world's attention is fully on Ukraine and Putin's "shock and awe" war unfolding there, Taiwan's air forcescrambled fighters to warn away nine Chinese PLA aircraft that breached its air defense identification zone.
While Chinese aircraft entering the area off the island's south is nothing new, and has occurred on a weekly basis for more than the past year, it's led to speculation that China could take a page out of Putin's playbook and mount its own rapid overwhelming attack. This after the Communist Party takeover of Hong Kong via its local puppets has already long been a done deal.