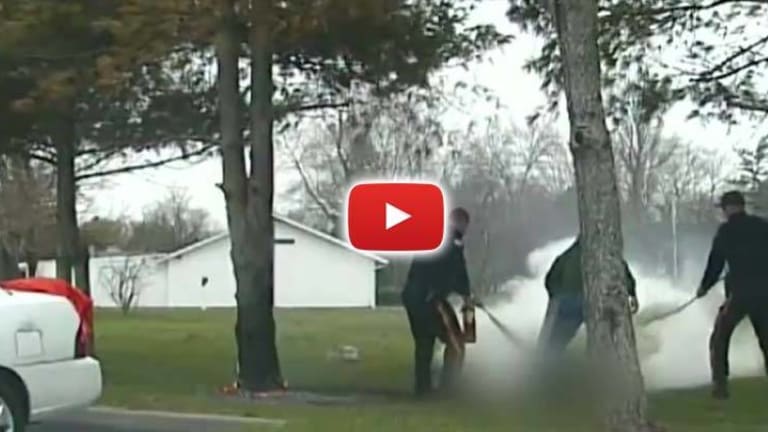 Navy Vet Sets Himself on Fire to Protest the VA's Lack of Healthcare
After her husband burned himself to death in front of a closed VA clinic, the vet's wife recently confirmed he was protesting against the VA
Northfield, NJ – Doused in gasoline, a former chief petty officer stood outside a Veterans Affairs (VA) outpatient clinic when he lit himself on fire and eventually died nine hours later. His wife recently confirmed that her husband was upset with the inadequate care that he had been receiving at the VA facility shortly before his suicide.
A seven-year veteran of the U.S. Navy, Charles Ingram III walked nine miles from his home, past an American Legion park and a military veteran memorial, before arriving at the parking lot of the VA Community Based Outpatient Clinic around 1 p.m. on Saturday, March 19. While standing on a grass lawn near the clinic, the 51-year-old poured several gallons of gasoline on himself before committing self-immolation.
After a bystander and two cops were able to extinguish the flames, Ingram was airlifted to Temple University Burn Center where doctors discovered the veteran had suffered severe burns across 100% of his body. The 51-year-old vet survived for another nine hours before passing away.
Serving in the Navy from 1985 to 1992, Ingram had attained the rank of chief petty officer and was deployed in the Persian Gulf during Operations Desert Shield and Desert Storm. He left behind a wife and two young children, ages 3 and 5.
According to Ingram's wife, he had recently lost his job and they were in the process of going through a divorce. She also confirmed that her husband was unsatisfied with the care that he had been receiving at the VA outpatient facility and killed himself in front of the clinic on a Saturday while it was closed. Local police have confirmed multiple calls requesting the facility to start opening on weekends for veterans.
In 2013, the U.S. Department of Veterans Affairs released a report estimating that roughly 22 veterans had committed suicide every day between 1999 and 2010. In the decade after 9/11, the military spent at least $2.7 billion on antidepressants alone, including prescription pills handed out by VA clinics.
During the second Gulf War, the pharmaceutical industry began influencing the U.S. military into dispensing unprecedented amounts of prescription drugs to young people serving in the armed forces and to veterans at VA clinics. In 2002, the Department of Defense spent $3 billion on psychotropic prescription drugs. In 2011, the DoD raised that number to $6.8 billion.
Recalling the image of Vietnamese Buddhist monk Thích Quảng Đức, Ingram committed self-immolation in an act of desperation calling attention to a healthcare system that had failed him and thousands of his fellow veterans. Instead of revolutionizing the VA's failed healthcare system, a tribute of flowers and American flags now reside on the ground where Ingram burned.
[author title="" image="https://"]Andrew Emett is a Los Angeles-based reporter exposing political and corporate corruption. His interests include national security, corporate abuse, and holding government officials accountable. Andrew's work has appeared on Raw Story, Alternet, Activist Post, and many other sites. You can follow him on Twitter @AndrewEmett and on Facebook at Andrew Emett.[/author]