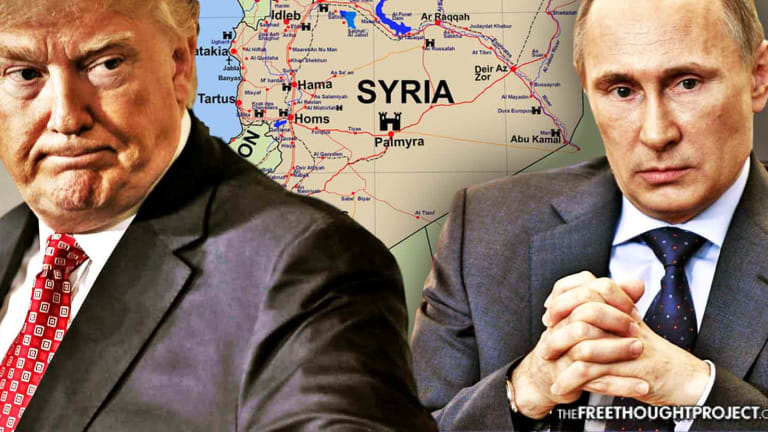 'Deadliest Clash' Since Cold War: US Military Just Killed 100 Russian Fighters in Syria
"U.S. forces reportedly killed "scores" of Russian contract soldiers in Syria last week "in what may be the deadliest clash between citizens of the former foes since the Cold War"
Syria — (ZH) Following up to last night's bombshell report that at least two Russian mercenary fighters in Syria had been killed by US-led coalition forces, this morning Bloomberg is out with an exclusive, according to which the body count is far greater than had been disclosed: U.S. forces reportedly killed "scores" of Russian contract soldiers in Syria last week "in what may be the deadliest clash between citizens of the former foes since the Cold War", Bloomberg reported.
According to the unnamed US and Russian sources, "more than 200 mercenaries, mostly Russians fighting on behalf of Syrian leader Bashar al-Assad, died in a failed attack on a base and refinery held by U.S. and U.S.-backed forces in the oil-rich Deir Ezzor region" In terms of total body count, the U.S. official put the death toll at about 100, with 200 to 300 injured.
A few caveats: the Russian operation was not officially mandated, and the assault "may have been a rogue operation, underscoring the complexity of a conflict that started as a domestic crackdown only to morph into a proxy war involving Islamic extremists, stateless Kurds and regional powers Iran, Turkey and now Israel."
In a bizarre deflection of responsibility, Russia's military not only did not demand an explanation from the US for the deaths, but said it had nothing to do with the attack and the U.S. military accepted the claim. Defense Secretary Jim Mattis has called the whole thing "perplexing," but provided no further details.
"Coalition officials were in regular communication with Russian counterparts before, during and after the thwarted, unprovoked attack," U.S. Colonel Thomas F. Veale, a military spokesman, said in a statement. "Russian officials assured coalition officials they would not engage coalition forces in the vicinity."
The deadly fight began about 8 kilometers (5 miles) east of the Euphrates River de-confliction line late on Feb. 7, when adversaries fired rounds and advanced in a "battalion-sized dismounted formation supported by artillery, tanks, multiple-launch rocket systems and mortars," Veale said. No fatalities were reported on the coalition side and "enemy vehicles and personnel who turned around and headed back west were not targeted."
Shortly after the attack, al-Masdar reported that the pro-government "ISIS Hunters" released an official statement on Sunday condemning the US Coalition's airstrikes that killed several members of the Syrian Armed Forces on February 7th.
The ISIS Hunters specifically condemned both the US Coalition and the Kurdish forces that are currently in control of the majority of the northeastern countryside of Deir Ezzor. There was, however, no mention that many of the fighters killed were Russian mercenaries.
Echoing the sentiment, the government in Damascus called the U.S. action "barbaric aggression" and a "war crime."
In troubling news for Putin, however, the death toll from the incident, already about five times more than Russia's official losses since it entered the war in 2015, is still rising, according to one mercenary commander. He said by phone on condition of anonymity that dozens of his wounded men are still being treated at military hospitals in St. Petersburg and Moscow.
Many of the Russians killed or injured were veterans of the Ukraine conflict, according to Alexander Ionov, the head of a Kremlin-funded organization that fosters ties to separatists who's fought alongside pro-Assad forces in Syria. It's not clear who was paying the soldiers of fortune, whether it was Russia directly, its allies in the war, Syria and Iran, or a third party.
Bloomberg has also identified the mercenary outfit involved in the attack. According to reports in local media, Wagner - a shadowy organization often referred to as Russia's answer to Blackwater, the U.S. military company now called Academi - was hired by Assad or his allies to guard Syrian energy facilities in exchange for oil concessions.
There's a refinery in Deir Ezzor that once funded Islamic State operations that's now "crucial" to Assad's plans to finance the reconstruction of Syria once a peace deal is finally reached, according to Yury Barmin, a Middle East analyst at the Russian International Affairs Council in Moscow.
In its statement about the attack, Russia's Defense Ministry seemed to refer to the refinery, accusing the U.S. of using its "illegal presence" in Syria as an excuse to "seize economic assets" instead of fighting terrorists.
Vladimir Frolov, a former Russian diplomat and lawmaker who's now an independent political analyst in Moscow, said the clash marked the first such armed exchange between the two powers since the Vietnam War.
"This is a big scandal and a reason for an acute international crisis," Frolov said. "But Russia will pretend nothing happened."
Indeed, and as we noted last night, if and when the deaths are officially confirmed, it could turn into a political scandal for Putin, with the public demanding why the government is keeping military deaths under wraps. Already Grigory Yavlinsky, a veteran liberal politician who is running for president in elections next month, has called on Putin to disclose how many Russians had been killed in Syria and in what circumstances.
"If there was large-scale loss of life of Russian citizens, the relevant officials, including the commander-in-chief of our armed forces (Putin), are obliged to tell the country about it and decide who carries responsibility for this," Yavlinsky said in a statement released by his Yabloko party.
Of course, if indeed Russian fighters were killed while fighting under covert circumstances - in the same way as killed US "military advisors" are kept under seal - that is the last thing Moscow would like to publicize. Unless of course the political calculus shifts, and Putin decides that it is time for a full-blown military escalation, in which case the deaths will be used as the justification behind any armed conflict.