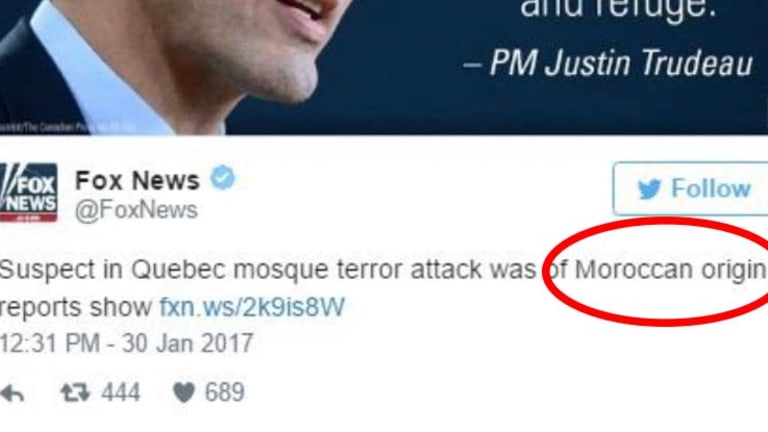 FOX News Caught Stoking Hate With Fake News that Mass Shooter was Muslim
Fox News allowed a tweet to remain long after the Moroccan was confirmed as a witness, not a suspect -- allowing Islamophobes to run wild with fake news.
Proving that the purveyors of fake news exist on both sides of the political divide, Fox News was caught perpetuating the blame for the Quebec mosque shooting on a Muslim Moroccan – well after Quebec authorities had clarified that he was actually a witness.
The actual suspect is 27-year-old Alexandre Bissonnette, a white French Canadian with a habit of posting anti-immigrant and misogynistic remarks online, who also praises Donald Trump and French politician Marine Le Pen.
The shooting, which left six dead and 19 wounded, occurred on the night of Jan. 29. Mohamed Belkadir had just finished prayers when he heard gunshots inside. After 15 to 20 seconds of shooting, he ran back inside to help.
Translated from La Presse:
"It's the reflex when someone gets hurt. We cannot leave him. It is an act of humanity shared by everyone, not just the Muslims," he said modestly, insisting that he should not be made a star or a hero.

The shooter was already gone. Dead and wounded strewed the ground. Mohamed Belkhadir telephoned 9-1-1 to ask for help and give the address to the emergency services. He leaned over to cover a wounded man with his coat. It was soon after that a great fright filled him.

"I saw someone with a weapon. I did not know that he was a policeman, I thought he was coming back to shoot. So I fled outside, on the parking side," he said.

"I understand, I respect that they caught me. They saw me flee, they thought I was suspicious, that's normal. For them, someone who flees is a suspect," says Mohamed Belkhadir.
Belkadir was initially a suspect, but authorities cleared him within hours as the shooter called police to turn himself in. Quebecois news outlets were already reporting that Bissonnette was the shooter and Belkadir was a witness, but that didn't stop Fox News from tweeting Belkadir was the shooter.
At 9:06 AM on Jan. 30, Quebec authorities confirmed Belkadin was a witness, not a suspect. At 12:31 PM, Fox News tweeted that Belkadin was a suspect and ran an article with that headline. Fox updated its article afterward, but the false tweet remained live for more than a day.
That gave Islamophobes and anti-immigration voices plenty of time to trumpet the fake news across message boards and throughout the echo chamber. Press Secretary Sean Spicer even latched on to it as evidence for why Trump's immigration order was prudent.
It took a complaint from the Canadian Prime Minister's office for Fox News to take down the erroneous tweet. Kate Purchase, Director of Communications, posted her email to Fox News on Twitter, which read in part:
"These tweets by Fox News dishonour the memory of the six victims and their families by spreading misinformation, playing identity politics, and perpetuating fear and division within our communities.

We need to remain focused on keeping our communities safe and united instead of trying to build walls and scapegoat communities. Muslims are predominantly the greatest victims of terrorist acts around the world. To paint terrorists with a broad brush that extends to all Muslims is not just ignorant — it is irresponsible.

If we allow individuals and organizations to succeed by scaring people, we do not actually end up any safer. Fear does not make us safer. It makes us weaker. Ramping up fear and closing our borders is not a solution."
Fox deleted the tweet hours after the email and apologized for the "error."
Purchase rightly used the opportunity to make some rational points in the immigration debate. It should not take much reasoning to figure out that building walls and stoking resentment against Muslims is no way to actually defend a country from terrorism. But it does perpetuate the military-security state.
As Ron Paul reminded us recently, truly defending against terrorism would mean acknowledging that U.S. interventions and violence in the Middle East is a primary cause of terrorism.
"We have been dropping bombs on the Middle East since at least 1990. Last year President Obama dropped more than 26,000 bombs. Thousands of civilians have been killed in US drone attacks. The grand US plan to "remake" the Middle East has produced only misery, bloodshed, and terrorism. Ending this senseless intervention will go a long way toward removing the incentive to attack the United States."