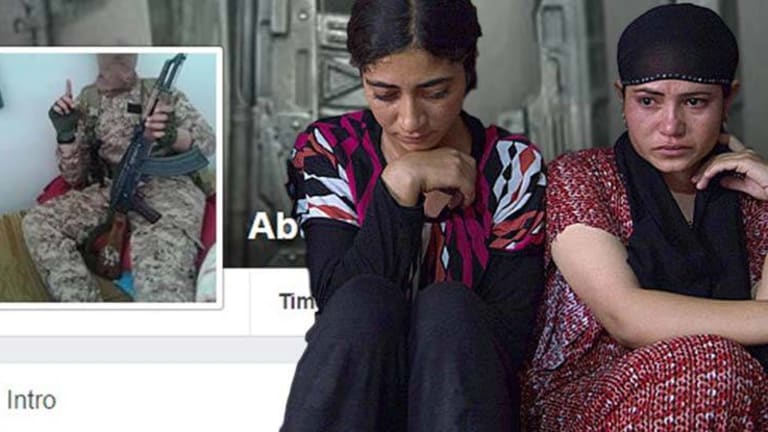 ISIS Jihadists Now Using Facebook to Sell Sex Slaves
Islamic State terrorists use Facebook to sell sex slaves to fellow jihadists, justifying the price by "supply and demand."
Islamic State terrorists have taken to Facebook as a means of selling sex slaves to fellow jihadists, justifying the price by "supply and demand." According to a damning report out of the Washington Post, hundreds of women are being held captive and traded by the terror group, and it's taking place right before our eyes -- on social media.
Photos of a young girl of about 18 were posted on Facebook by an Islamic State (IS, previously ISIS/ISIL) militant calling himself Abu Assad Almani, which is Arabic for "German," the Washington Post reports.
"To all the brothers thinking about buying a slave, this one is $8,000," said Almani's post on May 20th.
Hours later, Almani made another offer. "Another sabiyah [slave], also about $8,000. Yes or no?" he wrote in the posting.
Displaying the images, Almani told his Facebook friends to "get married and come to dawlah [the IS-held territory in Iraq and Syria]."
Instead of Facebook taking down the post immediately, a heated discussion erupted as Almani's friends questioned the $8,000 price tag on this poor girl.
"What makes her worth that price? Does she have an exceptional skill?"one of his friends asked about the woman in the second photo. "No," he replies. "Supply and demand makes her that price."
The images and Almani's profile were eventually deleted, according to the Post. However, they highlight a worrying sign of a growing slave trade, with probably hundreds of women being held and sold as sex slaves by IS militants, according to a report by RT.
As the terror group has been pinned down in Iraq and, especially, Syria, where government troops and the Russian Air Force continue to hit IS, female sex slaves appear to be increasingly traded by jihadists. Various media reports suggest the militants are running low of cash, food and medicines, which could be explained by the shrinking supply routes stretching between IS-held territory and Turkey.

In August last year, the UN said it obtained a hard copy of the Islamic State's sex price list, alleging jihadist fighters can get children aged 1 to 9 for about $165, adolescent girls for $124 and women over 40 for as little as $41.
"The girls get peddled like barrels of petrol," Zainab Bangura, the UN's Special Representative of the Secretary-General for Sexual Violence in Conflict, told Bloomberg. "One girl can be sold and bought by five or six different men. Sometimes these fighters sell the girls back to their families for thousands of dollars of ransom."
Ironically, ISIS preaches uses a skewed version of Islamic mythology known as houris, which promises their martyrs they will receive 72 virgins in heaven. Apparently the murderous regime wants to tap into that myth now.
"There were thousands of women. In the first days, I witnessed fighters taking girls who were over the age of nine to rape them," Nadia Murad, a Yazidi girl who survived IS sex slavery, told RT in a recent interview.
"These social media conversations also reveal information on where and under what conditions the women are being held, on the going prices for them, and even on other issues relating to them – such as possible trafficking in human organs," said a report released by the Middle East Media Research Institute MEMRI), a Washington-based research organization.
"We have seen a great deal of brutality, but the content that ISIS has been disseminating over the past two years has surpassed it all for sheer evil," said Steven Stalinsky, the institute's executive director, reports the Post. "Sales of slave girls on social media is just one more example of this."
As the Free Thought Project has reported in the past, ISIS has taken to Facebook before. In February, it was revealed that the surplus weapons from the CIA were being sold on Facebook by accounts linked to jihadists.
Since Facebook has banned all talk of weapons sale and trading on their social media platform, the page has since been removed, however, not before they received thousands of likes and potentially unloaded countless weapons.
It seems that the US has truly created a monster and the 'moderate rebels' once funded to overthrow Assad in Syria, have become a rapacious army of brutal murderers.
[author title="" image="https://tftpstagingstg.wpengine.com/wp-content/uploads/2016/03/magorist-e1456948757204.jpg"]Matt Agorist is an honorably discharged veteran of the USMC and former intelligence operator directly tasked by the NSA. This prior experience gives him unique insight into the world of government corruption and the American police state. Agorist has been an independent journalist for over a decade and has been featured on mainstream networks around the world. Follow @MattAgorist[/author]