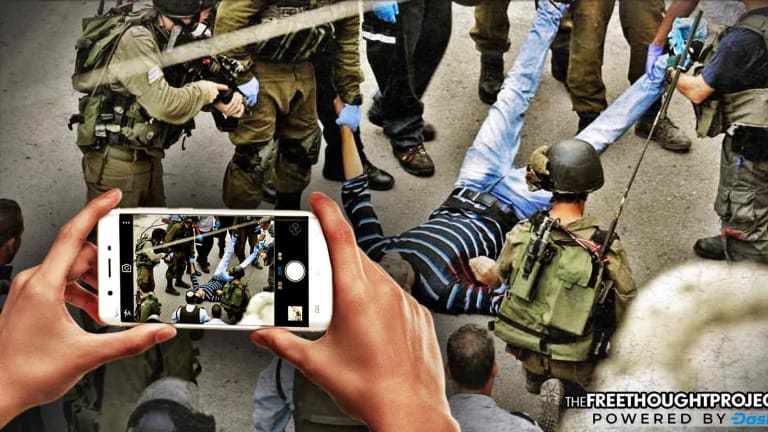 Israel Pushing Law to Make Filming Soldiers Illegal—Violators to Be Imprisoned for a Decade
The Israeli government is attempting to pass legislation that could send individuals to prison for up to 10 years for filming soldiers.
The Israeli government is reportedly targeting journalists and human rights group with a newly proposed bill that would outlaw the filming of Israeli troops, which critics are calling an obvious attempt to hide war crimes that are regularly committed by the country's military.
If passed, Reuters reported that the new law will impose a possible five-year prison sentence on anyone who takes recordings "with intent to harm the morale of Israel's soldiers or its inhabitants." The prison sentence will reportedly be raised to 10 years if the recording was taken with the intent of "damaging national security."
The bill was put forward by a committee on Sunday and is now on its way to parliament for a vote that could take place as soon as this week.
Israeli Defense Minister Avigdor Lieberman praised the bill and said that it was necessary to fight "terrorism."
"Israeli soldiers are under constant attack by Israel haters and supporters of terrorism who look constantly todegrade and sully them. We will put an end to this," Lieberman said.
Deputy Palestinian Information Minister Fayez Abu Aitta pointed out that this is an obvious attempt to cover up the Israeli government's own terrorism and war crimes.
"This decision aims to cover up crimes committed by Israeli soldiers against our people, and to free their hands to commit more crimes,"  Aitta told Reuters.
The text of the bill suggests that there are "anti-Israeli and pro-Palestinian organizations which spend entire days near Israeli soldiers waiting breathlessly for actions that can be documented in a slanted and one-sided way so that soldiers can be smeared."
B'Tselem, the Jerusalem-based human rights organization that has consistently exposed Israeli war crimes in the past, called the bill "ridiculous" and said that the Israeli government should stop committing war crimes if they are unhappy about the press that they are getting.
"If the occupation embarrasses the government, then the government should take action to end it. Documenting the reality of the occupation will continue regardless of such ridiculous legislation efforts," said Amit Gilutz, a spokesman for B'Tselem.
In 2016, a video taken by B'Tselem in the West Bank led to Israeli soldier Elor Azaria being convicted of manslaughter.
In recent years, as the horror that the Israeli government unleashes upon the prisoners of Palestine has been exposed, global public opinion is finally beginning to shift against the apartheid state. In response, the governments in the U.S. and Israel have both been forcing legislation to keep a lid on the genocide that is taking place.
Last month, The Free Thought Project reported that South Carolina passed a law to legally define criticism of Israel as "anti-Semitism," showing a concerted effort to stifle criticism of a government that is indiscriminately killing innocent people, and keeping an entire population in poverty and constant terror.
As The Free Thought Project also reported, 41 other members of Congress came together to champion proposed legislation in July 2017 that would "make literal criminals of any Americans boycotting Israel—a brazen, if not explicit, attack on the BDS Movement, incidentally exploding in popularity worldwide as the belligerent nation continues its occupation of Palestinian lands."
Governments are not alone in this suppression of information either, tech corporations that now control the media narrative are also taking efforts to prevent people from seeing the true face of the Israeli military. YouTube has been engaging in censorship of Israeli war crimes, as journalist Abby Martin called attention to earlier this year when a video that she made about the violence in Isreal was flagged as "hate speech" and blocked by YouTube in 28 countries.
Journalist Max Blumenthal, who was featured in the interview, suggested that pro-Israel lobbyists have major tech companies on their payroll:
"My comments were based entirely on my extensive journalistic experience in the region and my analysis was clinical in nature. At no point did I denigrate anyone based on their faith or ethnicity. The trend of censoring material that presents Israel in a less than favorable light has only intensified as establishment attacks on critical voices expands. This latest episode confirms my view that the pro-Israel lobby and its willing accomplices in Silicon Valley present one of the greatest threats to free speech in the West."
Despite the best efforts of the Israeli government and their NATO allies, the world is begining to wake up to the struggle of the Palestinian people. Even the United Nations is taking a new interest in the situation, with the recent announcement of a war crimes investigation of the Israeli government's actions.