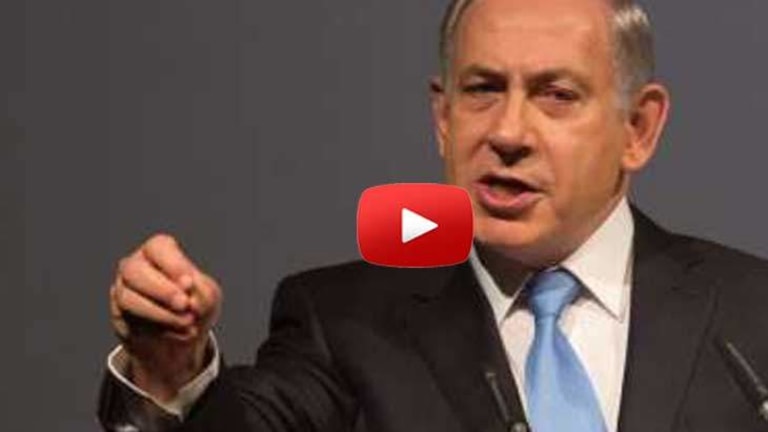 Israeli PM Defends Hitler for the Holocaust, Blames Extermination of Jews on Muslims
Israeli Prime Minister Benjamin Netanyahu just attempted to rewrite history and blame the holocaust on the Muslims.
Israeli Prime Minister Benjamin Netanyahu has stirred controversy this week with some disturbing remarks that seemed to defend Hitler and place the responsibility for the holocaust on the Muslim population. While speaking at the World Zionist Congress in Jerusalem, Netanyahu claimed that a Muslim named Haj Amin al-Husseini talked Hitler into exterminating the Jewish population because he didn't want them to move to the middle east if they were expelled from Germany by Hitler.
"Hitler didn't want to exterminate the Jews at the time, he wanted to expel the Jew,"Netanyahu said, adding that, "And Haj Amin al-Husseini went to Hitler and said, 'If you expel them, they'll all come here (to Palestine). Hitler then asked: "What should I do with them?" and the mufti replied: "Burn them."
Netanyahu's claim that Haj Amin al-Husseini was responsible in any way for the holocaust is largely rejected by most historical scholars and only supported by a small number of extremists.
To make matters even worse, Netanyahu's comments were reportedly in response to the refugee crisis, and how many European countries accepted Arab migrants with open arms. German Chancellor Angela Merkel's spokesman Steffen Seibert later explained that the country has so much sympathy for the refugees because they don't want to see a repeat of the holocaust.
"All Germans know the history of the murderous race mania of the Nazis that led to the break with civilization that was the Holocaust. This is taught in German schools for good reason, it must never be forgotten. And I see no reason to change our view of history in any way. We know that responsibility for this crime against humanity is German and very much our own," Seibert said.
Sadly, Israel has done nothing to help in the refugee crisis, and, in fact, has made it even worse by continuing to create a massive refugee population in Palestine, both expelling and exterminating people who don't fit in with their genetic mold.
The umbrella organization of Israel's Holocaust survivors' groups reacted with outrage. "Netanyahu hurts the feelings of the survivors who experienced first hands Hitler's edicts, humiliation and torture. He hurts them by minimizing the role of that vile man and incites by diverting hatred toward the Arab public in Israel and its leaders, by implying that they always wanted to exterminate the Jewish people, and do to this day."
According to I24 News, 
The claim that Husseini came up with the idea of the extermination of European Jewry has been proposed by some historians at the fringes of Holocaust research, but is generally rejected as a theory.

In response, opposition leader Isaac Herzog said that Netanyahu was playing into the hands of Holocaust deniers. Herzog demanded that Netanyahu backtrack on his statement, calling it a "dangerous distortion of history."
Below is video footage of Netanyahu's controversial speech.
" frameborder="0" allowfullscreen>