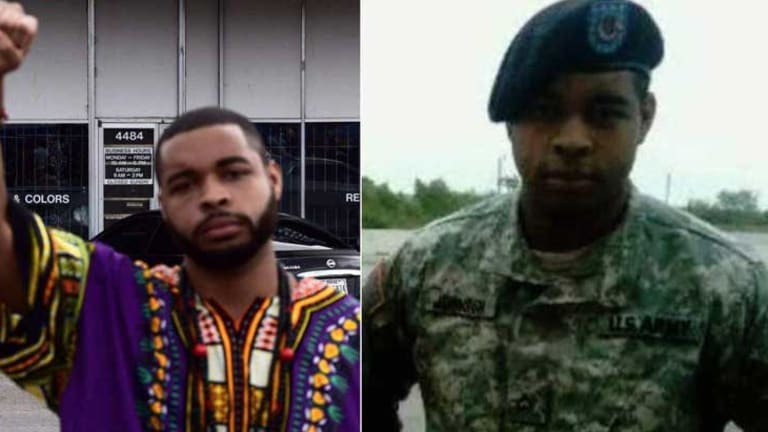 Micah X. Johnson Identified as Dead Dallas Gunman -- 5 Important Facts You Need to Know
The Dallas gunman has been identified as US Army veteran Micah X. Johnson who confessed a number of details to police before he was killed.
Dallas, Texas - Dallas Police have identified a now deceased suspect in the deadly sniper attack during a peaceful protest over the recent police killings of Alton Sterling and Philando Castile. Twelve Dallas law enforcement officers were gunned down in the vicious downtown Dallas ambush, with five being fatally wounded, by what police believe to be multiple shooters who opened fire during the downtown protest.
Here is what we know at this point.
1. The Deceased Suspect Told Police He Was Not Affiliated With Any Groups & He 'Did This Alone'
Police named the individual as 25-year-old Micah Xavier Johnson, a U.S. Army veteran, who told police he was "not affiliated with any groups," and he said he "did this alone," before ultimately being killed, Dallas Police David Brown said.
Johnson allegedly told police negotiators the "end is coming" and said he wanted to "kill more" officers, according to Brown.
Sources told the Los Angeles Times that Johnson has no ties to terror groups and no known criminal history. He has lived in the Dallas area and has family members living in Mesquite, Texas, east of Dallas, the newspaper reports, citing federal law enforcement sources. Police have said they have found no suspected ties to international terrorism.
2. Reportedly the First Ever Case of a 'Bomb Robot' Being Used to Kill a Suspect
Johnson was subsequently killed using a robotic explosive device after police cornered him in a parking garage at El Centro College. It is reportedly the first time a suspect has ever been killed by a "bomb robot." Police attempted to negotiate with the gunman for several hours before finally killing the suspect as he continued to exchange gunfire with officers.
"We tried to negotiate for several hours, negotiations broke down, we had an exchange of gunfire with the suspect," Brown said. "We saw no other option but to use our bomb-robot and place a device on its extension for it to detonate where the suspect was. Other options would have exposed our officers to grave danger. The suspect is a result of detonating the bomb."
3. One Suspect is Dead & Another in Custody
"We've got other possible suspects that we're interviewing. They're not being real cooperative at this point," Dallas Mayor Mike Rawlings said in a press conference.
One female suspect was taken into custody in the vicinity of the parking garage. Police also took two individuals they into custody on Interstate 35 at Ann Arbor Avenue in Dallas, according to WFAA-8. Officers followed the vehicle southbound on I-35 and stopped it on I-35 at Kiest.
According to Dallas police, that situation began when a Dallas police officer saw an individual carrying a camouflage bag walking quickly down Lamar Street. The individual threw the bag into a black Mercedes, when they sped off at a high rate of speed. Police questioned both occupants of the vehicle before releasing them. The driver told Dallas News 8's Demond Fernandez he was just picking up his brother from the bus station and the bag was his brother's luggage.
Investigators have not ruled out the possibility that other suspects helped plan or carry out the deadly shootings and are continuing to investigate.
Brown said police want to ensure "that everyone associated with this tragic event is brought to justice. … We won't expand on any further on what other suspects we have interviewed or looked at or their status until we get further into this investigation and get closer to a conclusion of who are all involved."
Brown continued, "I'm not going to be satisfied until we turn over every stone. … We're not satisfied that we've exhausted every lead. And we're not going to be satisfied until every lead is exhausted. So if there is someone out there that was associated with this, we will find you and we will prosecute you and we will bring you to justice."
4. Suspect Told Police He Planted IED Explosives All Over Downtown Dallas -- No Bombs Found Yet
While Johnson was barricaded in the parking structure, he told police there were explosives planted "all over" downtown Dallas, Brown said at a press conference.
Police have not said if any bombs or suspicious items have been found
.
"He said we will eventually find the IEDs," Police Chief David Brown said at a press conference. Thus far police have found no such explosive devices.
5. Micah X. Johnson's Motive
While police have thus far not found any connections between the suspects and international terrorist groups, investigators said one suspect claimed a racial motive for the shootings.
"He was upset about Black Lives Matter (and) he wanted to kill white people, especially white officers," said Dallas Police Chief David Brown.
The suspect said that he was angry over Black Lives Matter, the killing of blacks by police and wanted to kill white people, especially white officers, Brown said.