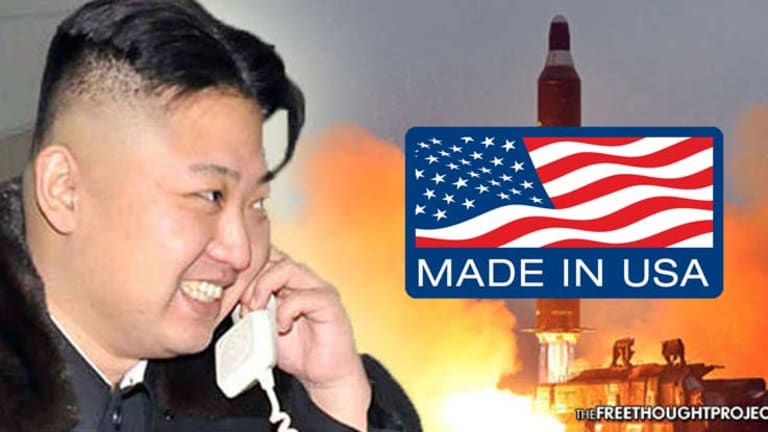 Never Forget: The Nukes N. Korea is Threatening to Use on America CAME FROM AMERICA
As the US beats the war drums to attack North Korea, most Americans have no idea the US is responsible for the dictatorship's nuclear arsenal.
For more than a decade, North Korea has been unsuccessfully attempting to prove its military might to the world through a series of failed missile launches, nuclear proliferation, and threats to anyone who attempts to come near their border. And for more than half a century, the US has enabled and funded it. If North Korea does ever launch a nuke, it will be because the US government and its assets helped to put it in their hands.
In spite of threatening nuclear war on the world, however, most countries have never acted on their threats. However, the Trump administration appears to want to change that.
"North Korea best not make any more threats to the United States," Trump said at an event at his Bedminster, N.J., golf club on Tuesday. "They will be met with fire and fury like the world has never seen." The president then repeated that North Korea "will be met with the fire and fury and, frankly, power, the likes of which this world has never seen before" if it continued with this behavior.
Almost immediately after Trump drew this proverbial line in the sand, North Korea crossed it. The insane dictatorship that is Kim Jong-un's regime, said late on Tuesday that it may strike Guam.
Just hours before Trump threatened fire and fury, one of his top advisors, Sevastian Gorka, downplayed the North Korean threat calling it "blackmail."
"This is blatant blackmail," he said. "Blackmail of the western community. We don't give in to blackmail." He added that North Korean tough talk was mostly "bluster."
"We would like people to understand, this is a Lilliputian flea," Gorka argued. "North Korea is a Stalinist regime, but it can't even feed its own people."
In fact, the only thing that makes North Korea a threat is their nuclear capability -- made possible by the Clinton and Bush administrations.
These two administrations played key roles in helping the late Kim Jong-Il develop North Korea's nuclear prowess from the mid 1990's onward.
Former US Secretary of Defense, Donald Rumsfeld was on the board of technology giant ABB when it won a deal to supply North Korea with two nuclear power plants.
According to the 2003 report from SWI, the Swiss-based ABB told swissinfo that Rumsfeld was involved with the company in early 2000, when it netted a $200 million (SFr270million) contract with Pyongyang.
The ABB contract was to deliver equipment and services for two nuclear power stations at Kumho, on North Korea's east coast.
However, Rumsfeld was simply taking the baton from the Clinton administration, who, in 1994, agreed to begin replacing North Korea's domestically built nuclear reactors with light water reactors.
Henry Sokolski, head of the Non-proliferation Policy Education Center in Washington, noted at the time that "LWRs could be used to produce dozens of bombs' worth of weapons-grade plutonium in both North Korea and Iran. This is true of all LWRs — a depressing fact U.S. policymakers have managed to block out."
"These reactors are like all reactors, they have the potential to make weapons. So you might end up supplying the worst nuclear violator with the means to acquire the very weapons we're trying to prevent it acquiring," said Sokolski.
American taxpayers then financed the construction of these nuclear reactors -- to the tune of $95 million -- which were used to build weapons to threaten their very lives. Despite Korea being caught building the nukes with US taxpayer funds, Bush upped his ante in 2003 and sent even more money to the dictatorship.
Although this program was supposedly halted years later, the CIA stepped in to help North Korea continue making nukes.
In 2004, Dr. Abdul Qadeer Khan -- CIA asset and international arms smuggler -- and the father of Pakistan's atom bomb program, admitted sharing nuclear technology via a worldwide smuggling network that included facilities in Malaysia which manufactured key parts for centrifuges.
Khan's collaborator B.S.A. Tahir ran a front company out of Dubai that shipped centrifuge components to North Korea.
As Truth-Out reported at the time:
Ruud Lubbers, a former Dutch prime minister, revealed in August 2005 that the Netherlands (where Khan started his nuclear career) was prepared to arrest him 30 years before. The authorities came close to arresting Khan twice, first in 1975 and later in 1986, but the CIA requested that they let him act freely.

Lubbers said that, while he was prime minister in 1983, Dutch authorities could have reopened the case. Once again, they did not do so because of US pressure. "The man was followed for almost ten years and obviously he was a serious problem. But again I was told that the secret services could handle it more effectively," Lubbers said. "The Hague did not have the final say in the matter. Washington did."
As we are learning now, Sokolski's prophecy came true and a psychotic dictator has a small nuclear arsenal at his disposal. And, it is all thanks to the US government, the CIA, and your tax dollars.
As the US beats the war drums to attack North Korea, wouldn't most Americans like to know where North Korea's threat comes from? Please share this article to show your friends and family how idiotic American foreign policy is.