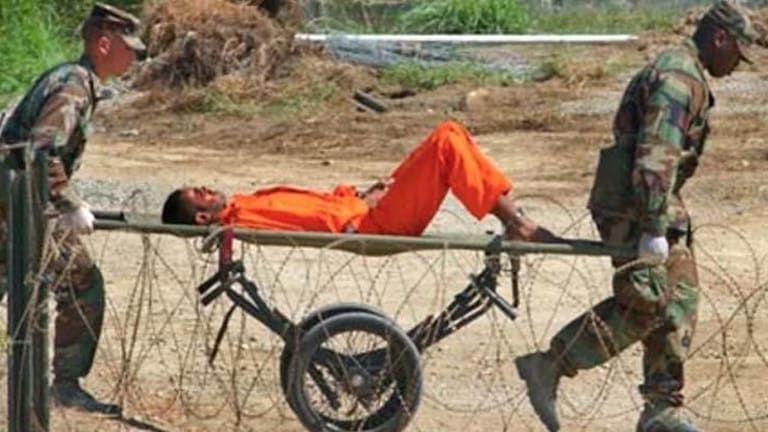 Documents Reveal Innocent Man was Caged and Tortured at Gitmo for 13-years - by Mistake
In times of War, especially war for profit carried out in the name of expanding empire, innocence is no guarantee of safety.
After 13 years of holding him in an inhumane and lawless prison, US officials admitted that Mustafa al-Aziz al-Shamiri should have never been in Guantanamo Bay, and that he was detained as the result of a mistaken identity.
"It was previously assessed that YM-434 [al-Shamiri] also was an al-Qa'ida facilitator or courier, as well as a trainer, but we now judge that these activities were carried out by other known extremists with names or aliases similar to YM-434's," a newly declassified document revealed.
"From the onset, he has demonstrated a consistent positive attitude towards life after Gitmo. He has a strong desire to obtain an education in order to provide for a future spouse that his family has already located for him," al-Shamiri's personal representative told reporters.
"Mustafa will show you today that he is not a continuing significant threat to the United States of America. He is earnestly preparing for his life after Gitmo. During his time in detention, he has attended English and art classes, in addition to acquiring carpentry and cooking skills. During the last feast, Mustafa generously took the time to prepare over 30 plates of pastries for his fellow detainees. When I asked him why he would make pastries for his fellow detainees, he said it's because it makes him feel like he can give back and share with people," the representative added.
Over the years, the military dungeons at Guantanamo Bay have become largely forgotten by the general population back home in the US. Since the election of Barack Obama, many of the people who protested wars and the inhumane acts of the military industrial complex are now silent as if nothing has ever happened. To make matters even worse, the practices at Guantanamo have been exported elsewhere, so even if the prison does eventually close down, the culture of violence and torture that it represented will continue to live on in prisons and military bases across the world.
Some of the detainees at Guantanamo were children when captured, throughout the prison's dark history there have been multiple cases of children as young as 12 or 13 years old who were tortured and held without trial. In fact, although the prison still holds over 100 people, almost 1000 have passed through, and many of them were proven innocent and released years after being declared an "enemy combatant" and submitting to torture and imprisonment.
A decade ago, Democracy Now spoke with a former army sergeant, Erik Saar who served as an Arabic translator at Guantanamo Bay for six months. Among the abuses he says he witnessed was sexual abuse, mock interrogations, the use of dogs and a female interrogator smearing what looked like menstrual blood on a Muslim prisoner. He also says children were imprisoned at Guantanamo and that the military ordered them not to speak to the Red Cross.
John Vibes is an author and researcher who organizes a number of large events including the Free Your Mind Conference. He also has a publishing company where he offers a censorship free platform for both fiction and non-fiction writers. You can contact him and stay connected to his work at his Facebook page. You can purchase his books, or get your own book published at his website www.JohnVibes.com.