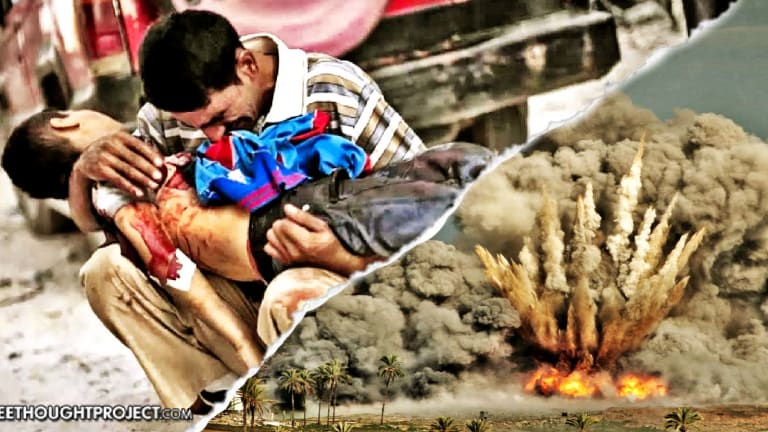 Report: US Airstrikes Slaughter 230 Innocent Civilians in a Single Night in Mosul
According to reports, scores of women and children are being pulled from the rubble, left after US coalition forces rained down hell in Mosul.
Mosul, Iraq — Reports coming out of Iraq this week are downright terrifying with local media reporting up to as many as 230 innocent civilians slaughtered in US coalition airstrikes — in a single night.
According to the Kurdish media company, Rudaw, 137 people – most believed to be civilians – died when a bomb hit a single building in al-Jadida, in the western side of the city on Thursday. Another 100 were killed nearby.
As the British Telegraph reports, the casualties were "mostly women and children," and "were pulled from three adjoining houses in the Jadida neighbourhood of west Mosul overnight Wednesday and into Thursday morning, according to witnesses."
"There was so much bombing, and so many deaths," an elderly woman said of the strikes.
"Pieces of human flesh were flying in all directions."
According to Antiwar, Central Command said that they were "aware of the loss of life" and were carrying out "further investigation," while insisting that all of their strikes against Mosul overnight "comply with the Law of Armed Conflict."
Centcom also reported that "military forces conducted nine strikes consisting of 67 engagements coordinated with and in support of the government of Iraq against ISIS targets."
Al Jazeera's Stefanie Dekker, reporting from Erbil in northern Iraq, said fighting in the area had intensified in the last few days.
"For more than a week there was a stalemate as Iraqi forces struggled to advance on the Old City, but in the last few days, the fighting has intensified.
"There are air strikes and ISIL is also using civilians homes with civilians in them. People have been caught in crossfire and targeted by ISIL ... The shelling is indiscriminate," said Dekker.
"There is no safe passage out of the city. Civilians are literally everywhere."
Reports from civilians in Mosul say ISIS fighters are employing tactics such as establishing fighting positions on the rooftops of apartment buildings. These buildings are occupied by innocent civilians and are also the targets of US coalition strikes.
"ISIS made us keep our door open, so they could get onto the roofs at any time. They even broke down the walls between houses so they could move around," a local resident told RT.
"There were so many killed in the airstrikes, rockets, and mortars… Our entire neighborhood is in ruins. There are maybe ten houses still standing. The children are traumatized. When the jets start flying, they start crying," another woman said.
If the aim of ISIS is to maximize civilian casualties by manipulating the US military into striking these targets, that, they have done. If their aim was to reduce the airstrikes, they have failed.
However, if we examine the mission of ISIS more closely, the former is far more likely.
The mission of ISIS is to create a rift in society in which there are extremists and everyone else. They want to eliminate the 'gray zone' — the area in which different religions and cultures peacefully coexist — by any means necessary. By using civilians as human shields, knowing that US forces will bomb them anyway, this tactic plays right into their strategy.
The men, women, and children who watched their father, mother, son, or daughter explode right before their eyes this week, as a US bomb destroyed their home, will undoubtedly foster resentment toward the West. This approach is the most powerful recruiting tool the terrorist regime has.
As the Free Thought Project has previously reported, the West, in their constant bombardment, interference, meddling, and policing of the world, has fostered a breeding ground for terrorism. Indeed, America's foreign policy, alone, since 9/11, has created a million Osama bin Ladens — all funding and arming of ISIS excluded.
Sadly, the military industrial complex shows no signs of slowing its cancer-like growth.
As long as Americans keep buying the lies spewing from the warmongering tyrants in power, nothing will change. As long as Boobus Americanus continues to believe "It's our freedom they hate," death and destruction will rain down — until there is nothing left.
[author title="" image="https://tftpstagingstg.wpengine.com/wp-content/uploads/2016/03/magorist-e1456948757204.jpg"]Matt Agorist is an honorably discharged veteran of the USMC and former intelligence operator directly tasked by the NSA. This prior experience gives him unique insight into the world of government corruption and the American police state. Agorist has been an independent journalist for over a decade and has been featured on mainstream networks around the world. Agorist is also the Editor at Large at the Free Thought Project. Follow @MattAgorist on Twitter, Steemit, and now on Facebook.[/author]