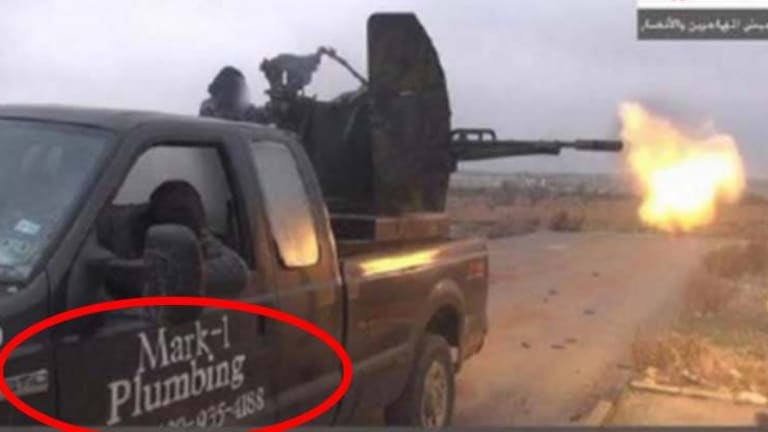 Texas Dealership Sells Plumber's Truck To Syrian Jihadists With His Business Decal Still On it
A Texas plumber is suing a car dealership after a vehicle that he sold them ended up in the hands of Syrian Jihadists, with his business decal still attached
Galveston, TX -- Mark Oberholtzer, the owner of Mark-1 Plumbing in Galveston, Texas is suing a local car dealership after a vehicle that he sold them ended up in the hands of Syrian Jihadists, with his business decal still attached. According to Oberholtzer, a local dealership named AutoNation Ford Gulf Freeway would not allow him to remove the decal from his car when they sold it to them because it might damage the paint.
However, somehow the truck ended up in the hands of Syrian jihadists who drove the vehicle around firing weapons at people with Oberholtzer's business and phone number on the side. Ultimately, footage of the truck reached the media and the internet and created a massive backlash that totally blindsided Oberholtzer.
"Mark-1's office, Mark-1's business phone, and Mark's personal cell phone had received over 1,000 phone calls from around the nation," the lawsuit stated.
Oberholtzer and his employees were harassed by angry callers on a regular basis, receiving over 200 calls per day for weeks. Some of the callers even made death threats, and called Oberholtzer a terrorist.
"These phone calls were in large part harassing and contained countless threats of violence, property harm, injury and even death. These phone calls included, but were not limited to, individuals who were: (a) irate and yelling expletives at whomever answered the phone; (b) degrading to whomever answered the phone regarding their stupidity; (c) singing in Arabic for the duration of the phone call or voice message recording; (d) making threats of injury or death against Mark-1's employees, family, children, and grandchildren in violent, lurid and grossly specific terms; and, (e) directing expletive-laced death threats to whomever answered the phone," the lawsuit continued.
In the lawsuit, Oberholtzer said that he had no way of knowing that the dealer would "leave the decals on the truck, which would be transferred in some fashion to international jihadists conducting warfare upon innocents in Syria."
Oberholtzer also stated in the lawsuit that he has sold many old work trucks on many different occasions to other dealers and "On none of these occasions have any of those dealers transferred to international jihadists the traded-in vehicle with Plaintiffs' identifying marking still upon them."
How does a vehicle sold in Texas end up in the hands of jihadists in Syria? 
According to Carfax vehicle history reports, attached to the lawsuit as evidence, the truck was sold at an auction on November 11, 2013. It was exported from Houston and ended up in Mersin, a port in southeastern Turkey. On December 15, 2014, a photo of the truck posted on Twitter showed it being used as a weapons platform by a jihadist group in Syria – with the "Mark-1 Plumbing" sign still there.
View the full lawsuit below:
Mark-1 Plumbing, Inc. v. Charlie Thomas Ford, Ltd.
John Vibes is an author and researcher who organizes a number of large events including the Free Your Mind Conference. He also has a publishing company where he offers a censorship free platform for both fiction and non-fiction writers. You can contact him and stay connected to his work at his Facebook page. You can purchase his books, or get your own book published at his website www.JohnVibes.com.