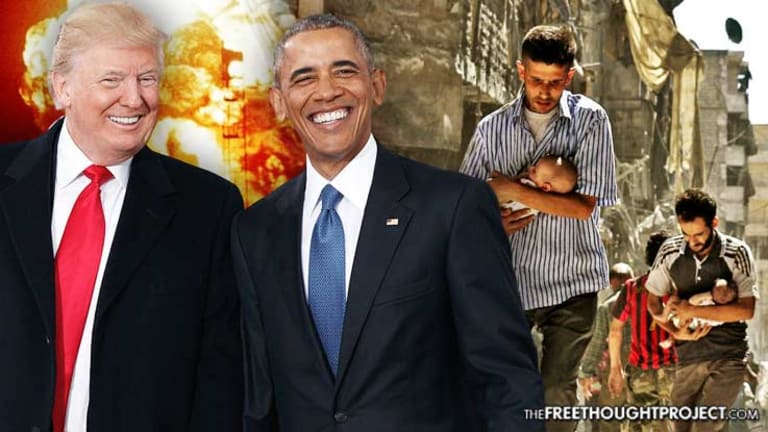 In 6 Months, Trump's Passing Obama's Murderous Record of Killing Innocent Civilians in ISIS War
Trump's war on ISIS has resulted in the deaths of almost as many civilians in just a few months, as Obama's war on ISIS killed in several years.
In just a few months, President Trump is already on track to kill more civilians in his war against the Islamic State than President Obama did in several years in the infamous air war that earned him the nickname of "Drone King."
The Obama Administration's offensive against ISIS militants in Iraq and Syria resulted in an average of 80 civilian deaths each month, which led to a total of 2,300 civilian deaths. In contrast, the Trump Administration has increased the civilian death toll to an average of 360 per month, which is around 12 killed per day. In just six months, Trump's war against ISIS has resulted in 2,200 civilian deaths.
It appears that Trump is making good on his 2016 promise to kill families.
"It's a horrible thing. They're using them as shields. But we're fighting a very politically correct war. And the other thing is with the terrorists, you have to take out their families," Trump said last year. "They, they care about their lives. Don't kid yourself. But they say they don't care about their lives. You have to take out their families."
As many cases have illustrated, people have come out publicly to decry the members of their families who've joined ISIS. What good does killing those people do?
The use of drones skyrocketed under the Obama administration, with attacks in Syria, Iraq, Afghanistan, Pakistan, Somalia, Libya and Yemen. In January, the Bureau of Investigative Journalism noted that during his presidency, Obama launched around 563 airstrikes, which was 10 times more than his predecessor, President George W. Bush, who launched 57 airstrikes.
Obama administration officials even used the word "surgical" to define the precise nature of U.S. airstrikes, with White House spokesman Jay Carney saying that, "a hallmark of our counterterrorism efforts has been our ability to be exceptionally precise, exceptionally surgical and exceptionally targeted" in 2012.
Former CIA Director John Brennan claimed in 2011 that Obama himself "insisted" that U.S. drone strikes were "exceptionally surgical and precise" operations that do not put "innocent men, women and children in danger." Brennan also claimed at the time that there had not been "a single collateral [civilian] death" in at least a year, which was later proven to be highly inaccurate.
A series of classified documents obtained by a whistleblower, and released by The Intercept in October 2015, offered an unprecedented look into Obama's drone program. The documents claimed that from January 2012 to February 2013, "U.S. special operations airstrikes killed more than 200 people," but only "35 were the intended targets."
The documents also note that during a five-month period of the same operation, "nearly 90 percent of the people killed in airstrikes were not the intended targets." The source claimed that "anyone caught in the vicinity is guilty by association."
The Trump administration appears to be taking the U.S. drone program to the next level, and it is moving forward without the propaganda veil of a "surgical and precise" operation that only takes out terrorists, and spares civilian causalities.
In one of the bloodiest months of his presidency thus far, the Trump administration killednearly 500 civilians in Syria between May 23 and June 23. The largest death tolls were in the cities of Deir Ezzor with 222 civilian deaths, including 84 children, and Raqqa with 250 civilian deaths, including 53 children. The U.S.-led coalition was also accused of using illegal chemicals such as white phosphorus, which is arguably grounds for a war crimes investigation.
While Bush created the "War on Terror," Obama modernized it by increasing drone strikes in various countries that were beyond the scope of Congress-approved military intervention. Now, Trump is using the same tools Obama put in place, and he is increasing the degree to which they are used—while turning a blind eye to all of the innocent civilians who are killed in the process.
If Russia, Iran or North Korea was doing what the U.S. is doing right now in Iraq and Syria, the mainstream media would be providing 24/7 in-depth coverage. However, the current media blackout of the truth behind U.S. foreign policy is another reminder that just as the mainstream media covered for Bush and Obama, it will ultimately whitewash any war crimes committed by the Trump administration, despite pretending to hold it accountable.