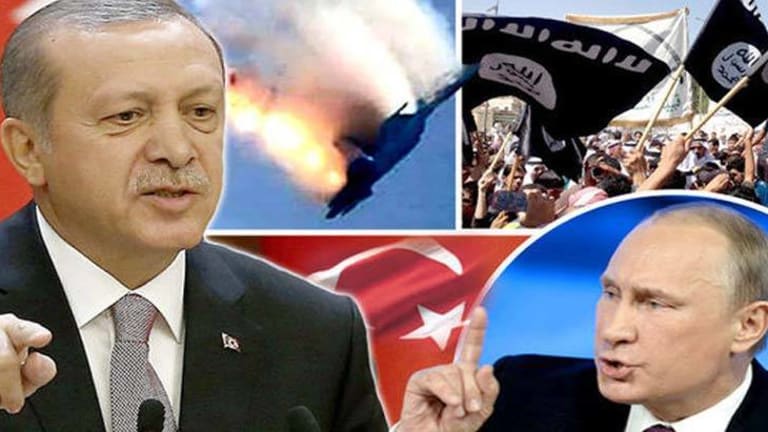 Turkey Demanded Russia Show Proof of their Role in ISIS Oil Trade - So They Just Did
Turkey's leadership, including President Erdogan and his family, is involved in illegal oil trade with Islamic State militants, says the Russian Defense Ministry
(RT) -- Turkey's leadership, including President Erdogan and his family, is involved in illegal oil trade with Islamic State militants, says the Russian Defense Ministry, stressing that Turkey is the final destination for oil smuggled from Syria and Iraq.
The Russian Defense Ministry held a major briefing on new findings concerning IS funding in Moscow on Wednesday.
According to Deputy Defense Minister Anatoly Antonov, Russia is aware of three main oil smuggling routes to Turkey.
"Today, we are presenting only some of the facts that confirm that a whole team of bandits and Turkish elites stealing oil from their neighbors is operating in the region," Antonov said, adding that this oil "in large quantities" enters the territory of Turkey via "live oil pipelines," consisting of thousands of oil trucks.
Antonov added that Turkey is the main buyer of smuggled oil coming from Iraq and Syria.
"According to our data, the top political leadership of the country - President Erdogan and his family – is involved in this criminal business."
However, since the start of Russia's anti-terrorist operation in Syria on September 30, the income of Islamic State (IS, formerly ISIS) militants from illegal oil smuggling has been significantly reduced, the ministry said.
"The income of this terrorist organization was about $3 million per day. After two months of Russian airstrikes their income was about $1.5 million a day," Lieutenant-General Sergey Rudskoy said.
At the briefing the ministry presented photos of oil trucks, videos of airstrikes on IS oil storage facilities and maps detailing the movement of smuggled oil. More evidence is to be published on the ministry's website in the coming says, Rudskoy said.
For the past two months, Russia's airstrikes hit 32 oil complexes, 11 refineries, 23 oil pumping stations, Rudskoy said, adding that the Russian military had also destroyed 1,080 trucks carrying oil products.
"These [airstrikes] helped reduce the trade of the oil illegally extracted on the Syrian territory by almost 50 percent."
Up to 2,000 fighters, 120 tons of ammunition and 250 vehicles have been delivered to Islamic State and Al-Nusra militants from Turkish territory, chief of National Centre for State Defense Control Lt.Gen. Mikhail Mizintsev said.
"According to reliable intelligence reports, the Turkish side has been taking such actions for a long time and on a regular basis. And most importantly, it is not planning to stop them."
"One thing is clear. The role that Turkey is playing in this area is in many ways destructive and it's affecting the European security, it's affecting its neighbors. Ultimately it's affecting its own society," Uzi Arad, former head of research at Mossad, the Israeli intelligence agency told RT.
Responding to the Russian allegations, Turkish President Recep Tayyip Erdogan has said that nobody had a right to"slander" Turkey by accusing it of buying oil from Islamic State.
Speaking at a university in the Qatari capital, Doha, on Wednesday, Erdogan once again claimed that he would resign if such accusations were proven to be true and stressed that he did not want Turkey's relations with Russia to deteriorate further.