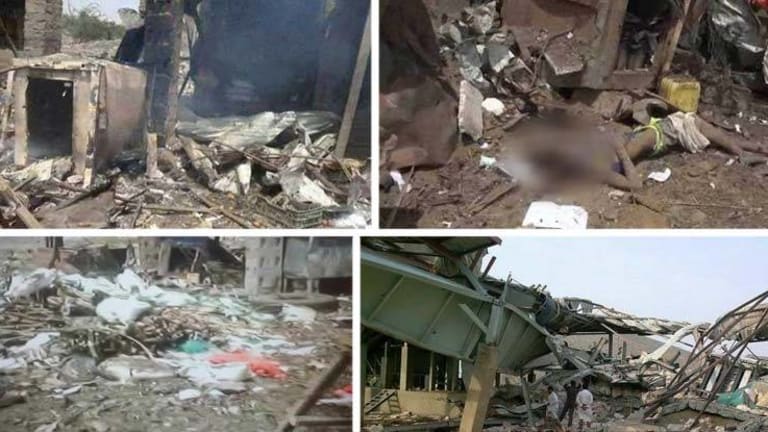 Worse than ISIS -- Using US Arms, Saudi Arabia Just Bombed a Busy Market Killing Dozens of Children
"The scene was terrifying. Blood and body parts everywhere."
Hajjah Province, Yemen -- Tragic reports are now flooding out of Yemen's Hajjah Province after Saudi warplanes launched a massive missile strike on a crowded marketplace, leaving anywhere from 40 to 107 innocent civilians dead so far.
Yemen's al-Masirah TV reported on Tuesday that a busy restaurant adjacent to the al-Khamis market was also targeted in the airstrikes.
Original reports of the market strike noted that over 40 civilians have been killed and that number continues to rise.
"The scene was terrifying," Showei Hamoud told Associated Press by phone from Mastaba. "Blood and body parts everywhere." Many of the dead are children who work stalls or carry goods in return for tips, he said.
"People collected the torn limbs in bags and blankets," he said, adding that he could count up to 40 motionless bodies.
Witnesses described a chaotic scene of screaming wounded and a terrified people unable to help for fear of a third strike by this murderous regime.
Saudi Arabia started its aggression in Yemen during March of last year to supposedly bring former president and Riyadh's ally, Abd Rabbuh Mansur Hadi, back to power. Civilians are suffering a "terrible toll" in the fighting tearing Yemen apart, with casualties now topping 8,100, nearly 2,800 of them killed, many of whom are children, amid Saudi-led coalition airstrikes, shelling by Houthi groups and other clashes, the United Nations reports. Saudi airstrikes have also taken a heavy toll on the already impoverished country's infrastructure, destroying many reservoirs, hospitals, schools, and factories, reports Press TV. Amnesty International said on Monday that the kingdom's has led a "devastating" campaign of "unlawful" air strikes and bombardment of civilian targets in Yemen, according to the Independent. "Thousands have died. Many more have been injured and displaced. Yemen is now in a humanitarian crisis," they added. The US remains completely silent on the war crimes of the Saudis while they continue to ship them massive amounts of arms. However, the murderous rampage in Yemen being conducted by Saudi Arabia and their US-backed coalition forces are becoming harder to deny. According to the human rights group, Amnesty International "has found both unexploded U.S. bombs and fragments of exploded U.S. bombs in the ruins of Yemeni homes and other civilian objects."

It seems that the Saudi influence over the United States is far and wide, even spreading to the presidential candidates, who all curtsey to "our Saudi ally" by pledging their blind support of the terrorist regime.
It's no coincidence that President Obama was showered with $1.3 million in gifts from the Saudi King last year. Obama is responsible for forging the largest weapons sale in American history, all of which went to Saudi Arabia.
[author title="" image="https://tftpstagingstg.wpengine.com/wp-content/uploads/2016/03/magorist-e1456948757204.jpg"]Matt Agorist is an honorably discharged veteran of the USMC and former intelligence operator directly tasked by the NSA. This prior experience gives him unique insight into the world of government corruption and the American police state. Agorist has been an independent journalist for over a decade and has been featured on mainstream networks around the world. Follow @MattAgorist[/author]