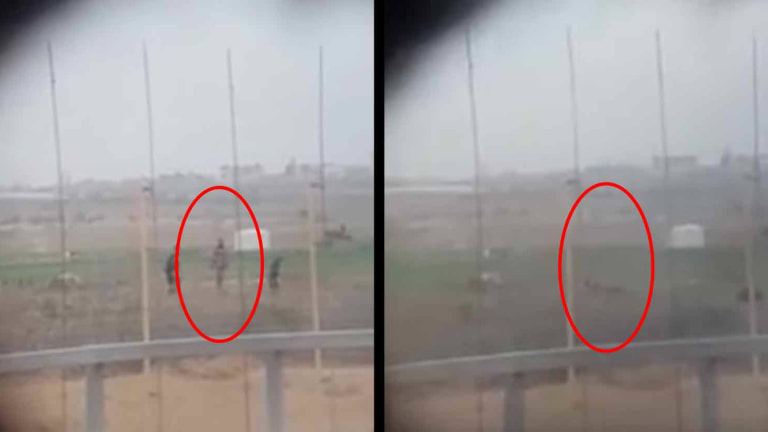 Leaked Video Shows Israelis Cheer as Sniper Kills Non-Threatening Man Standing in Field
A video was released that shows multiple Israeli men celebrating after a sniper targets and shoots a man standing in a field on the other side of their border fence.
Gaza Strip – A disturbing video has been released online that shows multiple Israeli men cheering after a sniper targets and shoots a Palestinian man who appears to be standing motionless in a field on the other side of their border fence.
In the video, a man is heard asking "Do you have a bullet in the barrel?" and then "is it on him?" according to a translation reported by Haaretz.
The individual they are targeting is so far in the distance that the man who is filming appears to be holding some form of binoculars in front of the camera, in order to capture a clear picture.
A man is seen standing motionless on the other side of the barrier as another man and a small child walk past him. Another man remarked, "I can't see because of the wire" and then said, "there's a little boy there," noting the presence of the child.
The sniper then pulled the trigger and fired one shot, striking the Palestinian man who was standing still and was making no attempt to do anything that could have threatened the soldiers who had been observing him from a distance.
Cheers erupted from the Israelis after the Palestinian man was shot and then collapsed on the ground. The man filming the shooting can be heard saying, "Wow, what a video! Yes! Son of a bitch. What a video, here, run and get him out of there. Of course, I filmed it."
Dozens of other Palestinians then run to the scene to check on the man who was shot, and one Israeli man said, "Wow, someone was hit in the head," while the cameraman said, "what a legendary video," and another man remarked, "he flew in the air."
"Take that, you sons of bitches," the cameraman can be heard saying as the video ends.
In response to outrage over the footage, Israeli politician Oren Hazan
על מה המהומה? הרי ניתנה הודעה מראש: מי שיתקרב לגדר, חמוש או לא - יחטוף. וטוב שכך!

אז תניחו לחיילים שמגינים על כולנו - אני אישית גאה בהם!

מקווה שבאמצעות הסרטון המסר לצד השני יהיה ברור יותר.

והערה ליונית לוי: עשי טובה לכולם ותשמרי את המבטים המזועזעים שלך לאיפה שבאמת צריך אותם...
— אורן חזן (@oren_haz) April 9, 2018
">announced on Twitter that he fully supports the actions depicted in the video. "What's all the fuss about? it was noted in advance: anyone who approaches the fence, armed or not, is gonna get it. As it should be!" Hazan wrote, adding that he hopes the video sends "a clearer message to the other side." While the date of the incident is unclear from the video, the Israeli military is insisting that it happened "months ago," and that the shooting is now under investigation. Israel's rules of engagement allow sniper fire on anyone who is within 100 meters of their border fence, as long as the snipers claim that they believe the individual's intent was to "penetrate Israeli territory," according to the report from Haaretz. At least 32 Palestinians have been killed and nearly 1,300 have been wounded by live fire and rubber bullets from the Israeli Military in the last 10 days, as protests have increased near the border, according to the Health Ministry in Gaza. Palestinians claim that the protests are a symbol of their desire to speak out again Israel's occupation of their land and control over their resources. Samer, 27, told the Jerusalem Post that he risked his life to join in the protests because he wanted to take a stand. "Israel took everything from us, the homeland, freedom, our future," Samer said. "I have two kids, a boy, and a girl, and if I die, God will take care of them." While Israel has falsely claimed that every man or teenage boy who participated in the protests was a "militant" for Hamas, and desrved to die, there was one civilian death that was particularly notable.

Yaser Murtaja, a Palestinian photojournalist, was wearing a jacket that clearly said "PRESS" when he was shot in the chest and killed by an Israeli sniper on Friday. As The Intercept noted, "Either the Israeli sniper could not clearly see who was in the rifle scope—in which case the claim that the use of live fire is precise is shown to be untrue—or the soldier intentionally fired at a journalist, which is a war crime."
While Murtaja was a journalist in Gaza, he never had the chance to leave the region or to travel as he had always dreamed. In one of his last Facebook posts, he shared a photo and wrote, "I wish that the day would come to take this shot when I'm in the air and not on the ground. My name is Yaser Murtaja. I'm 30 years old. I live in Gaza City. I've never traveled!"
While it may seem alarming to think of Israelis cheering and celebrating as they shoot and kill Palestinians, all while gleefully capturing the scene on video, it should be noted that this reaction is not uncommon. When the conflict between the two sides escalated in 2014, Israeli spectators were photographed gathering to watch as Israel dropped bombed on Gaza, destroying homes and killing innocent civilians.
President Trump has fallen in line with his predecessors by maintaining a close relationship with Israel, and while it is not likely that he will speak out and condemn the horrific acts committed by the Israeli military, it does serve as a reminder that Trump is a strong proponent of strict border control—a form is which is being executed in Gaza right now.