Is Ferguson on the verge of civil unrest followed by martial law? Recent photos and videos from the area paint an ominous picture.
Ferguson, MO — The Grand Jury decision is expected any minute now out of Ferguson in regards to officer Darren Wilson and the killing of Micheal Brown.
It is highly likely that Wilson will not be indicted which could lead to massive unrest in the area.
Looting and violent rioting will only serve to undo the positive attention which Ferguson protesters have received over the past few months. That being said, there will undoubtedly be some people who use this Grand Jury decision as a means to violate the rights of others, both police and citizens.
However, as we have seen before, even when the protest is not-violent, the police frequently are. 
This tendency to escalate a peaceful protest into a violent warzone is why the recent news and pictures out of Ferguson are particularly ominous.
The photo below was taken on Wednesday and uploaded to facebook of an armored vehicle in transport on North Florrisant Rd in Ferguson.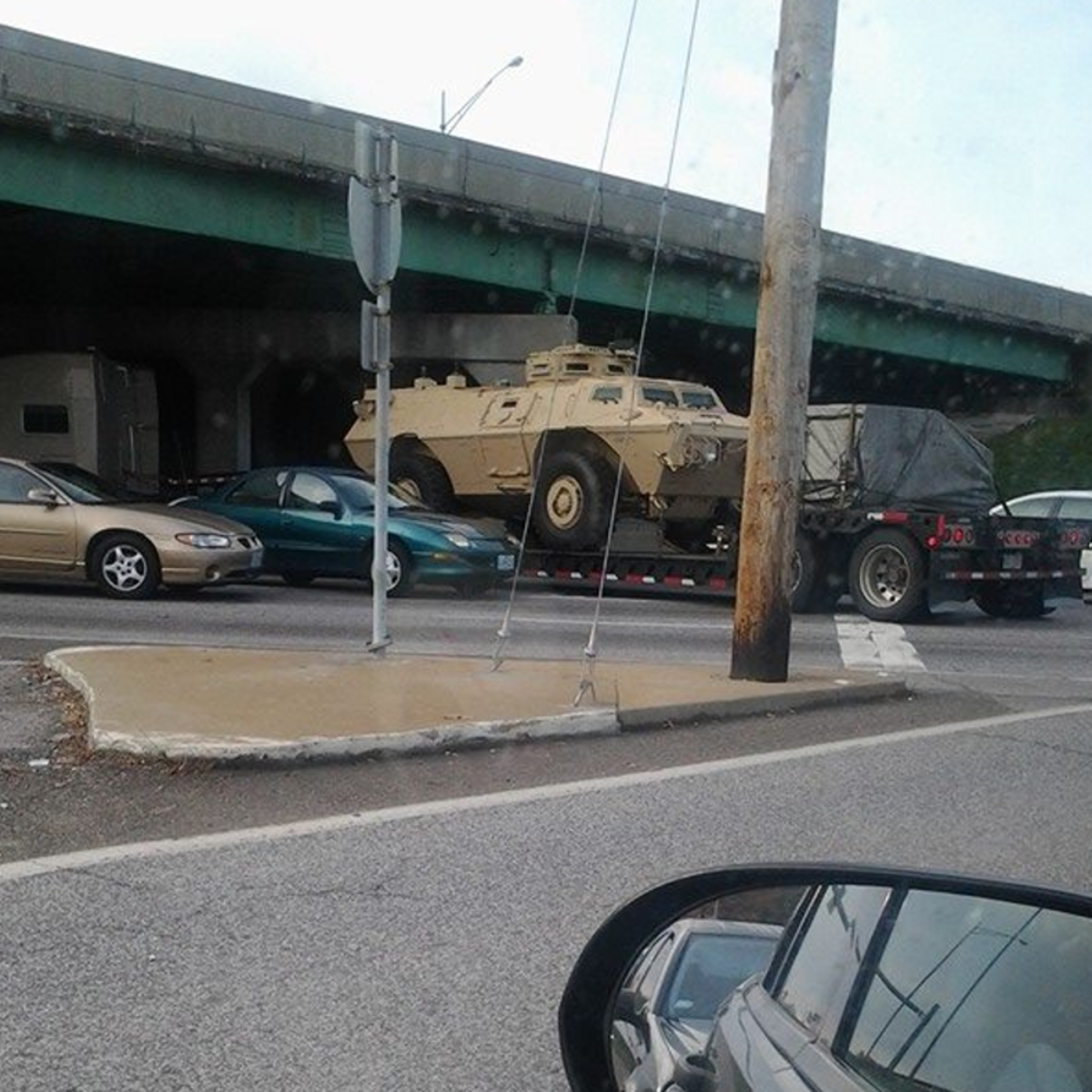 Today, a similar vehicle was spotted at the St. Ann Dairy Queen, just south of Ferguson.
RT "@BlackJack_1992: M1117 Armored Security Vehicle spotted at the St.Ann Diary Queen #ferguson #stann https://t.co/vzY3rqpLOR"

— #FixthePolice (@mikebrowncover) November 7, 2014
This video was also uploaded to youtube, which allegedly shows 4 national guard helicopters flying over Kirkwood, just north of Ferguson.
There was also a rumor circulating on the web that large companies have issued warnings to their employees and told them to pack up and get out of the area. While this is all speculation, this type of martial law scenario is completely within the scope of US law enforcement.
The Free Thought Project has reporter Rebel Z in the area and we will be bringing you live coverage of the events as they unfold at this link.
DASH cryptocurrency and The Free Thought Project have formed a partnership that will continue to spread the ideas of peace and freedom while simultaneously teaching people how to operate outside of the establishment systems of control like using cryptocurrency instead of dollars. Winning this battle is as simple as choosing to abstain from the violent corrupt old system and participating in the new and peaceful system that hands the power back to the people. DASH is this system.
DASH digital cash takes the control the banking elite has over money and gives it back to the people. It is the ultimate weapon in the battle against the money changers and information controllers.
If you'd like to start your own DASH wallet and be a part of this change and battle for peace and freedom, you can start right here. DASH is already accepted by vendors all across the world so you can begin using it immediately.