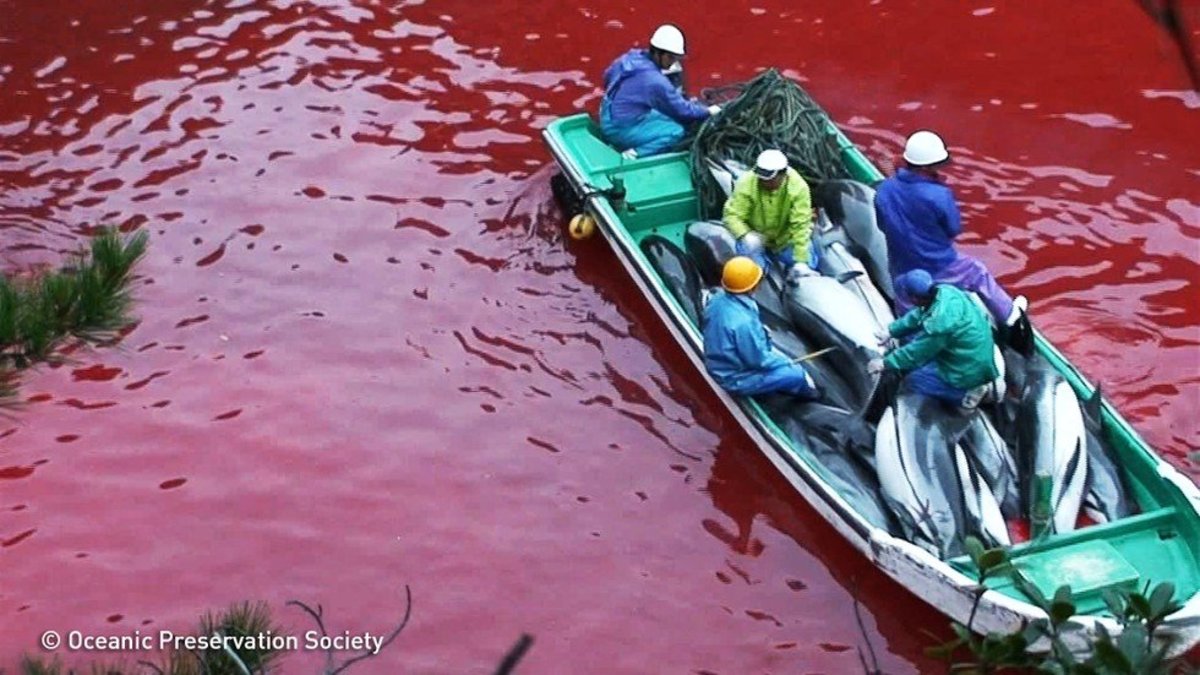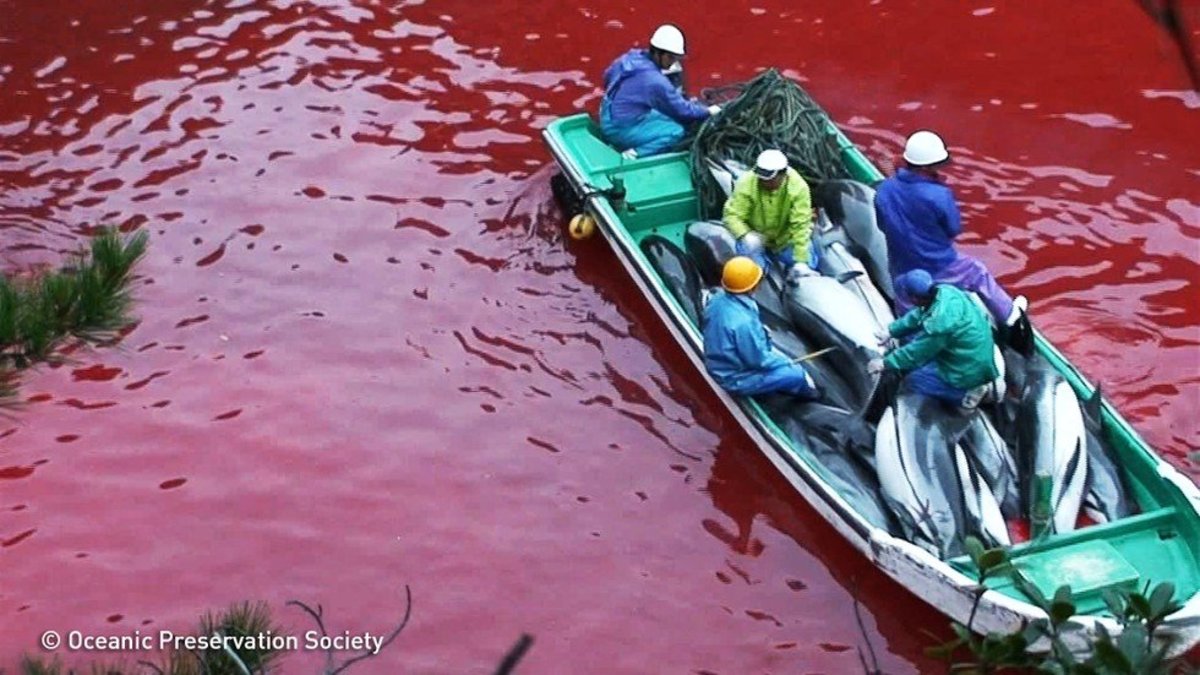 Taiji, Japan – In an annual display of absolute barbarism, the infamous dolphin slaughter in Taiji, Japan kicked off its yearly massacre of dolphins and whales last week.
Founder of The Dolphin Project and star of the 2009 documentary film "The Cove," Ric O'Barry was on scene to witness the bloodbath once again.
Even after years of witnessing the most heinous acts, Barry was left reeling from witnessing the wanton extermination of such intelligent life forms.
The Taiji hunt lasts for six months, killing or capturing up to a quota of 1,873 animals this season alone. The annual slaughter continues to cause international outrage from animal rights advocates.
In an effort to put pressure on the Japanese government to end the hunts, in 2010 conservation organization Sea Shepherd began sending "Cove Guardians" to document and record the slaughter.
According to a report by The Dodo:
Each year, 20,000 dolphins are slaughtered in Japan, hundreds of them in the Taiji hunt alone. The few who survive the blood-red waters are sold into captivity, fated to spend the rest of their lives cut off from family and performing at zoos and marine parks.
Some have attempted to justify the brutality using claims of cultural heritage and tradition. However, the mass killing, using dolphin drives, have only recently become a common occurrence.
The reality of the Taiji hunt is not an overarching cultural tradition, but rather a small group of local men generating large amounts of revenue from the murder of this extremely intelligent, and self-aware being.
Watch this tragic video, of a Risso dolphin struggling to save itself from the killing field. Witnessing the suffering of this remarkably intelligent animal is enough to spark outrage. The dolphin literally throws itself at O'Barry, in an attempt to escape being killed.
"I will be arrested immediately," he says. "The police are all over the place."
Activists are only allowed to witness the hunt, with any interference resulting in immediate arrest, and a potentially lengthy prison sentence.
"This is anguish," O'Barry said. "[He's] panic-stricken on the rocks, and I am heartbroken that I can't get in the water and help him away from … he's tearing his skin up. This is awful. That dolphin's not going to make it. He's given up."
Shortly after the dolphin sinks to the bottom of the water, then another boat pulls with a man in a full scuba suit.
"They're sending over a diver," O'Barry says. "Probably with a knife to take him out."
Please share this video if you want to see the killing of these amazing creatures come to an end!
---
Jay Syrmopoulos is an investigative journalist, free thinker, researcher, and ardent opponent of authoritarianism. He is currently a graduate student at University of Denver pursuing a masters in Global Affairs. Jay's work has been published on Ben Swann's Truth in Media, Truth-Out, AlterNet, InfoWars, MintPressNews and many other sites. You can follow him on Twitter @sirmetropolis, on Facebook at Sir Metropolis and now on tsu.
DASH cryptocurrency and The Free Thought Project have formed a partnership that will continue to spread the ideas of peace and freedom while simultaneously teaching people how to operate outside of the establishment systems of control like using cryptocurrency instead of dollars. Winning this battle is as simple as choosing to abstain from the violent corrupt old system and participating in the new and peaceful system that hands the power back to the people. DASH is this system.
DASH digital cash takes the control the banking elite has over money and gives it back to the people. It is the ultimate weapon in the battle against the money changers and information controllers.
If you'd like to start your own DASH wallet and be a part of this change and battle for peace and freedom, you can start right here. DASH is already accepted by vendors all across the world so you can begin using it immediately.