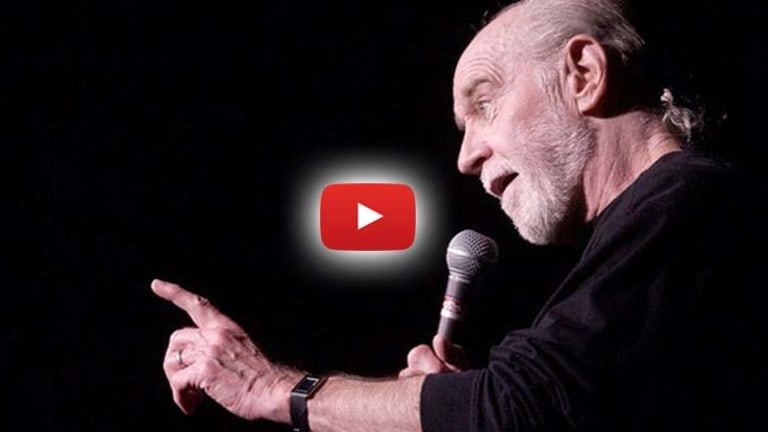 The Day Before 9-11 George Carlin Recorded a Comedy Special, It Never Aired -- Until Now
Recorded the day before 9-11, Carlin decided to shelve the album. Now you can hear why he decided to hold off on his skit cheering on mass death.
When he was alive, George Carlin was never afraid to speak his mind. In fact, Carlin even went to jail for standing up for his right to speak what was on his mind.
On July 21, 1972, Carlin was arrested after performing his routine at Milwaukee's Summerfest and charged with violating obscenity laws for saying the words, shit, piss, fuck, cunt, cocksucker, motherfucker, and tits.
To some people, saying the words is shock humor or silly. However, to Carlin, these words were verbal activism. Had he not pushed the envelope on what we can't say, free speech would still be in the stone age.
Carlin was an activist against censorship and the politically correct and he was so well received because he possessed a genius knack for relaying these ideas to people in a humorous manner.
On June 10, 2008, Carlin was named the 11th recipient of the Mark Twain Prize for American Humor. Sadly, only 12 days later, he passed away on June 22, 2008, at the age of 71.
8 years after his death, the immortal words of Carlin live on in YouTube videos, audio books, CDs, DVDs, and even on VHS. However, no new material has come out since his death -- until now.
The Free Thought Project spoke with Jeff Abraham, who represented Carlin the last 11 years of his remarkable life.
"George's daughter, Kelly, brought in someone last year to go through the Carlin Archives and see if there was material suitable for release," Abraham told the Free Thought Project. "And this became the first one."
On September 16, never-before-heard comedy routines along with original versions of some of George's "darkest" material will finally see the light of day in a release entitled I KINDA LIKE IT WHEN A LOTTA PEOPLE DIE.
According to MPI Media Group, the agency who's published all of Carlin's works, I KINDA LIKE IT WHEN A LOTTA PEOPLE DIE is George Carlin at his biting best, recorded over the course of two nights at the MGM Grand in Las Vegas on September 9 and 10, 2001. This never-before-released material was to be the source for Carlin's 12th HBO special to be broadcast live on November 17, 2001. But following the attacks on 9/11, Carlin removed and reworked much of the content into what ultimately became the special now known as Complaints and Grievances.
Also included in this album is a rare, home recording from 1957 which finds a young Carlin, in the words of fellow comic Lewis Black, "already speaking with an authority that would become his trademark," as well as newly recorded interviews with the comedian's longtime manager Jerry Hamza and Rocco Urbisci, director of 10 of Carlin's HBO specials.
Showcasing a comic legend at work, I KINDA LIKE IT WHEN A LOTTA PEOPLE DIE proves once again that George Carlin will forever be the king of cutting-edge comedy.
Beginning September 1st, the album can first be heard exclusively on SiriusXM channels Comedy Greats (94) and Carlin's Corner (400) starting at 4pm ET. SiriusXM's Ron Bennington will also host an original documentary on the late comedian, "George Carlin: A Life in Comedy," with commentary from Penn Jillette, Kevin Hart, Seth Rogen, and others, that will air immediately preceding the album's debut.
Now, we know you can't wait until September 16 to listen to the comedy master, so here is a little preview of what's to come. Enjoy.
For more information or to pre-order the CD, visit https://georgecarlin.com/
[author title="" image="https://tftpstagingstg.wpengine.com/wp-content/uploads/2016/03/magorist-e1456948757204.jpg"]Matt Agorist is an honorably discharged veteran of the USMC and former intelligence operator directly tasked by the NSA. This prior experience gives him unique insight into the world of government corruption and the American police state. Agorist has been an independent journalist for over a decade and has been featured on mainstream networks around the world. Follow @MattAgorist on Twitter and now on Steemit[/author]