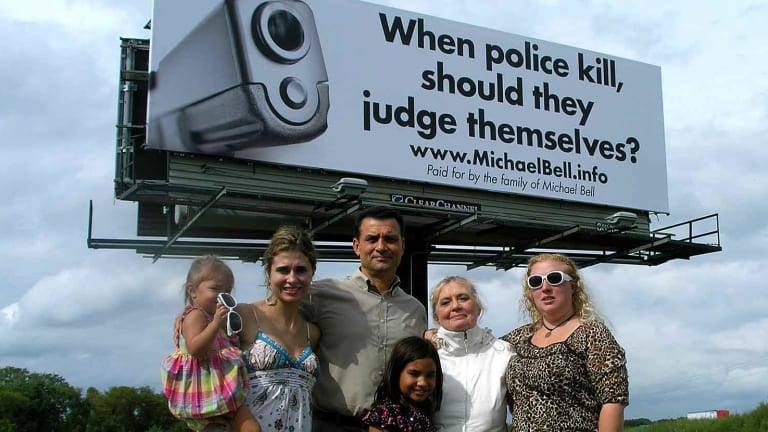 After Cops Killed His Son, Veteran Achieves Historical Bill for Independent Investigations of Killer Cops
"This is five years in the making," Bell said. "It was emotional for me ... it's a big deal, it would be improving the system dramatically."
Retired Lt. Colonel Michael Bell Sr. (USAF) has been pulling on the ears of Wisconsin legislators since his son, Michael Bell Jr., was killed by Kenosha police officer Alberto Gonzales in 2004. Bell Jr. was unarmed at the time Gonzales shot him in the head at point blank range after one of his fellow officers screamed the young man had taken his gun. He had not. Since that fateful day Bell has been engaged in a massive campaign to reform police to make sure this never happens again.
After more than a decade, officials are finally listening. Following Kenosha's police protests in 2020, legislators are now turning to Bell to help solve the crisis of officer-involved shootings and he has a plan.
"This is five years in the making," Bell said. "It was emotional for me ... it's a big deal, it would be improving the system dramatically."
Last summer the Free Thought Project's Jack Burns sat down with Bell and reminisced about his fight to reform police violence and the way deadly shootings are investigated. Bell's plan is simple and seems to make common sense. Treat all officer-involved shootings like the National Transportation Safety Board treats airplane crashes, fully investigated by an independent agency whose sole reason for being on scene is to understand why a shooting took place, who's responsible, and make recommendations to end such deadly conflicts in the future.
Having failed to have Gonzales charged with his son's murder, Bell was growing weary in his fight for justice. Bell is now a senior citizen and even though he successfully got Wisconsin State Law changed in the past, police unions will most assuredly object to Bell's plan.
State Sen. Van Wangaard, R-Racine, himself a former police officer, introduced the new bill to the assembly this week in hopes of taking Bell's suggestions and making them state law. Wangaard told the press:
One of the things that we cannot do as legislators is legislate common sense...Common sense is a big denominator here. And our training is what has to step in. And if you don't have good training, it's a problem.
The bill being introduced to the Wisconsin assembly pleases Bell, who TFTP has interviewed on a half-dozen or so occasions.
Bell is likely best known for buying up billboards with the millions he received when he won a wrongful death lawsuit against Kenosha. The ads called into question who holds police accountable when they shoot unarmed citizens.
He's been outspoken against his son's killer, who decided to write his own memoir and is now being sued by Bell for libel.
The bill to commission an outside agency to fully investigate officer-involved shootings in NTSB style brings hope to Bell who not only couldn't get his son's killer charged with homicide, but couldn't even get him fired. Gonzalez is still a Kenosha PD officer and frequently has run-ins with Bell. It's the nightmare from which the grieving father never awakens. Bell told reporters this week:
It needed a shepherd to guide this to the end...And nobody understands a father's love for their child, and that's what it took. It just took a father's love for his child to do this. And of course I would never give up.
With the bill's hopeful passage, Bell's fight in Wisconsin could be finished. But the first in the nation legislation has the potential to go national with the prospect of an actual federal oversight board becoming a reality. All it would take would be for Wisconsin U.S. House of Representatives or Senators to introduce the idea to the U.S. Congress for consideration.
For his success in moving the ball of police accountability forward, we salute Michael Bell, Sr., and we respect how you're honoring your son's life by creating a legacy. We sure hope the bill passes and becomes state law. Congratulations Mr. Bell. Well done!