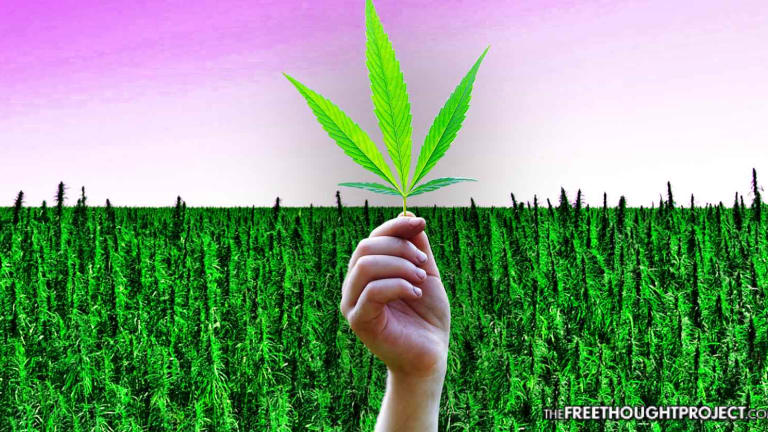 After Multiple States Resisted, Feds Propose Bill To Legalize Growing Hemp—NATIONALLY
A bipartisan group of senators is pledging their support to a bill that would finally legalize hemp as an agricultural commodity.
The many Americans who have called out the federal government for waging a war on hemp and improperly classifying it as a dangerous substance have found an unlikely ally in a senator who still believes marijuana should be illegal.
Senate Majority Leader Mitch McConnell announced that he will introduce the Hemp Farming Act of 2018, which seeks to remove hemp from the federal government's controlled substances list and to legalize it as an agriculture commodity. A press release from the senator claimed that the bill seeks to:
"The Hemp Farming Act of 2018 will help Kentucky enhance its position as the leading state on hemp production. It builds upon the success we have seen through the hemp pilot programs by allowing states to be the primary regulators of hemp if the U.S. Department of Agriculture approves their implementation plan. This legislation also will remove the federal barriers in place that have stifled the industry, which will help expand the domestic production of hemp. It will also give hemp researchers the chance to apply for competitive federal grants from the U.S. Department of Agriculture—allowing them to continue their impressive work with the support of federal research dollars."
When McConnell introduces the legislation, he will have the support of a bipartisan group of senators that includes fellow Kentucky Sen. Rand Paul. McConnell noted that hemp has played a significant role in Kentucky's agricultural heritage, and he believes it will help shape the future.
McConnell also credited Agriculture Commissioner Ryan Quarles and his predecessor, Jamie Comer, as the "real champions for the research and development of industrial hemp" whose work in Kentucky has "become a nationwide example for the right way to cultivate hemp."
Quarles said he believes the Hemp Farming Act of 2018 will allow the agricultural industry to "harness the economic viability of this crop and presents the best opportunity to put hemp on a path to commercialization."
"Here in Kentucky, we have built the best Industrial Hemp Research Pilot Program in the country and have established a model for how other states can do the same with buy-in from growers, processors, and law enforcement," Quarles said.
The press release noted that McConnell has openly supported the legalization of hemp since 2014 when he pushed for the federal government to legalize hemp pilot programs.
However, McConnell does not support the legalization of the cannabis plant. While he has said that he may support reclassifying cannabis because he acknowledges that it is not as dangerous as heroin, he has maintained that he believes legalizing cannabis would mean that the government admits defeat in the War on Drugs.
"I'm against legalizing marijuana," McConnell said. "Certainly it's not in the same category as heroin, but I think to begin ... to sort of send the message that we're giving up, you know, that this is just the way it's going to be, then one thing leads to another and pretty soon ... you completely transform your society in a way that I think certainly most Kentuckians would not agree with."
Hemp is the product of a variety of the cannabis plant, and although it is non-psychoactive, it is still treated as a drug in the United States. However, hemp has the potential to be used in more than 25,000 products, including fibers, textiles, paper and construction and insulation materials—which may explain why the federal government seems intent on keeping it from the public.
As The Free Thought Project reported earlier this month, Alaska became the latest state to fight back against the government's "War on Nature" after its state legislature passed a bill to legalize the production of industrial hemp.
Alaska Republican Sen. Shelley Hughes told Alaska Public Media that she introduced the bill more than a year ago after she was approached by local farmers who wanted to grow hemp to use for feed and bedding for livestock and to clean up oil spills.
"It was time to remove hemp from the marijuana statutes. There's no psychoactive impact from hemp. If you were to smoke acres and acres and acres of hemp, all you would get would be a sore throat and a cough," Hughes said.