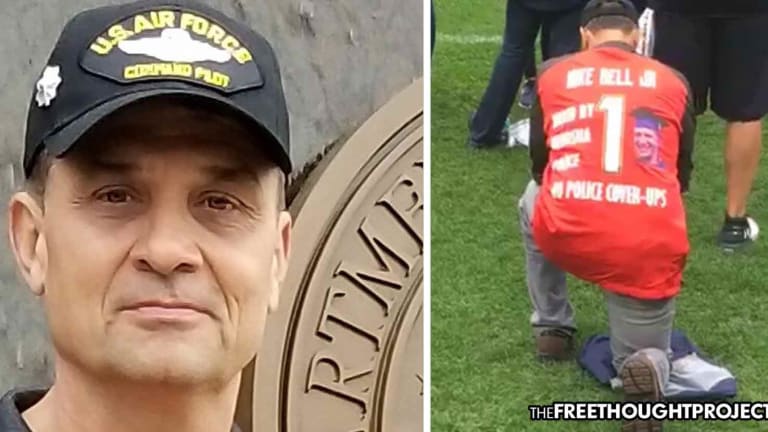 EXCLUSIVE: Air Force Colonel Takes a Knee on NFL Sideline Because Cops Killed His Son
A retired Air Force colonel turned a lot of heads on Sunday as he wore a shirt detailing his son's murder by police on the sidelines of a Chicago Bears game.
Retired Air Force Lt. Colonel, combat pilot, and veteran Michael Bell Sr. understands why Colin Kaepernick would take a knee during the National Anthem. He should. His son, Michael Bell Jr., was killed by his hometown police, the Kenosha Wisconsin Police Department (KPD).
As TFTP previously reported, Bell became an activist for police use of force reform after his son was killed—shot in the head execution-style, when a KPD officer shouted his gun had been taken during a violent police encounter with Bell Jr. in the 21-year-old's driveway. The killing happened in 2004 but Bell is still fighting for justice, reform, as well as awareness.
In October 2018, Bell Sr. traveled to Soldier Field in Chicago to protest on the sidelines of the Chicago Bears football field. After spending some time pacing the lines back and forth, Bell took off his jacket to reveal his Tampa Bay jersey. The number 1 was on the back, with a picture of Bell's son, Michael Bell Jr., along with the following message.
The jersey reads: "Michael Bell Jr., Killed by Kenosha Police, No Police Cover Ups."
After the game, the Free Thought Project spoke to Bell and asked him why he did it and what his motivations are for such a high-profile protest. He said, with respect to when police kill unarmed innocent people, a shotgun investigation, and the pronouncement police were guilty of no wrongdoing:
I think the current process is a disgrace. When you have a cover-up like in my son's death and in the McDonald case, the community and the family of the deceased are feeling pretty darn bad about This thing.
Bell referenced the shooting death of Laquan McDonald for which an officer is now on trial for murder, and three others face charges of engaging in a cover-up. We asked Bell Sr. specifically what he was praying when he took a knee on the sidelines. He revealed to us:
I was praying for my son and thinking of my son and I was praying that we as a society would find our way through this (phenomenon of unjustified police shootings and cover-ups).
When asked why he decided to protest police shootings and cover-ups while at the same time taking a knee on an NFL sideline he told us:
I took a knee as a moment of silent REMEMBRANCE For my son. I know the investigation was done and covered up after a 56-hour investigation. They blamed my son Michael for his own death and the Cover-up continues to this day.
Michael Bell Jr.'s toxicology report, his arrest record, and the blame for his own death was placed squarely upon the young man. It's called "blaming the victim" in police accountability circles and known as "Good PR" to cop apologists. TFTP asked Bell what he wanted TFTP readers to know:
I want you to know that Colin Kaepernick took a knee for our flag and I stand for our flag. I went out and fought for his rights to express his freedom of speech as he needs to. I think Kaepernick has started some very important dialog on the need for police and community relations.
When asked if he'd like to meet Kaepernick and what the two might discuss, the retired Air Force Colonel stated:
If I had a chance to meet him I personally think our discussion would be about the bravery it took for he and I to do what we've done...for the billboards...for he and I standing up and where we would share a common bond.
To those who would say Kaepernick didn't sacrifice anything, Bell Sr. replied, "He could have kept his mouth shut and continued to be a quarterback in the NFL and yet he stood up for something far greater than being a quarterback."
Bell Sr. has some advice for the fathers out there to enjoy every moment you have with your children because you never know when the day will come when death may separate loved ones.
"My son and I we bonded over football," Bell said, adding one never knows the last time two people will ever get to see a game together.
Now Bell has a new team, a team of activists he says will stop at nothing to get to the truth. "My team support three things: community, police, and most importantly the truth," Bell concluded, adding the repeated cover-ups and denials for official inquests are simply hiding the truth Bell still wants to know. How can the police department assassinate an unarmed young man and no one be held accountable for taking a son away from his father? Bell also wanted us to know he understands shootings of unarmed suspects are often justified but cover-ups are "always criminal".
Michael Bell Jr., 21, was killed in 2004. The investigation into the officer-involved shooting lasted just 48 hours. All officers involved were subsequently awarded commendations which incensed Bell Sr..
Bell became an activist, purchasing billboards throughout the State of Wisconsin, eventually getting the attention of the Wisconsin State Government who then passed the first law of its kind. It required outside agencies to take the lead in the investigation whenever an officer-involved shooting occurs.
Bell says he would still like to see a proper investigation completed. To date, such an investigation has been disallowed by the police, the Kenosha city council, and the State Bureau of Investigations. Such an investigation could potentially lead to the arrest and trial of several public officials involved in the incident and the alleged cover-up, including the man who shot and killed his son, Kenosha PD officer Alberto Gonzalez. For more information on the Michael Bell slaying and alleged cover-up visit www.michaelbell.info.