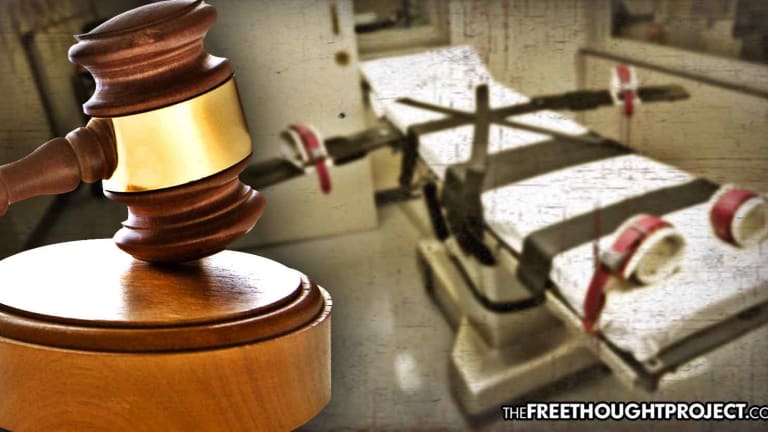 Alabama Lawmakers Pass Landmark Bill Requiring Child Molesters to be Castrated
The state of Alabama has passed legislation that will force anyone convicted of sexually abusing a child under 13 to be castrated before leaving jail.
Montgomery, AL — Child predators are a serious problem in the land of the free. Nearly every month news stories about sting operations netting dozens of child molesters attempting to meet children for sex. The sick problem of pedophilia knows no demographic and everyone from the unemployed to high-level government officials have been swept up in these dragnets—many of whom are repeat offenders. In regard to repeat offenders, Alabama just passed legislation that could prevent them from happening.
This week, lawmakers in Alabama passed a bill that will require child molesters to be castrated. The stipulation is simple, if anyone is convicted of a sex crime against a child under the age of 13, they will be chemically castrated by the state.
"I had people call me in the past when I introduced it and said don't you think this is inhumane? I asked them what's more inhumane than when you take a little infant child, and you sexually molest that infant child when the child cannot defend themselves or get away, and they have to go through all the things they have to go through. If you want to talk about inhumane--that's inhumane," said the sponsor of HB 379, State Representative Steve Hurst, R-Calhoun County.
"They have marked this child for life and the punishment should fit the crime," said Hurst.
Hurst's reasoning behind the bill is to be a deterrent for first-time and repeat offenders.
"If we do something of this nature it would deter something like this happening again in Alabama and maybe reduce the numbers," said Hurst.
Currently, Texas, Florida, and California have laws on the books for repeat offenders to be both chemically or surgically castrated, but it is a voluntary choice by the victimizer.
Alabama is the first state to pass legislation which would require castration for child molesters. If Gov. Kay Ivey signs the bill, it would require child sex offenders aged 21 and older to be chemically castrated before leaving prison.
Opponents of the bill note that this is a violation under the 8th Amendment of the constitution which is there to prevent cruel and unusual punishment. If people go to jail and follow through with their entire sentence, this is supposed to be the way the law works and they are not supposed to suffer for the rest of their lives.
Attorney Raymond Johnson told CBS 42, "They're going to challenge it under the 8th Amendment Constitution. They're going to claim that it is cruel and unusual punishment for someone who has served their time and for the rest of their life have to be castrated."
In the United States, however, the justice system appears to have a soft spot for child molesters and rapists—especially if they are cops and politicians.
Just last week, we reported on the case of disgraced Honolulu officer Teddy O. Van Lerberghe, 45, who was found guilty on multiple counts of raping a 5-year-old girl—yet he will not be going to jail.
In 2015, a former Manatee County Sheriff's Lieutenant was sentenced for his sadistic and sickening acts against three children. Officer Dale Couch was arrested after children told authorities what he had done to them -- violently sexually abused them.
He was charged with two counts of lewd and lascivious molestation of a child under age 12, and a third charge of lewd and lascivious molestation against a 12-year-old child. Instead of being locked in a cage for the rest of his life, like Van Lerberghe, Couch flexed his blue privilege and was given 12 months probation -- no jail time.
Just before Couch's trial, we reported on the police officer who was caught with multiple hard drives full of child porn. All the charges were dropped.
The Free Thought Project also reported on the case of officer Christopher Allen Carson who orally forced himself onto a sleeping 7th grader and was only given a 30-day sentence.
And the list goes on.
In November of 2013, John Van Trump was accused of sexually assaulting a girl younger than six-years-old. Since the girl was younger than six, his charge was considered a super crime.
On June 17, 2015, John Van Trump was convicted of sexually assaulting that little girl. However, instead of the minimum 25-year sentence he originally faced, Trump received far less time. In fact, he received no time, thanks to his police officer status.
So, while the notion that capital punishment is a bad idea due to the fact that the state makes mistakes—a lot—Alabama may be one of the few states who are actually trying something different to stop this epidemic. As illustrated by the above cases, the current system for "prosecuting" child rapists is failed and is doing nothing to stop the abuse.