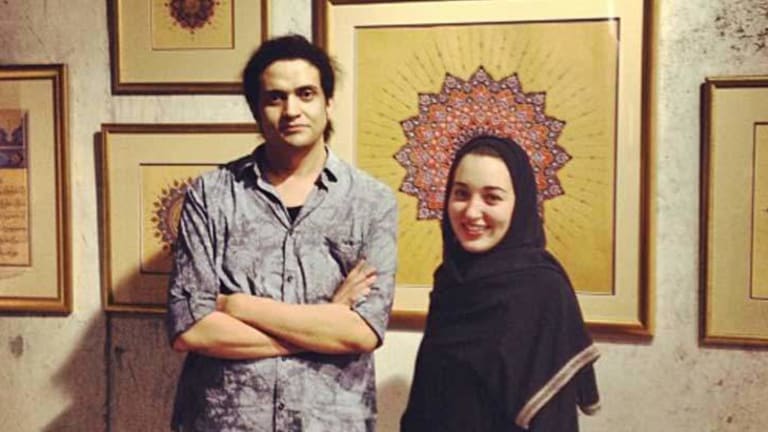 US Ally, Saudi Arabia, Just Sentenced a Poet to Death -- for Being an Atheist
America's strongest ally in the Middle East just sentenced a man to death for thinking differently.
Ashraf Fayadh is a Palestinian poet who was sentenced to death this week by US ally, Saudi Arabia.
Fayadh harmed no one, however, the religious police of Saudi Arabia sentenced him to death on Tuesday for his choice of words.
According to the Guardian, the religious police first detained Fayadh in August 2013 after receiving a complaint that he was cursing against Allah and the prophet Muhammad, insulting Saudi Arabia and distributing a book of his poems that promoted atheism.
"They accused me [of] atheism and spreading some destructive thoughts into society," said Fayadh. He said that the book, Instructions Within, published in 2008, was "just about me being [a] Palestinian refugee … about cultural and philosophical issues. But the religious extremists explained it as destructive ideas against God."
Adam Coogle, of Human Rights Watch, said Fayadh's death sentence showed Saudi Arabia's "complete intolerance of anyone who may not share government-mandated religious, political and social views."
Coogle is correct, Fayadh is not alone in his persecution. The Saudi regime is a violent and merciless group of killers. To this date, they have far surpassed ISIS in removing the heads of people who oppose them. 
A young Saudi Arabian man arrested as a teenager, Ali Mohammed al-Nimr, was also sentenced to be decapitated and then crucified, after his death penalty appeal was denied.
Ali was arrested for taking part in an 'anti-government' protest in 2012, when he was only 17 years old. He was allegedly tortured and forced to sign a confession, and was sentenced to death in May 2014, according to anti-death penalty charity Reprieve.
The authoritarian Saudi regime in the midst of a bloody crackdown, in the wake of the Arab Spring, came down upon Ali with swift brutality. Ali objected to the use of his forced confession being used to sentence him at trial, but no investigation was ever undertaken into the matter.
As the US claims to be the police of the world, 'liberating' the citizens of totalitarian regimes by invading their countries and bombing their hospitals, they remain conveniently oblivious to the crimes of their best friends in Saudi Arabia.
Not only does the US continue to ignore the Saudi's crimes against humanity, but they encourage and support them.
As the Free Thought Project reported this week, the US State Department approved a deal to sell the government of Saudi Arabia a shipment of "smart bombs" that is worth over $1.29 billion. The shipment will include a total of 22,000 bombs, which are intended to kill countless innocents in both Syria and Yemen.
In a statement released by the Pentagon's Defense Security Cooperation Agency, it was blatantly admitted that the US government's relationship with Saudi Arabia was heavily tied to oil reserves in the middle east.
"This acquisition will help sustain strong military-to-military relations between the United States and Saudi Arabia, improve [the ability of Saudi forces to work] with the United States, and enable Saudi Arabia to meet regional threats and safeguard the world's largest oil reserves,"the statement said.
If you still believe that the United State's intentions in the Middle East are noble, you would do well to pull your head from the sand.