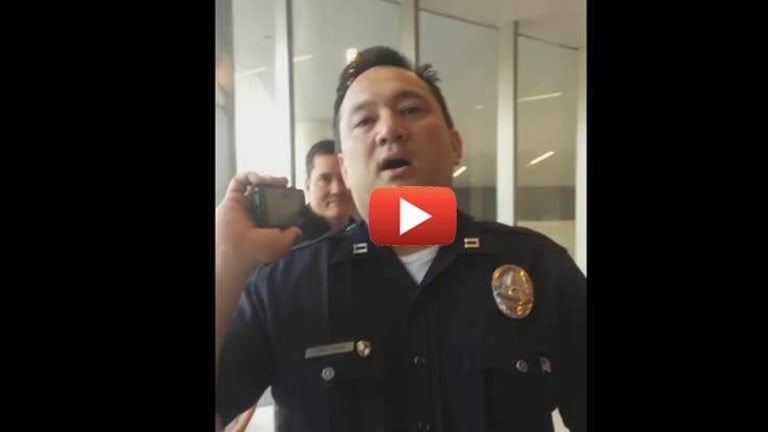 Alternative Media Journalist Arrested Trying To Enter Public Police Commission Meeting In LA
Los Angeles, CA-- Protesters gathered at the LAPD Headquarters downtown on Tuesday to express their anger over the recent killing of a mentally ill homeless man known by his nicknames 'Cameroon' and 'Africa,' on Skid Row. The shooting was captured entirely on a witness's cell phone video.
Tuesday marked the 24th anniversary of the LAPD's vicious beating of Rodney King as well, which was also caught on video by a witness and sparked riots throughout the city.
Over 150 people gathered on Skid Row early Tuesday morning and marched to the LAPD for the police commissioners meeting, a meeting which is open to the public. Dozens of outraged citizens packed the main room, as well as a spillover room. They were determined to use the public comment portion to voice their outrage at how out of control the department is. As the meeting took place, protesters also packed the front steps to the headquarters outside.

"This is a different tragedy than the incidents in Ferguson and the incidents in New York," Commission President Steve Soboroff said at one point. "LAPD is not the same police force." "It's worse," one woman boldly responded from the audience.
Dozens of citizens spoke out, calling the department cowards and a chant of "black lives matter" chorused through the room as the crowd filed out.

Chief Beck was also present and stated that he had "not felt the same animosity" at other meetings, even when the public filed in to proclaim their dissent. He told the LA Times that many people in Tuesday's audience were frequent critics of the LAPD, but said he did not believe they represented the "universal opinion in the city of Los Angeles." "But I will say, that group today was pretty irate," he noted.
Also in attendance was Alissa Kokkins, aka Lissa Bissa, a beloved independent journalist from The Anti Media. She became irate upon finding out that a man in attendance had been cited and issued a fine for sleeping under an overpass during the recent rain storm.
Moments after taking that Vine, Lissa began discussing the ticket with officers at the door and attempted to go inside the building. She was blocked by a line of police, despite others coming and going freely. After being told she would be arrested for "trespassing" at the public building, to go to the public meeting, she defiantly handed me her bag and barged through the doors. She was arrested and taken into custody immediately.

After her arrest, the protest moved over to City Hall for a noisy demo and unsuccessful attempts at getting the Mayor to come out and speak to the group face to face.
As the protest began to wind down, we were alerted that two more individuals, Evelyn Aparicio Chavez, 19 and Andrea Mendoza, 21, had been arrested for attempting to enter the building to request information on Lissa's arrest. Mendoza was "brutally dog piled" by officers as the pair was taken into custody. She is seen speaking in this video describing Lissa's arrest shortly before her own. A small group of us head over to the detention center to try to gather more information on why these women were being held. The officer at the station told us that they were arrested for trespassing. However, once at the detention center we learned that Lissa had been charged under penal code 415.1, and explained that the law covers "challenging someone to a fight."

415. Any of the following persons shall be punished by imprisonment in the county jail for a period of not more than 90 days, a fine of not more than four hundred dollars ($400), or both such imprisonment and fine: (1) Any person who unlawfully fights in a public place or challenges another person in a public place to fight.
" width="792" height="445" frameborder="0" allowfullscreen="allowfullscreen"> While it is unclear what occurred after she was taken into custody, as we were not allowed into the building, absolutely none of the things covered in that law took place before her arrest. This is a fact that myself and many others can attest to. The women were released at 2 am Tuesday morning, and Lissa informed The Free Thought Project that she was originally charged with disturbing the peace, which was changed to the charge stated above, and then ultimately changed again to trespassing. Aparicio Chavez and Mendoza both told The Free Thought Project that they were sexually assaulted by officers who forcefully groped them during their arrests. We were given the following images showing injuries from her assault.