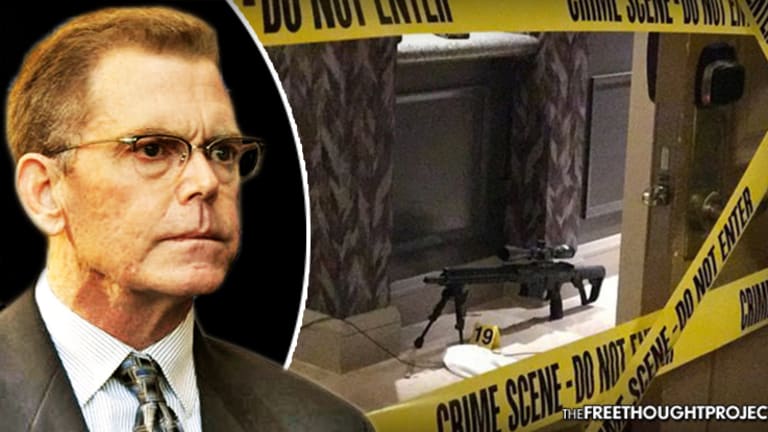 BREAKING: Man Who Sold Ammunition to Las Vegas Shooter Arrested on Felony Charges
The man who sold ammunition to the suspect in the Las Vegas shooting is facing five years in prison on felony charges of conspiracy to manufacture and sell armor-piercing ammunition.
The man who sold ammunition to Las Vegas shooting suspect Stephen Paddock was arrested on Friday and charged with conspiracy to manufacture and sell armor-piercing ammunition.
Douglas Haig, a 55-year-old aerospace engineer from Arizona, is now facing up to five years in prison for the transaction he made with Paddock before the deadly shooting that killed 58 people and injured more than 500. The Las Vegas Review-Journal reported that Haig became a "person of interest" after FBI agents found "two unfired cartridges bearing Haig's fingerprints" in Paddock's suite at the Mandalay Bay Hotel.
A criminal complaint filed against Haig claimed that he was selling "armor piercing ammunition throughout the U.S., including Nevada, Texas, Virginia, Wyoming, and South Carolina." However, he does not "have a license to manufacture armor piercing ammunition."
"I'm the guy that sold ammunition to Stephen Paddock," Haig told reporters when his name was first released.
According to the report from the Review-Journal, Haig sells military surplus ammunition part-time as a "hobby," and he first came in contact with Paddock in August 2017:
Haig met Paddock in person on Aug. 27 at a gun show in Phoenix. At the time, Haig did not have enough of the ammunition Paddock wanted, so Haig gave him his business card. 

A few days later, Paddock called Haig. Haig was at work, so the Arizona man asked Paddock to call him later. That's when Haig gave him his personal address and allowed him to come pick up the ammunition. Paddock got lost on the way to Haig's home, so he called him a third time, then eventually pulled up to the Arizona man's address. 

"He said that he was going to go out to the desert and put on a light show either with or for his friends," Haig said.
A statement from the U.S. attorney's office noted that when Haig was interviewed by investigators, he maintained that Paddock did not use the tracer ammunition he purchased from Haig.
However, the statement noted that Haig became a "person of interest" after FBI agents found "his fingerprints were found on reloaded, unfired .308 caliber cartridges. Forensic examination also revealed that armor piercing ammunition recovered inside of the shooter's rooms had tool marks consistent with Haig's reloading equipment."
As The Free Thought Project reported last month, a series of newly unsealed court documents gave insight into Paddocks communications in the months leading up to the shooting, and revealed that he apparently referred to himself as some kind of arms dealer:
In the first message, Paddock claimed that the recipient would have the opportunity to try out the weapons before they purchased them. He then wrote "We have huge selection," indicating that he was not working alone, and he said he was located "in the Las Vegas area."

While Paddock did live in Mesquite, Nevada, and reports claimed that he was a retired man living with his girlfriend, he made trips to Las Vegas often to gamble, and those who knew him described him as "low key and relaxed, a good guy." His past included jobs with the IRS and the Department of Defense.

However, the email exchanges released by the FBI indicate that Paddock was presenting himself as some sort of arms dealer, sending an email that said, "for a thrill try out bumpfire ar's with a 100 round magazine."
Douglas Haig has maintained that he is innocent and that his interaction with Paddock was nothing more than a "routine transaction." He also said that he was horrified when he found out Paddock was the suspect in the shooting, and he has been communicating with the FBI ever since.
"I've had people pounding on my door, death threats, one woman screaming through my door that I should be killed and I should die," Haig said, describing the attention he received after his name was publicly released.
The Review-Journal reported that Haig was released on bond pending a status conference on Feb. 15 before U.S. Magistrate Judge Michelle Burns in Phoenix.