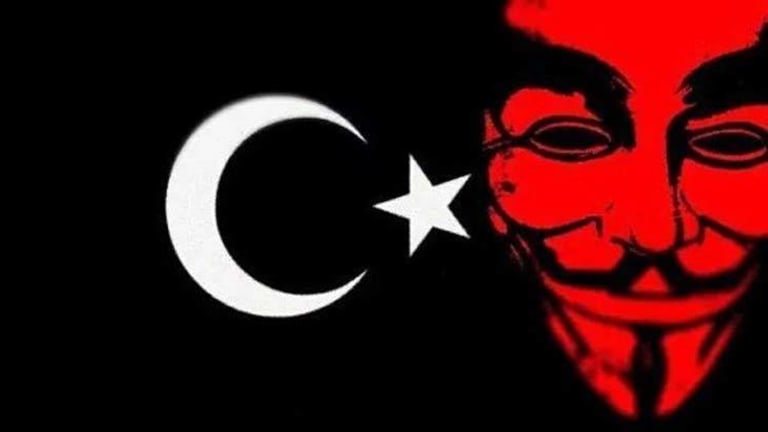 Anonymous Launches Massive Attack on Turkey for Supporting ISIS - 40,000 Sites Down in 7 Days
The hacktivist collective launched a massive cyber attack on Turkish servers for their role in supporting ISIS.
Anonymous claimed responsibility for a massive cyber attack on Turkish servers, that resulted in over 40,000 websites being taken offline. The large-scale DDoS attack, #OpTurkey, was carried out as part of a campaign against the Turkish government for their continued support of the Islamic State.
According to a report by RT:
The DDoS attack (measured in gigabits per second, or plainly how much traffic is being sent to a site) on Turkish DNS servers reached 40 Gbps, quite enough to shut down altogether any domain.

The attack began on December 14, and came to a halt only a week later, on December 21. Turkish media alleged that 400,000 .tr domains were forced offline.

The affected websites were able to return online only after Turkey's leading National Response Center for Cyber Events cut off all incoming international traffic to the .tr websites, thus shutting down national "internet borders," completely and denying "anybody outside the country access to Turkish websites," Anonymous pointed out.

"This mass cyber-attack is known to be the biggest so far with the intensity of slowing down the websites," ODTÜ Computer Engineering Professor Attila Özgit said as cited by Hurriyet Daily News.

The hacktivists claim the attack on Turkey was conducted within the framework of the counterterrorist cyber operation #OpISIS. The basic message behind the attack is that Turkey's woes with the internet are set to repeat unless Ankara revises its policies towards Islamic extremists.
The hacktivist group released a video announcing the campaign against the Turkish government.
Greetings citizens of the world,

We are Anonymous.

As many of you have heard, Turkey is supporting Daesh by buying oil from them, and hospitalizing their fighters.

We won't accept that Erdogan, the leader of Turkey, will help ISIS any longer. The news media has already stated that Turkey's Internet has been the victim of massive DDOS attacks. This lead Turkey to shut down it's internet borders and deny anybody outside the country to access Turkish websites.

Dear government of Turkey,

If you don't stop supporting ISIS, we will continue attacking your internet , your ROOT DNS , your banks and take your government sites down.
After the root dns we will start to hit your airports, military assets and private state connections. We will destroy your critical banking infrastructure
Stop this insanity now Turkey. Your fate is in your own hands.

We Are Anonymous

We Are Legion

We Do Not Forgive

We do not forget.

Expect us.

#OpISIS #OpTurkey
After the downing of a Russian Su-24 bomber, Russia turned the spotlight onto Turkey and their shady dealing with ISIS as part of a continued campaign to further destabilize Syria, with the goal of toppling the government of Bashar al-Assad.
The Russian Defense Ministry has released satellite images showing convoys of ISIS oil tankers, trucking routes and has directly accused the son of Turkish President Erdogan of being one of the primary actors in facilitating the Islamic State's illegal oil business in Turkey.
Anonymous has previously targeted the Islamic State in numerous operations against the extremist group and has made clear that their assault upon the terrorist groups and its allies will continue.
Jay Syrmopoulos is an investigative journalist, free thinker, researcher, and ardent opponent of authoritarianism. He is currently a graduate student at University of Denver pursuing a masters in Global Affairs. Jay's work has been published on Ben Swann's Truth in Media, Truth-Out, Raw Story, MintPress News, as well as many other sites. You can follow him on Twitter @sirmetropolis, on Facebook at Sir Metropolis and now on tsu.