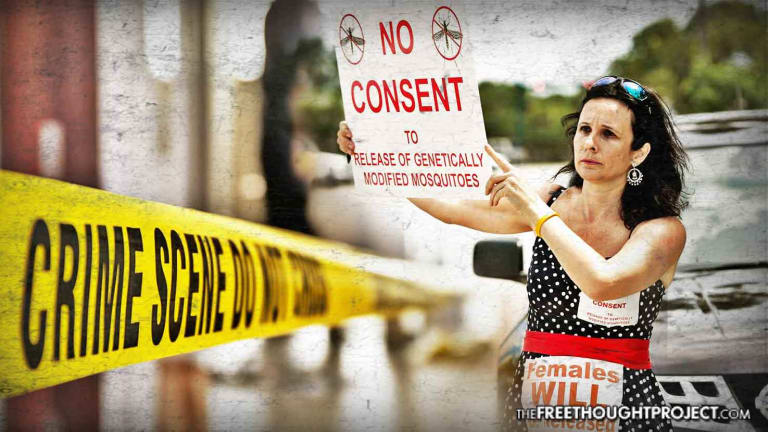 Anti-GMO Mosquito Activist in DC to Deliver Petition to EPA Found Floating Dead in Hotel Pool
An anti-GMO mosquito activist was in Washington DC to deliver a petition to the EPA when she was found dead, floating in the pool of her hotel. Police are refusing to release details surrounding the case.
Washington, D.C. -- An environmental activist, Milagra de Mier, known as Mila, who had traveled from Key-West, Florida to Washington D.C. to drop off an anti-GMO mosquito petition with nearly 200,000 signatures to the Environmental Protection Agency (EPA) and Food and Drug Administration (FDA), was found dead in her hotel pool on Tuesday morning. Authorities arrived at the Cambria Hotel & Suites Washington, D.C. Convention Center on Tuesday morning after a witness found an unconscious woman floating face down inside the rooftop pool and called 911, according to Fox 5.
According to the report by Fox 5 News:
Authorities said they were called to the Cambria Hotel & Suites Washington, D.C. Convention Center in the 890 block of O Street, NW at about 9:40 a.m.

According to a police report, a witness found an unconscious woman floating inside the rooftop pool and called 911.

When emergency crews responded to the scene they found the woman facedown and attempted to revive her but she was pronounced dead at the scene.

Authorities later identified the woman as 45-year-old Milagro Demier of Key West, Florida.

Detectives said a death investigation was underway to determine the circumstances surrounding the drowning. No other details were immediately available.
In addition to petitioning the EPA and FDA, de Meir was in D.C. to raise awareness surrounding a controversial plan by a UK biotech company, Oxitec, to release 50 million genetically-modified mosquitoes per week in Texas and Florida ecosystem.
Mila's petition on Change.org states:
Right now, a British company named Oxitec is planning to release genetically modified mosquitoes into the fragile enviroment of the Florida Keys and Texas. The company wants to use the Florida Keys and Texas as a testing ground for these mutant bugs. Even though the local community in the Florida Keys has spoken -- we even passed an ordinance demanding more testing -- First, Oxitec is trying to use a loophole by applying to the FDA for an "animal bug" patent. Now, the hot potato has passed to the EPA and Oxitec is at it again. This profit driven biotech company wants to release more than 50 million GMO mosquitoes per week into Florida and Texas. These GMO mosquitoes could pose major risks to fragile ecosystems like the Florida Key and Texas and may pose risks to public health and safety.
Additionally, de Meir's petition points out that the experimental nature releasing genetically-modified mosquitos into a live ecosystem, noting:
GMO Mosquitoes are created with E-Coli bacteria, herpes-simplex virus and other ingredients. This is very premature technology with very little information, a lot of questions need to be answer[ed]. The Center for Disease Control notes that Oxitec's trials are not set up to test for disease reduction. If the experiments goes forward, there would still be enough non-GMO mosquitoes in the environment, including in peoples' homes and backyards, to spread disease.
Oxitec claims it is simply working with local mosquito control, but rather than traditional spraying, they are using a genetically-modified strain of Aedes aegypti, officially known as OX513A, which is engineered to have two genes inserted into its DNA: one makes the insects glow, the other makes them self-destruct.
The fluorescent gene verifies that the gene modification was successful and helps researchers track them in the wild. The lethal gene then kills the mosquito in two to three days, which allows enough time for a male to mate and spread the genes to its offspring, killing the larvae before they can fully develop.
The problem is law of unintended consequences, as de Meir's petition presciently warns:
Nearly all experiments with genetically-modified crops have eventually resulted in unintended consequences: superweeds more resistant to herbicides, mutated and resistant insects also collateral damage to ecosystems…

Are there any studies being conducted to see if these mosquitoes will harm the native bat population? Why would we not expect GM (genetically modified) insects, especially those that bite humans, to have similar unintended negative consequences? Will the more virulent Asian tiger mosquito that also carries dengue fill the void left by reductions in A. aegypti? Will the dengue virus mutate (think antibiotic resistant MRSA) and become even more dangerous? There are more questions than answers and we need more testing to be done. Will the public be able to stop this program from happening if we don't want it? We were told that "public opinion would be taken into account." Dengue fever has been absent from the Florida Keys for years, which indicates the current methods of control and public education are working. What's the rush for this radical approach? Where is the third-party, peer-reviewed research on effectiveness and safety of GM mosquitoes other than Oxitec's own claims of success?
Furthermore, as GeneWatch explained, one of the major concerns about Oxitec's GM Aedes aegypti mosquito is that if natural populations of A. aegypti are reduced, a competing mosquito species can then take their place. In the Florida Keys, the biggest threat is Aedes albopictus, another invasive species that feasts on human blood.
The key here is that the new dominant mosquito will likely be much more difficult to control with traditional pesticides than A. aegypti, thus forcing communities to be continuously dependent on Oxitec to produce new streams of GM animals – a rather ingenious business model.
Mila's website, Never Again, founded in the wake of the 2010 BP accident, explained that Oxitec's applications to the Caymen court noted the company's intent to sell a second "animal drug" to fix problems created by the initial release:
Oxitec's application to the Cayman court makes it clear that the company intended all along to design and release Asian Tiger mosquitoes as well as aegypti. It refers to both species throughout, stating from the outset that the company intends to sell a second "animal drug" to fix the ongoing problems created by the first.
The final tweets by de Meir indicated she was hopeful EPA head Scott Pruitt would grant an extension for public comment.
Her final tweet on April 9, indicated she was eagerly awaiting a call back.

The tenacity of de Meir to rally people around this important and under-reported cause made her a formidable nemesis to the GMO biotech industry in Florida and beyond, and while there is no evidence at this time to suggest her activism played a part in her death, the facts surrounding her mission against genetically-modified mosquitos most certainly warrant a deeper investigation into her untimely death to ascertain if there are any connections.
When asked whether de Meir's death was being investigated as a homicide, D.C. Metropolitan Police refused comment, telling The Free Thought Project, "It's still under investigation at this time, and we have no further comment until that investigation is completed."