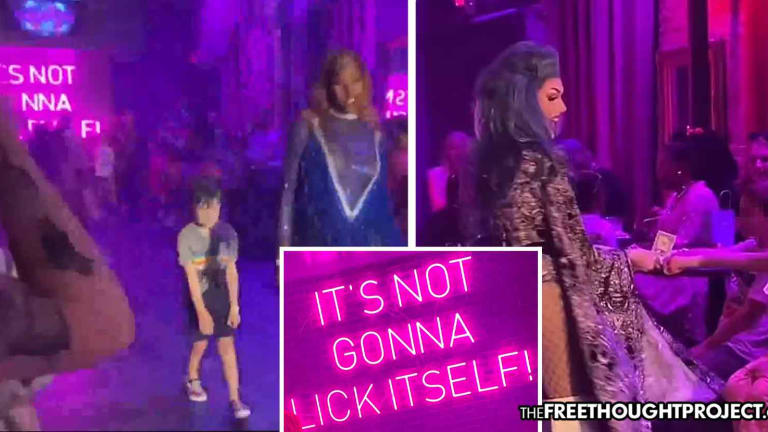 As Video Surfaces of Drag Queens Dancing for Children, Bill Proposed to Ban Drag Shows for Kids
While people have the right to pursue their own interests, attempting to "drag kids" into a world that is largely associated sexual behavior seems contrary to protecting children.
No one here at the Free Thought Project thinks that people should be disallowed from dressing in drag and partying. Drag competitions and dance parties are some of the best parties on the planet. That being said, allowing children to take part in these 'strip shows', sexualizing them in the process, and normalizing kinky sexual behavior for 6-year-olds, is definitely not okay. Oddly, however, there is a large movement out there which aims to do just that.
Another video went viral over the weekend from inside a self-proclaimed gay bar in Dallas, Texas named Mr. Misster which hosted a "family friendly" drag show. The show, named "Drag Kids to Pride," was specifically marketed toward children and featured multiple male performers in drag.
The organizers called it a family-friendly spin-off of their Champagne Drag Brunch that would allow kids to dance with performers on stage. During the show, the drag performers danced provocatively in front of the children while some of them collected tips. At certain points the children also danced with the drag performers behind the massive neon sign which read "It's Not Gonna Lick Itself."
The idea of young children engaging in sexualized behavior with adult males was naturally unsettling to many local residents who planned a protest on Saturday outside the bar. The protest group is called Protect Texas Kids and noted that they had no problem with consensual adults doing consensual adult things, but when children are involved, they felt compelled to protest.
"The mission was to raise awareness that an event like this, a drag show for children, was happening right in Dallas. We also hoped that if we raised awareness, the event might be canceled or modified so that children couldn't be present."

"We were very happy with how the event went overall. The police were able to come in and remove all of the children and their families from inside of the bar. There were a lot of people in attendance who didn't have kids, so those people were able to stay and the event continued."
ABC 8 reported that contrary to part of this statement in regard to removing children and families, the Dallas Police Department said officers showed up to "assist with crowd control" and help the crowd "disperse in a safe manner."
"I live in this community," Dasy, one of the protesters told ABC 8. "I have for several years. I don't believe that I should be seeing signs advertising for children to be dancing on stage with men in thongs and in inappropriate clothing and makeup."
Again, there is absolutely nothing wrong with the adults inside the bar doing this, but when drag queen strip shows are marketed to children, a line is crossed.
There is no doubt that for decades the LGBTQ crowd, especially teens, have faced an uphill battle with discrimination and obstinance. The suicide rate for gay teens was through the roof and they were pressured by society into "staying in the closet." Luckily, however, thanks to a waning sense of bigotry and society's tendency to move toward more acceptance, the LGBTQ community is far more acknowledged and accepted than ever before.
No longer are gay couples unable to marry and no longer is there widespread societal stigma associated with being different, and in fact, it is celebrated — as it should be. People should be happy with who they are and no one should stand in their way to pursuing that happiness.
That being said, while people have the right to pursue their own interests, attempting to "drag kids" into a world that is largely associated sexual behavior seems contrary to protecting children.
Nevertheless, hyper-sexualization of children has been increasing over the years. In 2019, TFTP brought you the story of a 10-year-old Canadian drag queen "Queen Lactatia" posing next to a naked adult male. The London-based magazine Huck, which writes about different subcultures lauded the act as "beautiful."
We disagree.
This is why many in the trans community are speaking out about it.
Last year when a video surfaced on TikTok, sparking divide among the LGBTQ community showing a drag queen doing a strip tease and sexual dance for a girl who appears no older than five, trans activist Sophia Narwitz spoke out against it.
"LGBT activists want you to believe this is not only normal, but that it's a step in the right direction towards individual self-expression and queer acceptance. People within the media go so far as to tout drag kids as stunning and brave, and drag queen story time is pushed to the masses within progressive woke culture. But when it's hard to tell the difference between child grooming tactics and progressiveness, a huge problem arises," Sophia Narwitz wrote.
Narwitz, who is trans, went on to explain the harm this type of hypersexualization of children does to the LGBTQ community.
"As an LGBT individual myself, this culture the left is permeating affects me greatly. With much of the media swaying towards the "progressive" side of things, the public sees queer people as depicted by the media elite, and how they're choosing to show us is as nothing more than sexually deviant perverts who want to fondle your children," she explained.
As Narwitz states above, going after children is only going to stoke divide and resentment toward LBGTQ folks and it will not end well. By all means, become an LBGTQ activist, hold events, and proudly stake your claim in this world but leave the children out of it and let them find their own way — in a world that won't judge them for being gay, trans.... or straight.
Consenting adults, voluntarily interacting, and causing no harm, should never be a reason to attempt to silence or otherwise persecute an individual or a group. However, when innocent children are being manipulated, exploited, sexualized, and told that this is "normal" people will react.
While prohibition never works, Texas state legislator Bryan Slaton is reacting to this push. On Monday, he announced that he would be introducing a bill that would ban "drag shows" that involved (or permitted the entry of) children across the Lone Star State. It is already this way for female exotic dancing so it wouldn't be a dramatic change but this issue needs far more than government to fix it.
Until rational heads prevail, however, we can expect more of the same.