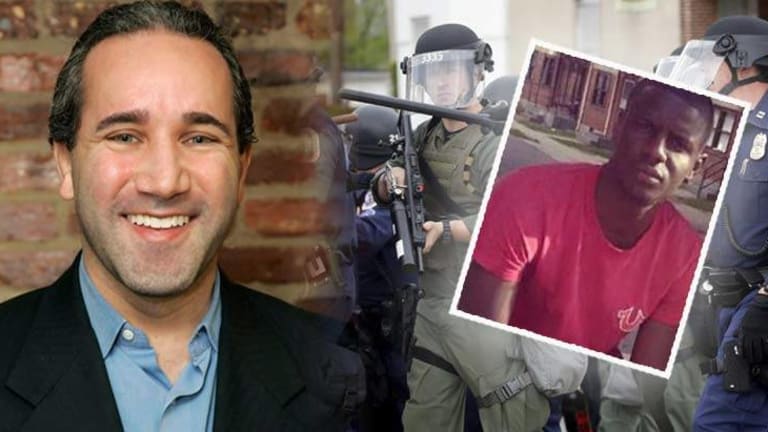 Baltimore Orioles Boss Makes Bold Statement In Support Of Freddie Gray Protesters
John P. Angelos, Executive Vice President of the Baltimore Orioles baseball team had some bold words to say about the recent events in Baltimore.

Baltimore, Maryland - As events unfolded in Baltimore this weekend, one of the head bosses of the city's baseball team had an entirely different perspective.
John P. Angelos, Executive Vice President of the Baltimore Orioles baseball team, and son of the Orioles owner Peter Angelos, shared his opinions on the protests in a Twitter debate with Baltimore sports radio broadcaster Brett Hollander.
While many sports fans complained about how they were inconvenienced by the protests, or how police asked them to remain inside the stadium, Angelos voiced his concerns for the victims of police brutality, and the plight of the city's poor.
The full transcript of Angelos' Twitter statement can be read below, thanks to USA Today:
"Speaking only for myself, I agree with your point that the principle of peaceful, non-violent protest and the observance of the rule of law is of utmost importance in any society. MLK, Gandhi, Mandela and all great opposition leaders throughout history have always preached this precept. Further, it is critical that in any democracy, investigation must be completed and due process must be honored before any government or police members are judged responsible.

That said, my greater source of personal concern, outrage and sympathy beyond this particular case is focused neither upon one night's property damage nor upon the acts, but is focused rather upon the past four-decade period during which an American political elite have shipped middle class and working class jobs away from Baltimore and cities and towns around the U.S. to third-world dictatorships like China and others, plunged tens of millions of good, hard-working Americans into economic devastation, and then followed that action around the nation by diminishing every American's civil rights protections in order to control an unfairly impoverished population living under an ever-declining standard of living and suffering at the butt end of an ever-more militarized and aggressive surveillance state.

The innocent working families of all backgrounds whose lives and dreams have been cut short by excessive violence, surveillance, and other abuses of the Bill of Rights by government pay the true price, and ultimate price, and one that far exceeds the importances of any kids' game played tonight, or ever, at Camden Yards. We need to keep in mind people are suffering and dying around the U.S., and while we are thankful no one was injured at Camden Yards, there is a far bigger picture for poor Americans in Baltimore and everywhere who don't have jobs and are losing economic civil and legal rights, and this makes inconvenience at a ballgame irrelevant in light of the needless suffering government is inflicting upon ordinary Americans."
This is probably one of the most level-headed statements to be released by the mainstream media on this topic, and the only reason it was ever published is because it came from someone who is in the public eye. This is exactly why people in his position should always speak their mind on important issues like this, because they truly do have an opportunity to shift the dialogue and counter some of the mainstream media spin.
John Vibes is an author, researcher and investigative journalist who takes a special interest in the counter culture and the drug war. In addition to his writing and activist work he organizes a number of large events including the Free Your Mind Conference, which features top caliber speakers and whistle-blowers from all over the world. You can contact him and stay connected to his work at his Facebook page. You can find his 65 chapter Book entitled "Alchemy of the Timeless Renaissance" at bookpatch.com.