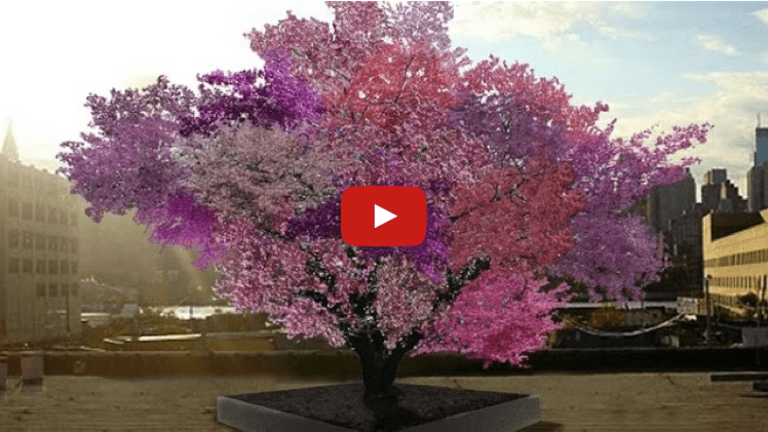 This Stunning Tree Bears 40 Different Kinds of Fruit Using an Ancient Technique
Using a thousands year old technique, an innovative artist has created trees that essentially contain an entire orchard.
What began as a quest to save ancient varieties of fruit, turned into an amazing tree, which is as strikingly beautiful as it is useful. The tree can bear an astonishing 40 different types of stone fruit, including almonds, peaches, nectarines, apricots and plums.
The man responsible for the tree is Syracuse University professor and artist, Sam Van Aken, who has put over 9 years into grafting the 40 different variety of stone fruit into the tree.
Van Aken, has in essence, put an entire orchard onto a single tree, utilizing an ancient process called "chip grafting."
According to National Geographic:
The grafting process involves slicing a bit of a branch with a bud from a tree of one of the varieties and inserting it into a slit in a branch on the "working tree," then wrapping the wound with tape until it heals and the bud starts to grow into a new branch. Over several years he adds slices of branches from other varieties to the working tree. In the spring the "Tree of 40 Fruit" has blossoms in many hues of pink and purple, and in the summer it begins to bear the fruits in sequence—Van Aken says it's both a work of art and a time line of the varieties' blossoming and fruiting.
Many of these trees have been created and distributed in cities throughout the U.S.
"Part of the idea behind the Tree of 40 Fruit was to plant them in locations that people would stumble upon them," said Van Aken told National Geographic. "And once they happened upon one of these trees, they would start to question 'Why are the leaves shaped differently?' 'Why are they different colors?'"
Van Aken doesn't think the trees will change the world, but is working to spread diversity on a small scale. Innovators and visionary thinkers come in all forms, and the more open we can be to new ideas and concepts, the greater likelihood of manifesting new paradigms of reality. The small ideas of today may potentially lead to the next great conceptual leap in thought and process tomorrow.
Jay Syrmopoulos is an investigative journalist, free thinker, researcher, and ardent opponent of authoritarianism. He is currently a graduate student at University of Denver pursuing a masters in Global Affairs. Jay's work has been published on BenSwann's Truth in Media, Chris Hedges' truth-out, AlterNet and many other sites. You can follow him on Twitter @sirmetropolis, on Facebook at Sir Metropolis and now on tsu.