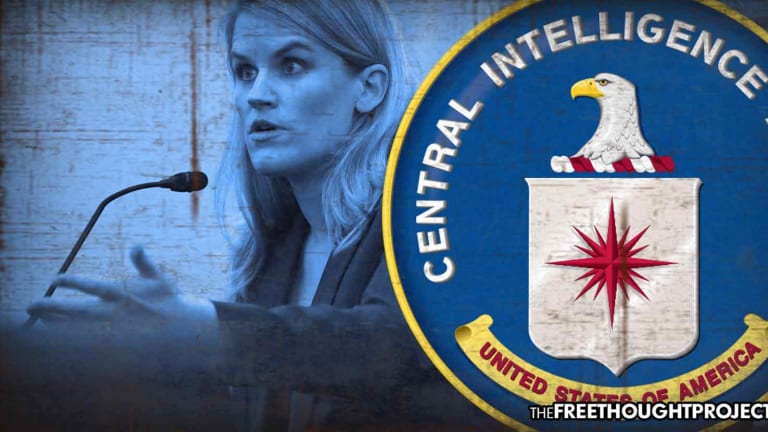 'Best Whistleblower Money Can Buy'? Facebook's Frances Haugen Represented by US Intel Insiders
While Haugen has presented herself as a "whistleblower" who risked it all to expose the secrets of the powerful, she was cultivated and legally represented by an organization led by former intelligence insiders with close ties to the US national security state.
(The Grayzone) — A former employee of Facebook named Frances Haugen earned national renown after appearing before Congress on October 5, 2021 to accuse the company where she once worked of everything from poisoning the minds of young American women to aiding and abetting global evildoers.
While Haugen has presented herself as a "whistleblower" who risked it all to expose the secrets of the powerful, she was cultivated and legally represented by an organization led by former intelligence insiders with close ties to the US national security state.
Called Whistleblower Aid, the outfit was founded by a national security lawyer, Mark Zaid, who has been accused of ratting out his client, CIA whistleblower Jeffrey Sterling, to his employers in Langley. Zaid is joined by a former State Department official and government-approved whistleblower, John Tye, ex-CIA and Pentagon official Andrew Bakaj, and veteran US government information warrior, Libby Liu, who has specialized in supporting color revolution-style operations against China.
John Kiriakou, the CIA whistleblower jailed for exposing the agency's role in the serial torture of terror suspects, commented to The Grayzone, "Mark Zaid presents himself to the public as a whistleblower attorney, however, he is anything but. Instead, he has betrayed his clients and come down on the side of prosecutors in the intelligence community. He is not to be trusted."
Kiriakou continued, "My own personal belief is that he is the intelligence community's preferred 'whistleblower' attorney because he's willing to place their interests over his clients."
Tech billionaire and media mogul Pierre Omidyar has provided funding to Whistleblower Aid, as well as to a public relations firm assisting Haugen. Omidyar has played his own role in US foreign interventionism, sponsoring anti-government media outlets and activists alongside US government agencies in states where Washington seeks regime change.
Following the October 5 remarks by the "Facebook whistleblower," Senate Subcommittee on Consumer Protection Chair Sen. Richard Blumenthal commended Haugen for her "courage" and "strength" in "standing up to one of the most powerful, implacable corporate giants in the history of the world." For her part, Haugen claimed to have come forward with her testimony "at great personal risk."
However, Haugen is now set to meet with the oversight board at Facebook, suggesting the supposed underdog whistleblower had never been a threat to her former employer, and may have been colluding in a mutually beneficial operation. Haugen emphasized in her testimony that she "doesn't want to break up" Facebook; she was merely looking for increased "content moderation" to root out "extremism" and "(mis/dis)information."
While the public has been led to believe that Haugen embarked on her censorious moral crusade all by herself, driven by nothing more than her own sense of indignation and desire to stamp out "misinformation," her testimony tracked closely with a narrative that has emerged from the US national security state and which aims to prevent the flow of information from counter-hegemonic "bad actors."
The agenda was laid bare by Haugen herself, who claimed she worked alongside intelligence assets at a previously unknown Facebook "threat intelligence unit," and made repeated reference to supposed malign activities by designated US enemies including Ethiopia, Myanmar, Western China and Iran..
As this report will reveal, Haugen appears to be little more than a tool in a far-reaching plan to increase the US national security state's control over one of the world's most popular social media platforms.
"Facebook whistleblower" Frances Haugen in 2015.
The making of a phony Facebook whistleblower
Haugen first appeared in September 2021 as the supposed source of a leak called "The Facebook Files." She was immediately hailed as a "modern US hero" in the media for secretly copying tens of thousands of internal Facebook documents and releasing them to the Wall Street Journal, which published a series of nine articles based on the documents.
The WSJ initially kept its source anonymous, rolling out the series two weeks before Haugen came forward in an October 3 interview with 60 Minutes. On camera, she complained that Facebook was "tearing our societies apart and causing ethnic violence around the world."
"Ethnic violence including Myanmar in 2018 when the military used Facebook," narrated 60 Minutes correspondent Scott Pelley, to "launch a genocide."
When pressed by 60 Minutes about what motivated her to leak the documents, Haugen answered vaguely: "at some point in 2021, I realized I'm going to have to do this in a systematic way and I have to get enough [so] that no one can question that this is real."
Yet Haugen first divulged company information before 2021. In the final installment of the Journal's series, the outlet revealed that Haugen first sent an encrypted text to one of their reporters on December 3, 2020.
That same article, published the day the 60 Minutes interview aired, reported that Haugen "continued gathering material from inside Facebook through her last hour with access to the system. She reached out to lawyers at Whistleblower Aid, a Washington, D.C., nonprofit that represents people reporting corporate and government misbehavior."
Haugen's resignation with Facebook was effective in March, but the precise day of her client-attorney relationship with Whistleblower Aid remains unknown. What is known is that it all came together quickly.
John Tye, a founder and the Chief Disclosure Officer at Whistleblower Aid, told the New York Times that he agreed to represent Haugen "within a few minutes" of speaking with her.
On October 5, Haugen testified at a Senate Commerce Subcommittee on Consumer Protection. But already she had "spoken to lawmakers in France and Britain, as well as a member of European Parliament," according to the New York Times on October 3, the day her identity was revealed on 60 Minutes. The outlet added: "This month, she is scheduled to appear before a British parliamentary committee. That will be followed by stops at Web Summit, a technology conference in Lisbon, and in Brussels to meet with European policymakers in November," citing Tye.
Alongside Haguen's big reveal came the launch of a new website and a new Twitter account, which was immediately verified. Haugen's old Twitter account was locked when she went public and has since been deleted, while her old blog is no longer online.
It is instructive to contrast Haugen's overnight verification with the way Twitter has treated others who have furnished secret documents in order to expose wrongdoing by the elite – namely, the jailed Wikileaks co-founder Julian Assange, who never received verification from Twitter.
During her opening remarks to Congress, Haugen weaved a narrative that tied the State Department's interventionist agenda to the Democratic Party's crusade for online censorship. She commented that "what we saw in Myanmar and are now seeing in Ethiopia are only the opening chapters of a story so terrifying no one wants to read the end of it."
Later, Haugen nodded her head in agreement as Sen. Dan Sullivan called Iran the biggest state sponsor or terrorism in the world and China a "communist party dictatorship" that is the most serious competitor to the US in the 21st century. Oddly, she made no mention of malign activity by any US ally or country that was not currently sanctioned by the US Department of State.
At Facebook, Haugen claimed she worked as product manager on a "threat intelligence unit" at the company. "So I was a product manager supporting the counter-espionage team," she claimed to Sen. Sullivan. Part of her job included "directly work[ing] on tracking Chinese participation on the platform," she claimed. Further, she alleged that Iran used the platform to conduct "espionage" on the platform.
"I'm speaking to other members of Congress about that," Haugen acknowledged. "I have strong national security concerns about how Facebook operates today."
As journalist Kit Klarenberg reported, the little-known Facebook "threat intelligence unit" where Haugen claimed to have worked is staffed by former CIA, NSA, and Pentagon operatives. Those who work at the unit must have "5+ years of experience working in intelligence (either government or private sector), international geopolitical, cybersecurity, or human rights functions," according to a job posting.
Yet Haugen's now-deleted blog and Twitter account feature no political content, nor does her resume. On Twitter, she frequently discussed taking Ambien and flirting with boys, while on her blog she wrote about cycling through Europe. Apart from a lecture she delivered on "The Intersection of Product Management and Gender," and donations to the Democratic Party, she has shown little discernible interest in politics. So how did a certifiable normie with jobs at Google, Pinterest, Yelp! become an expert on Iran and China?
The background of Haugen's shady legal team suggests she has been cultivated, coached and deployed to complete Facebook's transformation into a fully-controlled vehicle of US foreign policy imperatives, willing to de-rank or outright censor any views the US government deems "misinformation."
The best whistleblower outfit Pierre Omidyar's money could buy
Whistleblower Aid bills itself as "a pioneering, non-profit legal organization that helps patriotic government employees and brave, private-sector workers report and publicize their concerns — safely, lawfully, and responsibly."
But is this group truly the whistleblower protection outfit it claims to be?
In fact, Whistleblower Aid appears to have been modeled as a sort of anti-Wikileaks organization. "Whistleblower Aid is not Wikileaks," the "vision" page of the former organization insists. On another section of its website, it states, "No one should ever send classified information to Whistleblower Aid. Whistleblower Aid will never assist clients or prospective clients with leaking classified information."
Read the full story at Grayzone: