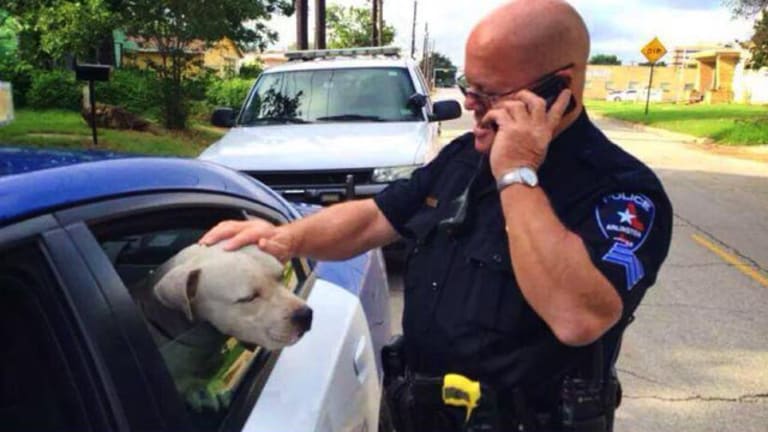 A Rare Big Hearted Cop Rescues Pitbull, Instead of Shooting It - Twice!
Cassandra Rules
July 12, 2014
We will always give credit when its due, and Sgt. Gary Carter of the Arlington Police Department in Texas definitely deserves some praise!
In a world where we hear story after story of cops killing "man's best friend", it is an absolute pleasure to get to write a story like this one.
Sargent Carter first met this beautiful pit a few weeks ago after they received a call for a possibly "vicious" pit bull running loose.
The unusually kind hearted cop decided this wasn't an aggressive beast, just a scared and thirsty lost dog. He then found his home and returned him.
Sadly, the pit bull escaped once again and the terrible owners decided their friend wasn't worth the effort to retrieve. He was taken to a local shelter where he began to run out of time before being put down.
The police station (who appears to often tweet out lost pets and pets who need homes), tweeted out an urgent call for someone to adopt the dog on Thursday morning, and once again this big hearted cop came to the rescue.
">July 10, 2014
">July 12, 2014
The Sargent has decided to rename the dog from 'Jeffrey' to 'Chance', and we wish them nothing but the best!
Thank you Sgt. Carter, we hope your good deed inspires many!