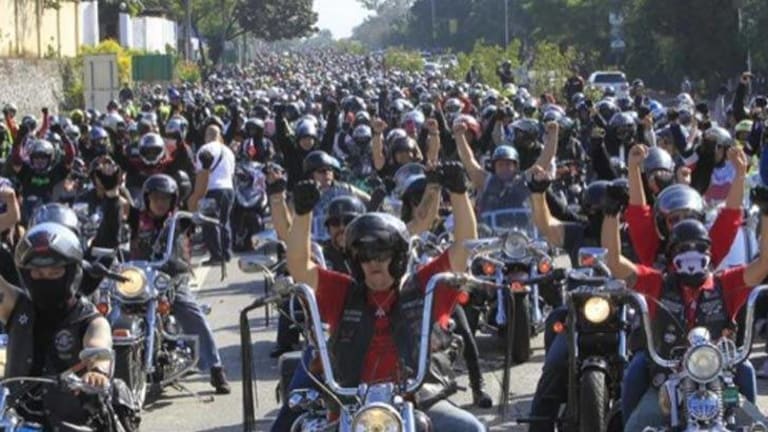 Massive Protest Planned Over Dozens of Innocent Twin Peaks Bikers, Held on $1 Million Bonds
Dozens of bikers are being kept from their families and jobs on punitive bail amounts in Waco Jail, who were simply arrested for being there.
Waco, TX -- If there is anything we know about the Waco biker brawl that occurred earlier this month, it's that the public is largely in the dark about what actually went on that day.
The original narrative put out by the Mainstream Media stated a fight broke out at the Twin Peaks and spilled into a parking lot. Police said that the bikers began shooting at each other and then at the police, who were forced to return fire.
However, there is another side to this story which few people have heard.
According to the website, The Aging Rebel, 
The shove in the bathroom became a scuffle in the restaurant. When about 30 Bandidos, Cossacks, Scimitars and other bikers spilled into the parking between the Twin peaks and the Don Carlos Mexican restaurant next door, the police were waiting for them. The scuffle became a knife fight and several men were stabbed. When one of the combatants produced a gun the Swat team opened fire with automatic weapons. Multiple sources have told The Aging Rebel that all of the dead were killed by police.
One woman, who goes by the name "Sadness," explained how her loved one, Jake, was gunned down by police for doing nothing wrong.
Jake was the one in a pale yellow sleeveless tshirt, lying on the bed of a truck, being given CPR by his friends, in some media pictures. He had been sitting, after lunch, talking with his friends, when he heard a scuffle start. He walked about 40ft, just around a corner, to see what the skirmish was about, and that's when he was shot in the neck and killed. He had no gun. He had never owned a gun. He hated guns. He had no criminal record. He'd had the same job for almost 20 years. And he hated drugs (but he did love beer). It's killing me to see all these guys painted as violent criminals and losers. That just isn't the case.
"Jake" can bee seen receiving CPR from a biker in the back of a pickup truck in the image below.
According to a U.S. Bureau of Alcohol, Tobacco, Firearms and Explosives study, first reported by the Intercept, biker gangs have recruited scores of employees of federal, state and local governments, police and firefighters, National Guardsmen and reservists, some of them with government security clearances, to help them "maim and murder" in support of their "insatiable appetite for dominance."
The Waco Tribune also reported on the U.S. military ties to the Bandidos and other biker gangs which were detailed in a U.S. Justice Department report published last year. The report concluded the gangs were using "active-duty military personnel and U.S. Department of Defense (DOD) contractors and employees to spread their tentacles across the United States."
Knowing the above two details, the notion that police could have been involved in deliberately killing bikers, is not too far fetched.
Since the massacre, police have issued statements claiming that bikers are planning attacks on Texas officers that would include "Molotov cocktails, grenades, firearms" and even "running over officers." Fortunately, this alleged threat has failed to materialize.
What has come to light however, is the fact that dozens of bikers, who were simply in the wrong place at the wrong time are being held on bonds deliberately inflated to punitive levels; an utterly unconstitutional move by local officials.
According to the Waco Tribune, 
Justice of the Peace W.H. "Pete" Peterson set bonds for 174 gang members charged with engaging in organized criminal activity at $1 million each.

"I think it is important to send a message," Peterson said. "We had nine people killed in our community. These people just came in, and most of them were from out of town. Very few of them were from in town."
Peterson and the two other judges who approved the punitive bond amounts are now facing a recusal motion for their removal from office.
Admittedly many of the bikers involved in this incident committed criminal acts. However, others are being punished for simply being there.
"These innocent people need to be released from jail. They need to go back to their families and their lives," said Marni Gilbert in an interview with 12 News Now.
Gilbert is a rider who has six friends and family members sitting in jail. "Their families are at a loss. They are losing their jobs and their livelihoods," she said.
Family members of those locked up for no reason are planning a peaceful protest on June 7, at the McLennan County Courthouse. According to their Facebook Event Page, organizers want to keep this protest without incident.
For reasons we will explain this will be a "silent protest". Make sure to bring signs.

Suggested signs "we are not criminals"- "I'm not a gang member" - "free the innocent" – "we have the right to peaceably assemble" – "patches are freedom of expression" – "leather is not a weapon" – "we want answers" - "Don't snipe me bro"- Be Creative

If the sign is attached to a stick make sure it is not too long or pointed. Don't want to be accused of having a weapon.

Be friendly leave attitudes at home. If you rile easily stay at home..
The protest is planned for Sunday, June 7 at 1:30 pm at the McLennan County Courthouse.