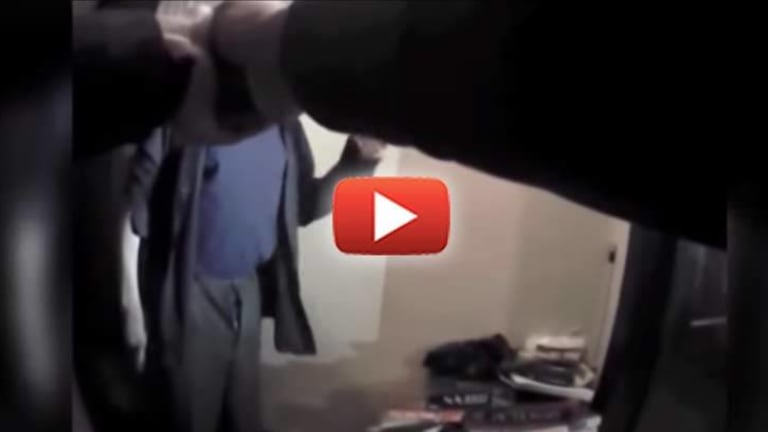 Body Cam Shows Officers' Astonishing Restraint with Mentally Ill Man, Even After He Shot a Cop
If all police officers showed this much restraint prior to pulling the trigger, there would be no police problem in America.
Cuyahoga County, Ohio (RT) -- Disturbing new police body camera footage shows a Cleveland police officer trying to talk down a gunman, assuring him that he wouldn't open fire – and all this after the officer himself had been shot in the chest.
Cuyahoga County Prosecutor Tim McGinty released the intense footage on Wednesday, the day after a grand jury failed to indict four officers who shot 64-year-old Theodore Johnson to death after responding to an emergency request by his wife. The prosecutor said the officers were justified in their use of force.
In a statement, he praised the officers, saying they had shown "remarkable restraint, and went above and beyond the call of duty to seek a peaceful conclusion."
One video recorded by police opens with officers moving swiftly along a hallway in a home, turning a corner and looking up a staircase, when the loud sound of gunfire rings out. Viewers briefly see a man, Johnson, at the top of the stairs, as Patrolman David Muniz yells, "Oh God, I've been hit."
Three officers then retreat down the hall stairway and into a room where there are at least two other officers.
The footage comes from an incident on March 11, when Johnson's wife went to a police station and told officers that her husband had threatened to kill her and her landlady.
Patrolman Muniz was struck in the upper-right shoulder area of his bulletproof vest and survived. The head of the Cleveland Police Patrolmen's Association said at the time that if he had not been wearing his vest, he would have been shot in the heart.
The second part of the video opens with Patrolman Muniz in a firing position, pointing his gun towards Johnson, who is only five feet away.
Johnson, with a gun by his side, says, "Kill me!" as officers scream, "Drop the gun!"
"We don't want to kill you, just put the gun down," pleaded Muniz. "You don't want to die!"
"I do!" said Johnson.
"We want to help you," another officer said.
"I don't need help. She helped me," said Johnson. Then there are multiple voices yelling loudly.
"We will get all the help you need," said Muniz. "You need support. You need help."
"I don't need it, mister," said Johnson. "She's a liar."
"Just put the gun down," yelled an officer.
"Shoot me!" said Johnson.
"No, we are not going to shoot you guy," said Muniz.
Then Johnson says what sounds like, "Why can't you see I have dementia?"
To which Muniz responds: "I know you shot me, but I am not going to shoot you."
"Do what you do, man," said Johnson, who then pleads with the officer. "I'm 64 years old, please mister!"
"No!" said Muniz.
At this point, Johnson raises the gun, pointing away from Muniz, and the clip ends.
A police investigation into the incident said officers confronted Johnson and told him to drop his weapon. Shots were exchanged between multiple officers and Johnson, officials said. Four officers fired their weapons at Johnson and a total of five rounds were fired by police officers. Johnson was pronounced dead at the scene, according to WKYC.
"These officers are commended for responding with courage and for heroically fulfilling their duty to protect the public,"McGinty added.
McGinty said that, as officers had their body cameras on and operating, the evidence was indisputable.
"The evidence demonstrates that Johnson attempted to murder a police officer by shooting him in the chest and then was determined to be killed by the police," he said.