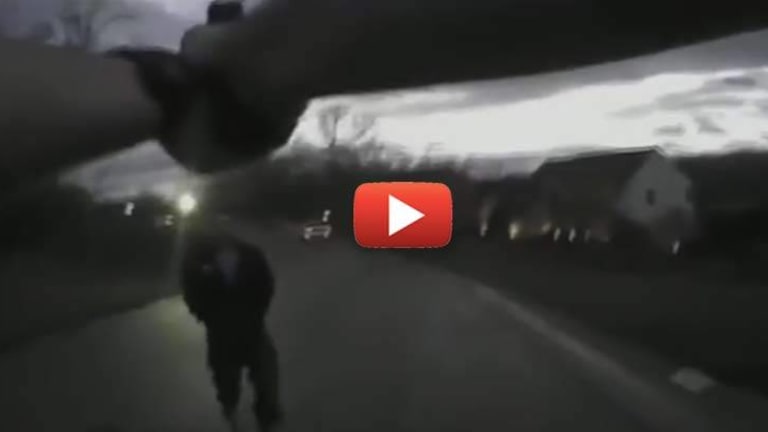 This is How Good Cops Act: Heroic Officer Refuses to Shoot Man Despite Dangerous Confrontation
Footage from the rookie officer's personally owned body cam, that he voluntarily wears, caught his extreme restraint, refusing to use deadly force on an aggressive man in distress.
New Richmond, OH-- In a rare and beautiful moment, an Ohio police rookie actually did the right thing and did not shoot a man who was actively trying to get himself killed. The restraint and courage this veteran embodies was all captured on his body camera and will hopefully be an inspiration to police everywhere.
New Richmond Police Officer Jesse Kidder, 27, was attempting to arrest a man on Thursday who had allegedly murdered his best friend and his fiance. The officer was warned by a dispatcher that the man may attempt suicide by cop. He had been spotted by an investigator earlier in the evening who claims that Wilcox told him that he had a gun.
In the extremely intense footage, Wilcox is seen with his hand by his pocket while repeatedly lunging towards the officer after a car chase by the Ohio/Kentucky border came to an end.
"He jumped out and he sprinted towards me. I had my firearm already drawn on me, and I told him to put his hands up in the air and he was screaming as he was yelling, 'Shoot me, shoot me'," Kidder told WLWT. "I was trying to open a dialogue with him. 'I don't want to shoot you, get on the ground,' but he wasn't having it. He kept repeating, 'Shoot me.' At one point, he said 'Shoot me or I'll shoot you.'"
Despite being in a situation where the shooting would have absolutely been ruled justified, the brave officer refused to shoot, even after he fell backwards and found himself in a very vulnerable position.
"No man, I'm not going to do it!" Kidder responded to the man who was demanding to be shot.
After Kidder gets back on his feet we hear the sound of backup arriving, and Wilcox lays down and surrenders. He was safely taken into custody, and neither the Wilcox or Kidder families are left having to plan a funeral.
This video is what true bravery looks like. Putting on a uniform and collecting revenue for the state does not make you a hero. However, keeping your humanity in an occupation that is extremely accommodating to bloodlust makes you a hero. The world needs more people like Kidder, not just in uniform, but in general.
Kidder has only been on the police force for a year, but did two tours in Iraq and received a purple heart award, and it's easy to see why. The body camera he was wearing was not even issued by the department; it was a gift from his relatives, which he voluntarily wears despite it not being mandatory. The officer is hoping to find funding to outfit the rest of his department with cameras.