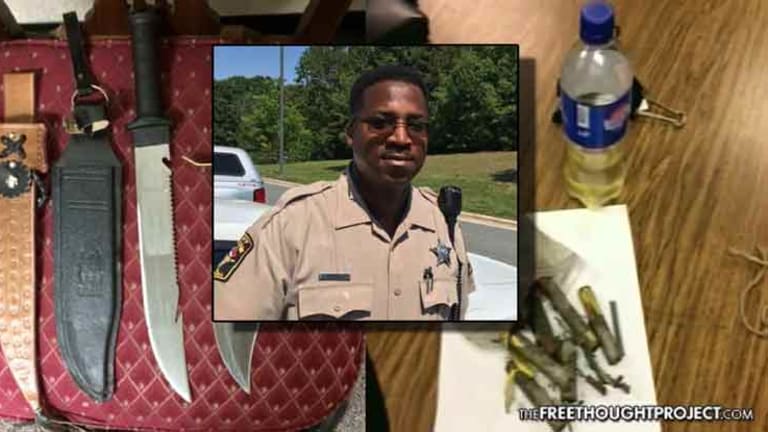 Bravo: Cop Non-Violently Stops Potential Mass Murder at School By Talking To Student
Union County, NC School Resource Officer AJ Wallace prevented a school stabbing by talking to the young man, no violence necessary.
Union County, NC — Arthur J. Wallace Junior, known as "June" by his friends, is the school resource officer for Forest Hills High School. As such, Wallace sees his role as more of a father figure than an officer.
Many of the students he serves have at least one parent in jail, or prison, or has been a victim of a homicide. He reaches out to those kids and finds it easy to build relationships with students, but he didn't personally know the would-be assassin he'd passed in the halls every day, at least until his apprehension.
While The Free Thought Project has reported many times before, dangerous and deadly conflicts occur in schools, often with violent school resource officers taking out their aggression on children.
Thankfully, the following story has a happy ending, due in part to the example Officer Wallace set for other school resource officers throughout the nation. All of which will likely come as no surprise to folks who call June a friend.
According to Union County Sheriff Eddie Cathey, he was alerted after Canadian authorities became aware of one NC student's plans to kill his classmates. They, in turn, contacted the NC State Bureau of Investigations (NCSBI), who then contacted Union County Sheriff's Department. Cathey said he then knew who to call.
Cathey left the task of investigating the case to his trusted school resource officer, Officer Wallace, a former Marine, and hometown hero. Wallace is a graduate of Union County's Sun Valley High School (1989), where he played football, basketball, and ran track.
In a press conference, Wallace told reporters he and a school administrator approached the unnamed teenager (who's younger than 16) and asked to speak with him. The administrator took possession of the boy's book bag, and after Wallace interviewed the young man, he admitted he was in possession of items which were against school policy.
It's important to note, the school did not go on lockdown, and SWAT was not deployed into the classroom, although Cathey said there were a number of other officers present on campus. Also worth noting was the fact Officer Wallace didn't go into the classroom with his gun drawn.
He said he didn't want to draw any more attention to the child than was necessary. Instead, he did what TFTP has promoted in times past, he de-escalated and had a talk with the boy, man to man. "I usually try to talk to the student(s) before I let them know what my main goal is," Wallace told reporters.
After the book sack was searched, a journal was found with a list of names the boy had reportedly planned to stab. Along with the journal were a number of long knives, flammable liquid, and firecrackers.
The young man was taken into custody without incident, and without his losing his own life at the hands of a nervous police officer. He, like so many other students June interacted with, was treated like someone's son, instead of the criminal he may have intended to be.
Sheriff Cathey praised Wallace for his demeanor, his being cool under pressure, and being an "example" for the rest of the department.
Junior reflected on the incident and humbly asked himself, seemingly regretting the fact he didn't know something was wrong with the young man. He said he thought, "Maybe was there something that I missed that I could've picked up on. I don't know," he said adding it's that kind of self-reflection that may make him a better officer day to day.
That's the kind of man he is, caring, compassionate, concerned, yet firm. We salute you Junior. You are the new standard for school resource officers across the country — especially considering cops will beat, choke, and body slam other children for simply texting in class.
We hope this story of good news travels far and wide and that more SRO's will talk with kids in the same manner you do, and hopefully save someone's life, altering their life's path.
Sheriff Cathey said the young man wasn't arrested but isn't at home with his family either. He did say he was getting the "counseling" he needed and that charges would be filed later. It's assumed he's in a mental health facility where he is not free to leave.
Had anyone else but this officer attempted to rectify this situation, it could've unfolded like it did in the video below.