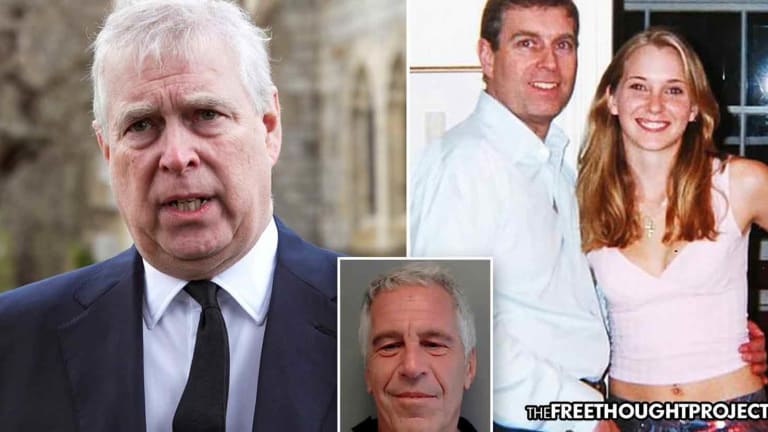 BREAKING: US Court Rules Child Sex Assault Case Can Proceed Against UK's Prince Andrew
Disgraced British royal, Prince Andrew, now faces testimony or settlement in US lawsuit
(RT) — A Manhattan court has given the go-ahead for Virginia Giuffre's sexual assault case against the UK's Prince Andrew. The prince's lawyers had tried to have the case dismissed due to a settlement between Giuffre and Jeffrey Epstein.
US District Judge Lewis A. Kaplan ruled on Wednesday that Giuffre's civil case against Andrew can move ahead to trial.
Giuffre claims that deceased pedophile Jeffrey Epstein and his recently-convicted girlfriend Ghislaine Maxwell trafficked her to the Duke of York for sex on three separate occasions when she was 17 years old.
Earlier this month the prince's legal team pressed Kaplan to dismiss the case, after it emerged that Epstein paid Giuffre $500,000 in a 2009 settlement, in which she agreed not to sue anyone linked to the convicted pedophile who could be a "potential defendant." 
Kaplan, however, sided with Giuffre's lawyers, who argued that the agreement was only signed for Epstein's benefit, not that of a "third party" like Andrew. As such, the prince's motion to dismiss was "denied in all respects."
Andrew denies the allegations, and has insisted that he doesn't recall ever even meeting Giuffre. The royal maintained his denial even after being shown a photograph of himself and Giuffre together in London during a BBC interview in 2019. More recently he has accused Giuffre of seeking a "payday" from the case.
The trial now moves into what may be a lengthy phase of discovery and deposition, should the two parties fail to reach a settlement. During this phase, other members of the British royal family may be summoned to testify.
Read More: Ghislaine Maxwell's Conviction is Welcome But Chances of Her Pedophile Clients Going Down are Slim
For years, Ghislaine Maxwell rubbed elbows with the elite. She frequently visited Donald Trump's Florida retreat, Bill Clinton's White House, and was a good friend to Prince Andrew for decades. During her sex trafficking trial, a number of high profile associates of Jeffrey Epstein had their ties to the pedophile ring exposed. They include not only Trump, Clinton, and Prince Andrew, but also Kevin Spacey, Chris Tucker, Bill Gates, and others.
This week, Maxwell was found guilty and will likely die in jail for her crimes — which consisted of delivering children to rich pedophile men. Unfortunately, however, it is extremely likely that the men who participated in this child sex trade, will never face any consequences.
It is almost as if Maxwell served as a sacrificial lamb to the federal government, and in exchange for her blood, any lights shining into the Jeffery Epstein pedophilia case, would be turned off by the establishment — forever.
Perhaps the final light switch to be flipped off in this sadistic ring of child traffickers took place the day after Maxwell's guilty verdict when the government formally recommended disposing of the prosecution of two guards who essentially facilitated Epstein's "suicide" by not doing their numerous checks on Epstein for two days on August 9 and 10, 2019.
Their trial may have shed light into what actually happened that day.
Adding to the scandalous nature of the case is the fact that during the trial, Maxwell refused to testify in her own defense, biting her tongue to avoid being asked incriminating questions about the elite names which were rife during the victims' testimonies.
Despite an attempt by Maxwell's attorneys to downplay her role in Epstein's child trafficking empire, during the trial, Epstein's ex-pilots Lawrence Visoski and David Rodgers described her as his "No. 2." What's more, Juan Alessi, Epstein's former house manager at his Palm Beach estate, testified that Maxwell described herself as the "lady of the house."
While many remain hopeful that she will come clean now that she has nothing to lose, the idea of a sociopath who preyed on children for decades having a sudden surge of altruism is about as likely as Prince Andrew being arrested for raping Virginia Giuffre as a child. Remember, he was picture with Giuffre as a child, with none other than Madame Maxwell in the background and he remains untouchable.
So do many others.
Despite the fact that Bill Clinton flew on Epstein's plane dozens of times and Epstein — and Maxwell — visited the White House while Clinton was president a whopping 17 times, it is unlikely that any investigation will take place into this alleged sexual predator.
In fact, the former president of the United States is a serial offender who escaped accountability for numerous vile acts. Even during his tenure in the White House, Clinton couldn't keep his hands to himself and was embroiled in the Monica Lewinsky scandal in which he used his authority as POTUS to engage in sexual relations with the 22-year-old intern. But that was only the beginning.
Clinton has faced charges of sexual impropriety, assault and even rape from several other women, including Paula Jones, Gennifer Flowers, Kathleen Willey and Juanita Broderick — yet somehow this sexual predator remains, not only unscathed, but is paraded around as some champion of women's empowerment. You cannot make this up.
Had it not been on the official Clinton Foundation website, the announcement of Vice President Kamala Harris having a one-on-one conversation with Bill Clinton about "empowering women and girls in the U.S. and around the world," many would have thought it was the title of a piece at The Onion or Babylon Bee. Yet, it happened and the fact that it did happen, is evidence that these alleged predators can not only escape accountability, but be celebrated for it.
As TFTP has reported, since Epstein's arrest, multiple revelations have come to light which show how difficult it is to hold those accountable who aided and abetted this trafficking ring.
The revelations led to a myriad of connected insiders getting exposed for their roles in helping to cover up the abuse but none of them have fallen.
In 2019, a federal judge made a bombshell ruling which stated that the prosecutors who worked under former Miami U.S. Attorney Alex Acosta—later appointed to Trump's Labor Secretary—broke the law when handling the case of billionaire pedophile Jeffrey Epstein.
However, instead of accountability, Acosta was ruled to have used "poor judgement" and was allowed to step down from his position and quietly fade away without going to jail.
Also, back in March, Maxwell's privilege even began to show through as her requests to redact evidence were allowed. US District Judge Alison J. Nathan issued a ruling on redactions that Maxwell had asked for regarding transcripts the government filed under seal in February.
According to the judge, the evidence was too "sensation and impure" to reveal to the public.
"Those portions of the transcript, which were redacted in the civil matter, concern privacy interests and their disclosure would merely serve to cater to a 'craving for that which is sensational and impure,'" Nathan wrote in the order.
After granting Maxwell her request, in November, judge Nathan was nominated by President Joe Biden to the U.S. Court of Appeals for the Second Circuit.
As the late George Carlin used to say, "It's a big club, and you ain't in it!"
The case is now closed, Maxwell will go to jail, and the myriad of clients whose names fill countless pages in the child trafficking couple's little black book, will bask in solace knowing that the Justice Department will likely not be coming after them.