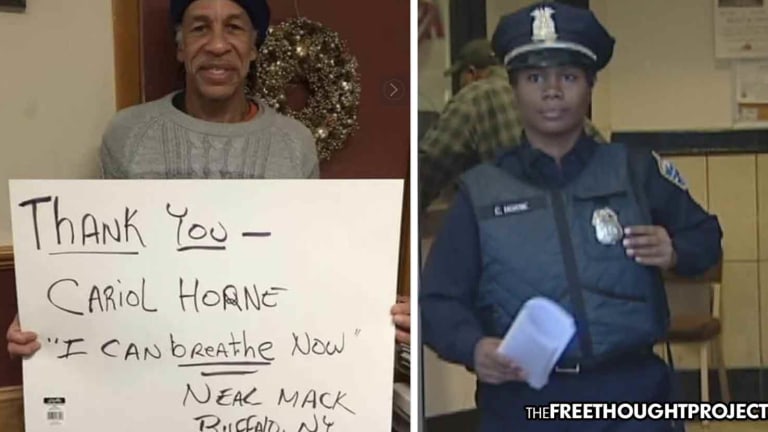 Good Cop Finally Sees Justice After She Was Fired for Stopping Bad Cop from Beating Handcuffed Man
Cariole Horne was beaten and fired for stopping a fellow cop from beating a handcuffed man. Now 15 years later, she has finally gotten justice.
"I don't regret it, I'd do it again"
Buffalo , NY — While killer cops get sent on paid vacations for the most heinous of acts, like the murder of Breonna Taylor, it is hard to imagine what it takes to get fired immediately. As TFTP has reported over the years, however, it turns out, the answer to getting fired is often times, simply being a good cop.
Former Buffalo Police Officer, Cariol Horne has been fighting for her pension since she was fired after 19 years on the force, over an incident in 2006 when she stopped a fellow officer from choking a handcuffed suspect. For her heroic actions, instead getting rewarded and allowed to retire, Horne was beaten and fired.
Since that day, despite not receiving her pension, Horne has dedicated much of her life to fighting police brutality.
Last year, TFTP predicted that a new law requiring cops to intervene when they see excessive force could get Horne the justice she deserved and on Tuesday, that happened.
According to the NY Times, on Tuesday, in an outcome explicitly informed by the police killing of George Floyd, a state court judge vacated an earlier ruling that affirmed her firing, essentially rewriting the end of her police career, and granting her the back pay and benefits she had previously been denied.
"The legal system can at the very least be a mechanism to help justice prevail, even if belatedly," the judge, Justice Dennis E. Ward, wrote.
"My vindication comes at a 15-year cost, but what has been gained could not be measured," Horne said after the ruling. "I never wanted another police officer to go through what I had gone through for doing the right thing."
"The police department didn't believe her story, and they punished her severely," Brenda McDuffie, president and CEO of the Buffalo Urban League, told City & State. "She lost her livelihood. I mean, which one of us who has any humanity, seeing someone choked to death, just like those officers (in Minneapolis) who should have said, 'Get off his neck.' ... Excessive force is something that we're finally dealing with as a nation. But we had a woman in our community who stood up and she has suffered greatly."
As City and State reported at the time of the new law, the Buffalo Common Council approved three resolutions in the wake of George Floyd's death and the recent protests against police brutality. One of the resolutions will enforce the city's "duty to intervene" policy, which mandates that officers intervene if they see another officer using excessive force. The council also created a task force to review police policies, and the third resolution asked the state attorney general's office to determine how many days Horne would need to work to regain her pension.
As TFTP reported, Horne's nightmare with the Buffalo PD started in 2006 after she received a call that Officer Gregory Kwiatkowski was at the scene of a domestic dispute and in need of assistance. When she arrived, she witnessed Kwiatkowski violently punching the handcuffed suspect in the face.
Horne and other officers on the scene removed the suspect from the house, but once outside Kwiatkowski pounced again, this time choking the handcuffed man. Believing Kwiatkowski to be out of out of control, Horne removed his arm from around the man's neck.
"Gregory Kwiatkowski turned Neal Mack around and started choking him. So then I'm like, 'Greg! You're choking him,' because I thought whatever happened in the house he was still upset about so when he didn't stop choking him I just grabbed his arm from around Neal Mack's neck," Horne told WKBW.
Infuriated that she had crossed the thin blue line, Kwaitkowski then punched Horne in the face. The punch so was hard that Horne ended up having to have her bridge replaced. She was then injured again as officers dragged her away from trying to defend herself.
Here is where things get crazy.
The good cop, who was trying to stop abuse by her peer, was fired for "jumping on Officer Kwaitkowski's back and/or striking him with her hands," something that Kwaitkowski himself denied ever happening in a sworn statement.
The bad cop, who was choking a man and then punched his female co-worker in the face, kept his job. It wasn't until he choked another officer at a district station house that he was forced to retire. He was already under investigation for punching another officer while he was off-duty at a local bar.
In May of 2014, Kwiatkowski and two other officers were indicted for civil rights violations against four black teenagers, just days before the statute of limitations was due to expire. One of the teens was also the son of a Buffalo police officer. He was convicted in 2018 and sentenced to 4 months in prison. Unlike Horne, however, Kwiatkowski kept his pension.
Imagine if just one of the officers who stood around watching Eric Garner's or George Floyd's lives being taken had the courage Horne had.
Unfortunately, they would probably be in the same situation she is.
In almost every single video of police brutality we see, there are other officers present and allowing it to happen. Sadly, with departments across the nation upholding their reputation of vilifying anyone who dares to cross the thin blue line, it's no wonder there is such a shortage of police willing to speak out against the atrocities we have been witnessing.
While many police may choose this line of work because they want to be "heroic," Horne is a true hero- and she does not regret her actions. Nobody ever said being a hero is easy.